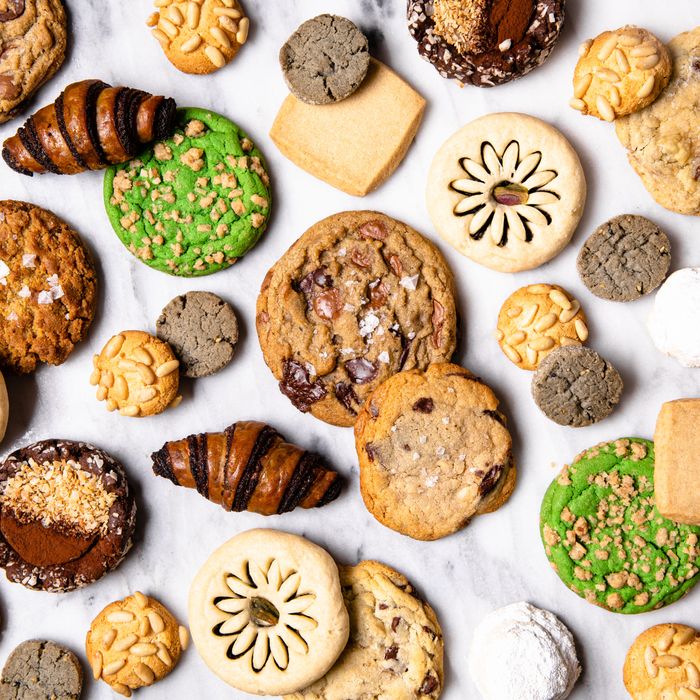 Photograph by Kate Previte
Photo: Photograph by Kate Previte
New York Magazine and New York Forever today announced "The Cookie Edit," a limited-edition collection of cookies chosen by New York's editors from bakeries and restaurants around the five boroughs. Beginning April 5, sweet-tooths around the state can order the $50 cookie boxes to benefit ROAR (Restaurants Organizing, Advocating & Rebuilding), an organization that provides direct relief and assistance to the city's restaurant workers.
A mix of old favorites and new additions to the cookie canon, each box will include Archestratus Books + Food's Casa Cookie, Breads Bakery's Chocolate Rugelach, Bruno's Pignoli Cookies, Brutus Bakeshop's Miso Chocolate Chip Cookie, High Low Beverage Company's Chocolate Coconut Crinkle Cookie, Kemi Dessert Bar's Pandan Crumble Cookie, L'Appartement 4F's Tahini Chocolate Chip Cookie au Sel de Mer, Mottley Kitchen's Mottley Monster Chocolate Chip Cookie, Nasrin's Kitchen's Kolompeh Date Cookie, Patisserie Fouet's Sesame Cookies, Té Company's Butter Shortbread Cookie, and URSULA BK's Mexican Wedding Cookie.
"Gathering together the city's best cookies is something New York's food editors do rather frequently," says New York deputy editor Alexis Swerdloff, who worked with the magazine's food team to help bring this idea to life. "But literally gathering them together is a new and exciting proposition for us. And coming out of a year that has been incredibly difficult for the city's food industry, we are so happy to partner with New York Forever on a project that will directly benefit restaurants and restaurant workers."
"Restaurants and restaurant workers are the beating heart of New York City, and The Cookie Edit is a way for all of us to come together to celebrate and support them," said Risa Heller and Jonathan Rosen, Founders of NY Forever. "We are thrilled to be partnering with New York Magazine on this box of 5 borough deliciousness that will support some of our favorite institutions and essential workers."
Cookie boxes will be on sale and available to order from April 5-28 through Mary Giuliani Catering & Events at https://nymag.com/the-cookie-edit, and can only be shipped to addresses in New York State. MCGE will donate 100% of the proceeds from cookie box sales made from April 5-28 to ROAR.
About New York Magazine 
New York Magazine obsessively chronicles the ideas, people, and cultural events that are forever reshaping our world. Part of Vox Media since November 2019, the beloved and influential New York brands include the groundbreaking magazine New York, which is published biweekly in print, and six thriving verticals: Intelligencer, delivering national news and sharp commentary on politics, business, technology, and media; The Cut, covering style, self, culture, and power; Vulture, the premier site for culture news, criticism and service; The Strategist, dedicated to shopping the internet smartly; Curbed, covering cities and city life; and Grub Street, home to food news and authoritative restaurant criticism.
About New York Forever 
New York Forever is a non-profit organization devoted to championing New York City and getting every New Yorker engaged in its recovery. As the city faced the depths of hardship caused by COVID-19 and awoke to long-endured racial and economic inequalities, New York Forever was founded to commit to building a better future for New York, one that leaves the city stronger and more equitable than ever before. New York Forever is calling all New Yorkers to take the pledge and commit to New York's future.
About ROAR (Restaurants Organizing, Advocating & Rebuilding)
ROAR (Restaurants Organizing, Advocating & Rebuilding) is a community of hospitality leaders advocating for the New York City independent restaurant industry and creating a path to a sustainable future. Restaurant workers are the heartbeat of our city and supporting them is paramount, which is why we established a cash assistance program with Robin Hood, giving $500 grants to NYC restaurant workers experiencing financial hardship and rampant uncertainty during this time.