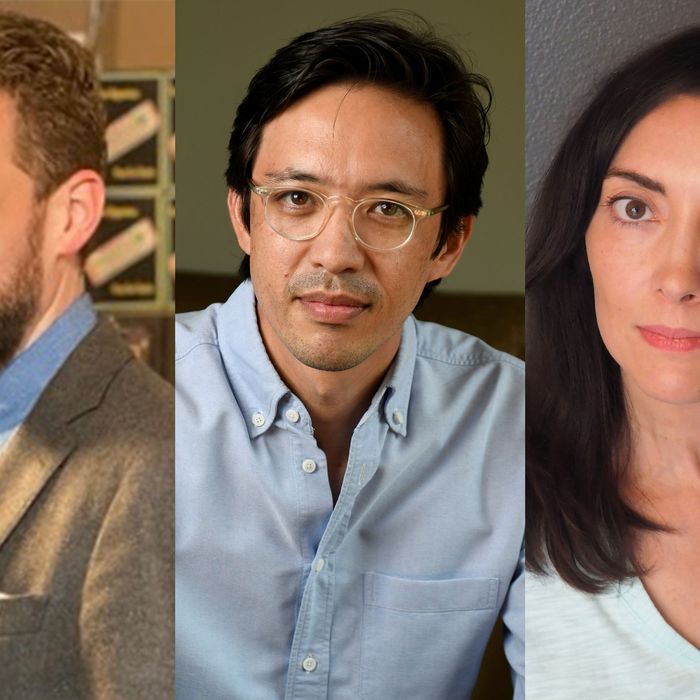 Justin Miller, Ryu Spaeth, Kerry Howley.
Photo: New York Magazine
New York Magazine editor-in-chief David Haskell and Intelligencer editor Jebediah Reed today announced three new hires, with Kerry Howley (@kerryhowley) joining as features writer; Ryu Spaeth (@ryuspaeth) as deputy editor, Intelligencer; and Justin Miller (@justinjm1) as news director, Intelligencer. Howley and Miller have begun in their roles, and Spaeth joins June 7.
"We've worked with Kerry for years, publishing extraordinary work whenever we've been able to grab her, and I'm thrilled she's now here as a full-time staff writer and able to roam across all of her wide-ranging areas of interest," says David Haskell.
Kerry Howley, now joining New York's staff, is no stranger to its pages. Memorable features she's written over the past several years include profiles of Manny Pacquiao, Reality Winner, and Tulsi Gabbard, and a reported piece on Larry Nassar and USA Gymnastics that was a finalist for a National Magazine Award in Feature Writing. Howley is the author of Thrown, a New York Times Notable Book, and she worked for six years as an assistant professor at the University of Iowa's celebrated Nonfiction Writing Program. In her new role she will write features and short-form across the print and digital magazine.
"As we set Intelligencer's course for the Biden administration and beyond, Ryu and Justin bring a deep understanding of the political landscape and deft touch working with writers," says Intelligencer editor Jebediah Reed.
Ryu Spaeth is joining as deputy editor of Intelligencer, New York's news and politics vertical, and will work with Intelligencer editor Jebediah Reed to set the site's direction, also working closely with the site's team of reporters and opinion writers. For the past five years, Spaeth has been an editor at The New Republic, where he produced articles and features for the web and the magazine, and worked with writers including Rick Perlstein, Clint Smith, Rumaan Alam, Elizabeth Drew, Nikil Saval, Talia Lavin, and many others. Prior to TNR, he was an editor at The Week, where he helped run their website.
Justin Miller is joining Intelligencer as news director, a new role in which he'll manage the site's coverage of breaking-news events and enterprise reporting. He has been working as Intelligencer's interim politics editor since fall 2020, and helped direct the site's coverage of the 2020 election. Before that he spent five years as an editor at the Daily Beast, and earlier in his career was a home-page editor at New York and The Atlantic.