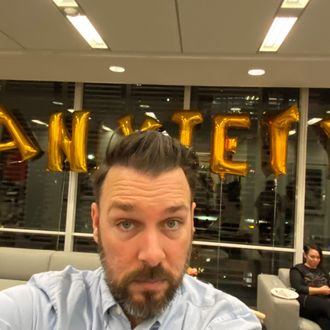 Choire Sicha
Photo: Choire Sicha
New York Magazine editor-in-chief David Haskell announced today that Choire Sicha is joining as an editor-at-large. He will regularly write short-form pieces for Intelligencer, the magazine's news and politics vertical, along with longer essays and critical pieces. He'll be a roving observer, critic and reporter, finding opportunities to narrate this country's swiftly changing cultural landscape. He'll also be an editor focusing on special projects, especially on new New York editorial products, starting August 1.
"Whenever Choire writes anything, you stop what you're doing and read it—this has been true for pretty much his entire career," says Haskell. "And so I am particularly happy that he is coming here as both a writer and editor. I've also thought that New York was the natural home for Choire for at least a decade, and it's very exciting that he agrees."
Since 2017, Sicha has been an editor at the New York Times, overseeing the Styles section until earlier this year, when he moved into a role on newsletter strategy. Prior to that he worked at Vox Media (parent company of New York) as executive director of partner development, and co-founded The Awl network of websites. He was a senior editor at the New York Observer and editor-in-chief of Gawker.com, before becoming the company's editorial director. Earlier in his career he was an art dealer and worked for non-profit organizations.