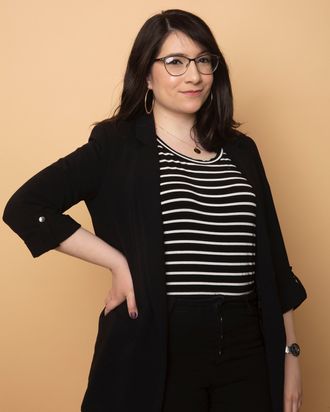 Photo: Andrea González-Ramírez
Today The Cut's editor-in-chief, Lindsay Peoples Wagner, announced that Andrea González-Ramírez is joining the site as senior writer. González-Ramírez will write and report on subjects surrounding communities of color, with a focus on sexism, racism, classism, and other systems of power. She begins her role on August 2.
"As an avid reader of González-Ramírez's thoughtful and incisive reporting on everything from Puerto Rico's epidemic of intimate-partner violence to the millennial Jews taking on ICE, it's incredibly exciting for us to have her at The Cut," says People Wagner. "I can't wait to see what she does here."
González-Ramírez was most recently a senior staff writer at Medium's politics website GEN, where she reported on gender, race, the 2020 election, the COVID-19 pandemic, and other subjects. Writing features, essays, interviews, and more, González-Ramírez's work for GEN included a look at President Trump's Latino supporters, an explainer on how legal abortion could end without overturning Roe v. Wade, and a deep dive into America's relationship to Puerto Rico. González-Ramírez was one of the recipients of the 2021 ASME NEXT Awards for Journalists Under 30 and was a 2019–2020 Ida B. Wells fellow at Type Investigations.
González-Ramírez was recently named a recipient of the 2021–2022 Knight-Wallace Reporting Fellowship. She's also a founder of the Latinas in Journalism Mentorship Program and the creator of Los Que Se Fueron, a collection of interviews exploring what it means to be a young Puerto Rican living stateside.