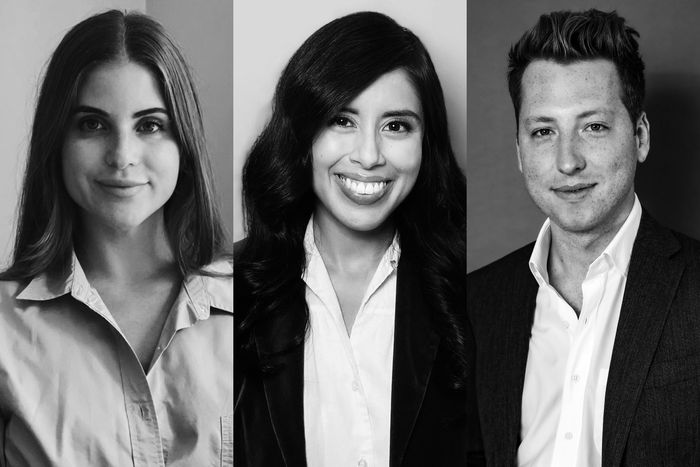 The Cut's editor-in-chief Lindsay Peoples Wagner, Vulture's editor Neil Janowitz and Intelligencer's editor Jebediah Reed today announced three new hires, with Joanna Nikas joining The Cut as deputy style editor, Melissa León joining Vulture as movies editor, and Shawn McCreesh joining Intelligencer and New York Magazine as features writer. Nikas and León begin their roles on August 30th; McCreesh will begin on October 12.
New York editor-in-chief David Haskell pointed to the three hires as a demonstration of the magazine's investment in strong journalism on multiple fronts. "We are building a larger and more modern digital and print magazine, aiming to give our readers an enormous amount of pleasure, provocation and journalistic satisfaction across many aspects of contemporary life," says Haskell. "I'm confident these three new colleagues will quickly become essential to this place."
"I've long been impressed with Joanna's multi-platform approach to journalism," says Peoples Wagner. "She brings an editor's eye to everything she does, whether in the wide-ranging 'Surfacing' column she helped launch, in the 'On The Street' videos she conceptualized with street style pioneer Bill Cunningham, or in the inventive ways she's told stories about artists like Cardi B, Erykah Badu, Ashley Graham, and more."
Nikas is joining The Cut as deputy style editor, where she will shape the site's fashion vertical, and oversee all fashion and beauty coverage. For the past ten years, she was a senior staff editor at the New York Times, responsible for editing and assigning stories for its fashion and style sections. At the Times, Nikas conceptualized new features including the "Scam or Not" column helping readers navigate the world of wellness. Alongside her editing duties, she ran the @nytimesfashion Instagram account and worked closely with legendary photographer Bill Cunningham on his "On the Street" videos.
"Movies are one of the core pillars of Vulture's entertainment coverage, and after nearly a decade at The Daily Beast, we're thrilled to be able to welcome to the team an editor like Melissa who brings such a deep understanding of this industry and the different players that make it up," says Janowitz.
Melissa León is joining Vulture as movies editor, where she will run the site's day-to-day film coverage, assign and edit stories around new movie releases, and help manage coverage of the industry and culture around film. Prior to joining Vulture, she was entertainment editor at The Daily Beast, a role she held for five of her nearly ten years there, in which she wrote and edited features and investigations focused on film, TV, comics, and more. She has won three National Arts and Entertainment Journalism Awards.
"In a year that saw a contentious election and devastating pandemic, Shawn cut his teeth talking to voters, protesters, and personalities from all across the political spectrum," says Reed. "I've admired Shawn's ability to go past the surface and right to the heart of the people and places behind the headlines."
McCreesh is joining Intelligencer and New York as features writer, where he will cover media, politics, and power, contributing to both the digital and print magazine. He has written for New York in the past, with recent dispatches on what the MAGA mob at the Capitol had to say for itself, and how the riot transformed one New Hampshire town. He was most recently editorial assistant to New York Times op-ed columnist Maureen Dowd, a role in which he contributed reporting around Hollywood and the streaming industry. He has also contributed to Rolling Stone, Air Mail, Town & Country, Men's Journal and Liberties.