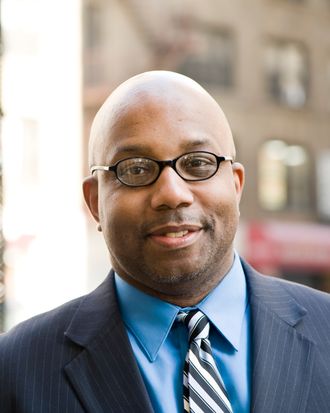 Photo: Courtesy Errol Louis
New York Magazine editor-in-chief David Haskell and Intelligencer editor Jebediah Reed announced today that Errol Louis, an indispensable voice on New York City politics, will write a weekly column for the magazine and Intelligencer, its news and politics site. Louis will focus on the mayoral race and new administration, as well as policy questions in the areas of criminal justice, transportation, and more. Louis's first column will run next week.
"It's difficult to imagine the New York political scene without Errol Louis. He knows everything and everyone, has followed the big story and the small story for decades, and he'll bring to our coverage of the new administration an enormous reservoir of wisdom and perspective. His fearless ability to call balls and strikes make him an absolute must-read, and he'll be an essential part of our political coverage going into the next mayoralty," said Haskell.
Louis has been offering incisive commentary on politics and policy in New York and beyond for decades. He is political anchor and host of "Inside City Hall" on Spectrum News NY1, as well as a CNN contributor, an adjunct professor of the Urban Reporting program at the Newmark School of Journalism at the City University of New York, and the Rice Visiting Urbanist for the fall 2021 semester at NYU's Wagner Graduate School of Public Service. He has been a columnist at the Daily News beginning in 2004, and will publish his valedictory column this week. Louis graduated from Harvard with a B.A. in government, and he holds an M.A. in political science from Yale and a J.D. from Brooklyn Law School.