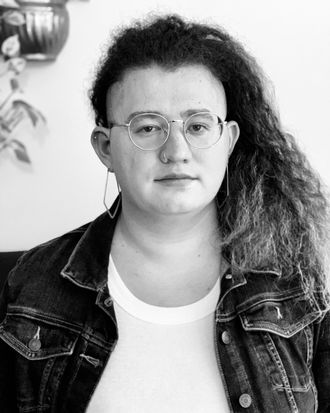 New York editor-in-chief David Haskell and culture editor Gazelle Emami today announced that Andrea Long Chu, groundbreaking essayist and critic, is joining the magazine as book critic. In this role, Chu will write longform book criticism, going deep on the books, authors, intellectual trends, and ideas that interest her. She begins on November 15.
"Chu brings a critical and inquisitive mind to everything she writes, whether it's a review of a new release or an examination of a well-established author's entire body of work" says New York Magazine editor-in-chief David Haskell. "Each of her subjects is a portal into something broader, and each of her reviews you end up mulling hours after you put them down."
Chu has previously appeared in the pages of New York, both as an author and subject. She reviewed Maggie Nelson's On Freedom and was profiled by New York for her debut book Females. Chu is known for her deep dives into high-profile writers like Bret Easton Ellis, Curtis Sittenfeld, and Joey Soloway, and has had her writing appear in outlets including n+1, New York, The New York Times, The New Yorker, Artforum, Bookforum, Boston Review, Chronicle of Higher Education, 4Columns, and Jewish Currents. Her first essay "On Liking Women" has become essential reading in gender studies classes across the country, and her essay in support of the graduate student who accused NYU professor Avital Ronell of sexual harassment was reprinted in The Best American Nonrequired Reading 2019. Chu holds a M.A. in Comparative Literature from New York University, and has had her work published in a number of academic journals including differences, Journal of Speculative Philosophy, Women & Performance, and Transgender Studies Quarterly.
"Andrea has long been one of our favorite writers and thinkers, and we're so excited to publish her incisive criticism in the pages of New York and on Vulture more regularly," says New York culture editor Gazelle Emami.
At New York, Chu joins a deep roster of must-read critics, including Pulitzer Prize winners Jerry Saltz and Justin Davidson; 2021 Pulitzer Prize finalist Craig Jenkins; critics Angelica Jade Bastién and Kathryn VanArendonk; movie critics Alison Willmore and Bilge Ebiri; TV critic Jen Chaney; theater critic Helen Shaw; and podcast critic Nicholas Quah.