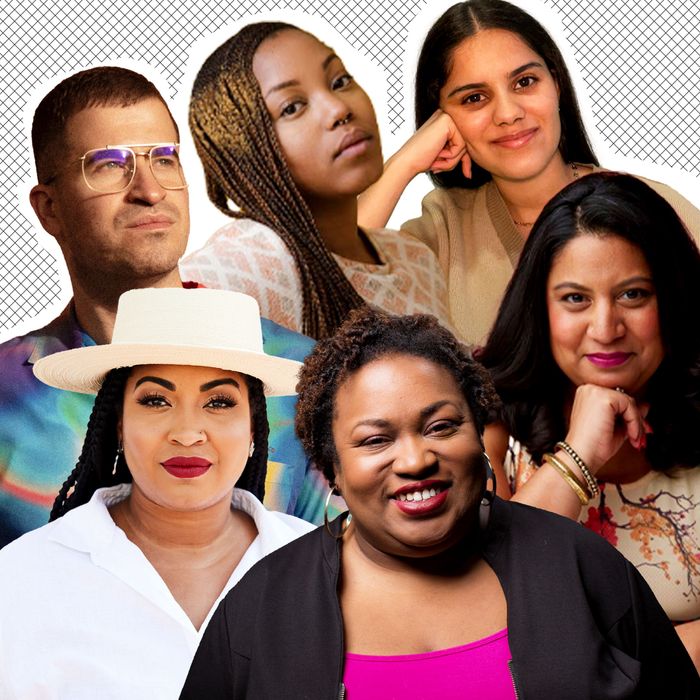 Photo-Illustration: Evan Ross Katz, Camonghne Felix, Michelle Santiago Cortés, Rachel Cargle, Brittney Cooper, and Samhita Mukhopadhyay
The Cut's editor-in-chief Lindsay Peoples Wagner today announced that it's bringing a roster of new voices to the site, with Rachel Cargle, Brittney Cooper, Michelle Santiago Cortés, Camonghne Felix, Evan Ross Katz, and Samhita Mukhopadhyay all joining as contributors. They'll write across a wide range of topics, from entertainment to politics.
"I've been following the work of each of these writers for some time now, and I can't think of a better group to help Cut readers make sense of our current moment," says Peoples Wagner. "It's an absolute honor to be able to bring them to The Cut."
Cargle is an author, activist, and social entrepreneur. Her work centers at the intersection of race and womanhood. The Loveland Foundation, an organization she founded in 2019, provides Black women and girls access to free mental health care. She is also the founder & president of The Loveland Group which holds various ventures including Elizabeth's Bookshop & Writing Centre, The Great Unlearn & The Great Unlearn for Young Learners.
Cooper is an activist, cultural critic, and associate professor of women's, gender, and Africana studies at Rutgers University. She's written for The Cut in the past, with dispatches on critical race theory, how white people are confronting race, and more. Cooper co-founded the Crunk Feminist Collective and is author of the New York Times bestseller Eloquent Rage: A Black Feminist Discovers Her Superpower.
Felix is a poet, essayist, and political strategist. She wrote New York Magazine's September 2021 cover story on Olympic medalist Simone Biles, and is the author of Build Yourself a Boat, which was long-listed for the 2019 National Book Award in Poetry. Her book Dyscalculia is expected in 2023 from One World.
Katz is a writer who has held roles at outlets including Paper Magazine, Mic, MTV, and Thrillist. In 2021, he was named to Fast Company's annual list of the "Most Creative People in Business." His book, Into Every Generation a Slayer Is Born: How Buffy Staked Our Hearts, is expected in 2022 for Hachette.
Mukhopadhyay was most recently executive editor at Teen Vogue. She's the co-editor of the best-selling anthology Nasty Women: Feminism, Resistance and Revolution in Trump's America and is the author of the forthcoming book The Myth of Making It. Mukhopadhyay has contributed to The Cut in the past, writing on the demise of the Girlboss for its print fall fashion issue, and on Alexandria Ocasio-Cortez's recent "Tax the Rich" gown.
Santiago Cortés was most recently lifestyle writer at Refinery29, a role in which she covered digital culture and youth culture.