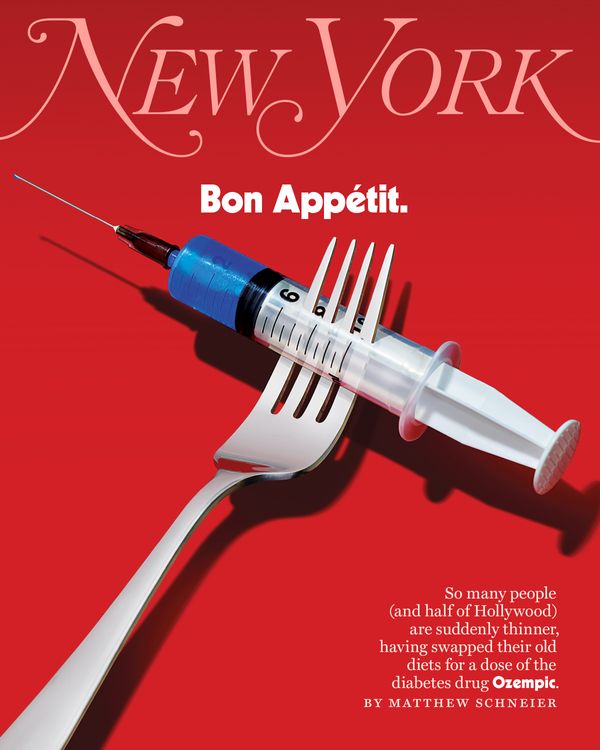 New York Magazine's March 1-14, 2021 cover
Photo: Pierpaolo Ferrari and Maurizio Cattelan
New York's February 27–March 12, 2023, cover story by features writer Matthew Schneier is an examination of the rise of Ozempic, a diabetes-management turned off-label weight-loss drug that has eradicated the appetite of high society. Schneier spoke with an actress who reluctantly admits using it despite its potential risks, a cosmetic dermatologist who profits from its effects, a restaurant worker now accustomed to witnessing two-bite meals, and others to explore the suddenly cresting Ozempic moment.
"Ozempic is the 'Are they or aren't they' conversation I couldn't stop overhearing," says Schneier. "The medication, and others like it, is a breakthrough medically and a huge temptation cosmetically. The fight for the choked supply, between those who need it for the former and those who want it for the latter, was a delicious opportunity to dig into how far we're willing to go to look the way we want — and what we have to give up to get there."
The cover was photographed by Pierpaolo Ferrari and Maurizio Cattelan.
Elsewhere in the issue, features writer Elizabeth Weil looks at AI ethics and linguist Emily M. Bender's concerns about what will happen if we forget that chatbots are not human. Features writer Jen Wieczner profiles Arthur Hayes, the original crypto king, who's returning to a radically changed industry after a stint under house arrest.