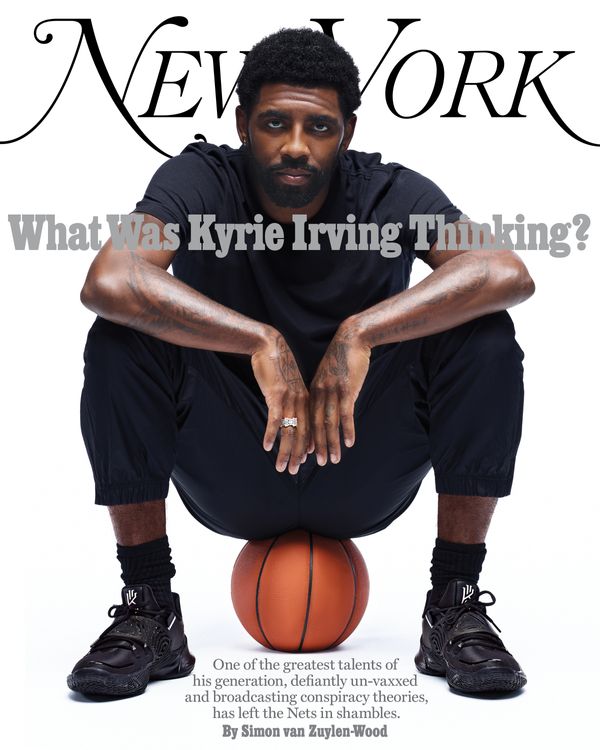 New York's February 13 - February 26, 2023 cover story is a profile by Simon van Zuylen-Wood of one of the most captivating and controversial athletes in America, Kyrie Irving. Van Zuylen-Wood digs into his backstory to uncover how his search for purpose has led him towards conspiracy theories and other fringe thinking that seems to consistently derail his career, from his flat-earth theory to sitting out nearly half a season over his refusal to get vaccinated against COVID. After a tumultuous tenure with the Brooklyn Nets, and a recent trade to the Dallas Mavericks, the story dives into how his mindset has impacted his relationships on and off the court.
"Kyrie Irving is one of the most spectacular talents in the NBA, and he also has by far its weirdest mind. In Brooklyn, those two features collided, and now he leaves the team and front office disgruntled. We wanted to examine Irving's entire life and career and find out why he thinks the way he does. It turns out that he's both stranger and more familiar than many people realize," says features editor Nick Summers. 
Elsewhere in the issue is a feature by Shawn McCreesh, who profiles Risa Heller, New York City's prolific and high-powered PR consultant who has managed crises for the likes of Jeff Zucker, Mario Batali, and Sam Bankman-Fried's family. The issue also includes a feature from Greg Donahue, who takes the reader through hedge fund pioneer Michael Steinhardt's collection of antiquities and the network of tomb raiders, crooked art dealers, and curators at the world's top museums who enabled him.