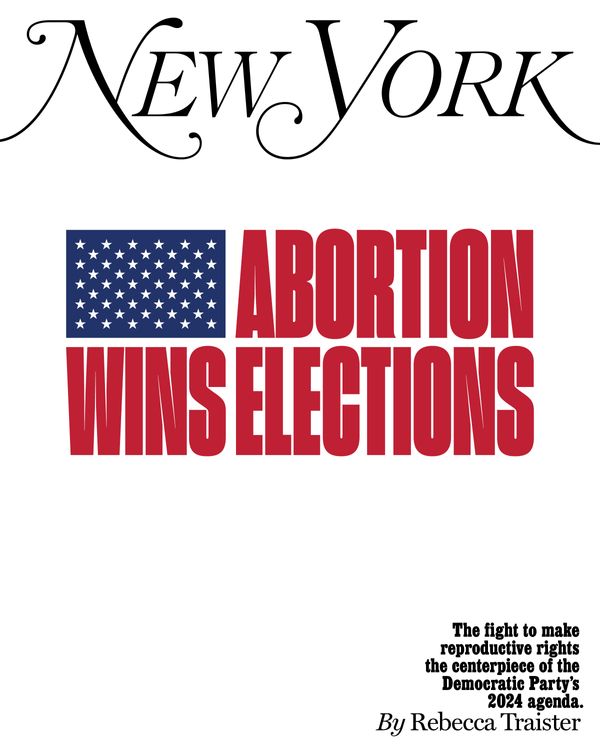 New York Magazine's March 1-14, 2021 cover
Illustration: Pentagram for New York Magazine
Coming almost a year after the gutting of Roe v. Wade and months after a surprising midterm election, the March 27–April 9 issue of New York Magazine examines the Democratic Party's push to make abortion the centerpiece of its legislative agenda. Writer-at-large Rebecca Traister takes readers inside the party's internal debates over how best to push to legalize abortion with a focus on how it's playing out in Michigan and in Washington, D.C. Traister writes that while the Democratic Party has historically tiptoed around reproductive rights, in the last year, many female government officials nationwide have demanded that the party prioritize abortion rights in their policy agenda.
"I started reporting on this piece the week of the midterm elections, and people were suggesting that abortion was less likely to motivate people to vote. On the contrary, it was a huge motivating factor," says Traister. "During the midterm elections, millions of voters sent a clear message to the Democratic Party. They asked for leadership on this. But it's a tough problem. How do you lead through chaos? How do you lead Democrats when there's a structural deficit with being the minority of the House, having to overcome a filibuster in the Senate, and having a regressive Supreme Court. On a federal level, the leadership of the party is still in the hands of a generation that wasn't sure it wanted to take on abortion as a core issue a few years ago in the first place."
"And then there's the instance of Michigan. Michigan stands out because it's an example of where the generational turnover occurring in the Democratic Party has happened, at least for now. And part of that generational turnover is tied to the 2018 election," says Traister. "In Michigan, when I saw that Gretchen Whitmer filed her lawsuit, she was one of few elected officials behaving with preparedness. So that's why Michigan's unique. There was already legal maneuvering to avert the crisis post-Dobbs."
The cover was commissioned and created in partnership with Pentagram / Emily Oberman. Emily's work is unique in that it blurs the line between promotion and design — often using language and humor to make an emotional connection.
Elsewhere in the issue, Allison P. Davis profiles Emily Henry, a contemporary romance writer who has managed to put pieces of herself in each of her heroines, and Tom Scocca takes readers through the intricacies of the new LED lights in your homes, handheld gadgets, and restaurants and why their quality and functionality are so bad. Also: Andrea Long Chu on Andrew Lloyd Webber, Kara Swisher in conversation with Sam Altman, and Adam Platt on the "Full Immersion" glut.