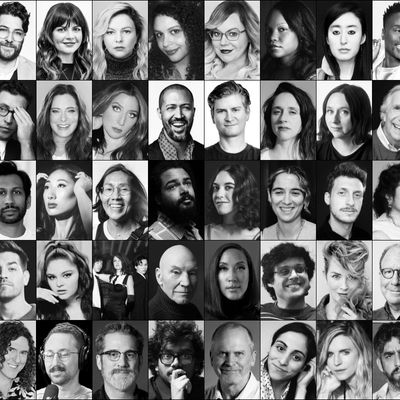 Vulture Festival
Photo: Vulture Festival
Vulture today announced additional programming for its annual pop-culture extravaganza, Vulture Festival, which is returning for the tenth year in a row with a weekend of high-profile events. Taking place November 11 and 12 at Nya Studios in Los Angeles, the festival will bring fans an incredible array of actors in conversation, screenings, sing-alongs, and unique surprises that only Vulture can provide. As previously announced, Broadway icon and fashion legend Billy Porter will receive Vulture's fourth honorary degree during the two-day Festival.
The lineup, curated by Vulture's editors, will feature:
Patrick Stewart Hangs Out With Us for a Whole Hour: Legendary thespian Sir Patrick Stewart will join us to discuss his New York Times best-selling memoir, Making It So, a look at his journey from Yorkshire boy to internationally acclaimed performer. As a special benefit, a copy of Making It So is included with each Vulture Plus ticket purchase.
Robin Thede Tells Us How to Write Comedy Gooder: Being funny, it's hard; writing funny, even harder! Luckily, Emmy-nominated professional writer Robin Thede is swooping in to help us learn the secret formula that makes for a successful Hollywood wordsmith. We'll interview the creator of A Black Lady Sketch Show about her craft and process, and then she'll even answer some questions from the audience!
Rachel Bloom, Paul Feig, and Tim Hollingsworth: Rachel Bloom is joined by award-winning chef Tim Hollingsworth, Head Chef of Otium and Chain, and acclaimed director and writer Paul Feig to demonstrate how one can successfully eat, drink, and talk at the same time. Our favorite musical-theater nerd is returning to Vulture Festival! She'll be chowing down on a massive amount of chain restaurant dishes to discuss Tim's pop-up phenomenon Chain and all things fast food. With cocktail pairings from director Paul Feig featuring his very own brand of gin. Cheers and bon appétit!
Writing What We Do in the Shadows: A Panel With the Human Writers of FX's Award-Winning Vampire Comedy: You have been summoned to a meeting with the most important and powerful vampire-comedy writers in the world! Executive producer–showrunner Paul Simms, executive producer Sam Johnson, co–executive producer Marika Sawyer, supervising producer Sarah Naftalis, and executive story editors Jeremy Levick and Rajat Suresh will appear before you to share secrets about writing this bloody good show. BAAAAT!
Katie and Allison Crutchfield Sing the Songs They Loved at 16: Katie (Waxahatchee) and Allison Crutchfield are joined by special guests Tim Heidecker, D'Arcy Carden, Beth Stelling, Whitmer Thomas, Chris Farren, and Fenne Lily to talk about and perform their favorite songs from when they were 16 years old. Join us for an hour of story and song and a chance to consider whether we ever REALLY stop being 16.
Comedians You Should and Will Know Who You Can and Will See Presented by RumChata®: We're doing a show with a whole batch of performers fresh off our annual Comedians You Should and Will Know list, so you can say you can and do know them! Hosted by list alumni Jamie Loftus and featuring Zach Zucker, Andrea Jin, Curtis Cook, Brian Bahe and Rachel Kaly. Get your tickets now!
Billy Porter Receives Vulture's Honorary Degree: Broadway icon and fashion legend Billy Porter needs no introduction, but we'll do our best: As he already has a Grammy, a Tony, an Emmy, a Drama Desk Award, and a Golden Globe, we're excited to add Vulture's honorary degree to Porter's fully laden awards shelf. We'll sit down with him to look back at his 30-plus years of performance — from originating the role of Lola in Kinky Boots to crafting four studio albums, all while maintaining his energy as an activist for the LGBTQ+ community. Join us for a conversation (in which, in accordance with SAG-AFTRA rules, no TV or film projects will be discussed) with one of the industry's most unforgettable artisans, and appreciate what it means to be in the presence of a legend.

Sharon Stone and Jerry Saltz Talk About Art: Sharon Stone's name has long been synonymous with cinema, but now she's branching out into a different visual medium: fine art.  Experimentation that began in the early days of the COVID-19 pandemic has blossomed into her first full exhibition, "Welcome to My Garden," now on display at C. Parker Gallery in Greenwich, Connecticut. To celebrate the beginning of this new era, Stone will sit with New York Magazine's senior art critic, Jerry Saltz, to discuss her daily painting practice, the inspiration behind her work, and everything else they love about the world of ART!
Gayotic With Muna and Special Guest Meg Stalter: Hi, Gay! Join us for an hour with the world's greatest band and your favorite podcasters, Muna — like you've never heard them before. Comedian Meg Stalter will feature her signature vocal stylings alongside the group Vulture credits with providing us the most "pure hits of queer joy." It — like life — will be so fun!
A Special Advance Screening of Peacock's Please Don't Destroy: The Treasure of Foggy Mountain: Join us for this exclusive sneak peek of one of the most hotly anticipated comedies of the year featuring Please Don't Destroy, Bowen Yang, Meg Stalter, X Mayo, and Conan O'Brien. Afterward, director Paul Briganti will join us for a very special chat!
A Slumber Party with Josie Totah: Put on your best PJs and join us for a conversation with actor, writer, producer, comedian and activist Josie Totah. Like any good slumber party, we'll spill secrets, play games, and get up to no good — but unlike other slumber parties, this one will last one hour. Sleepwear is optional, but it's highly encouraged!
TJ Mack Live in Concert and Conversation, Featuring His Wife and Brian Jordan Alvarez: Sitting is the opposite of standing, but you're invited to do both at this concert and conversation with pop sensation TJ Mack. Joined by his wife — and a man named Brian Jordan Alvarez — Mack will perform a few of his original works while also exploring what makes him such a compelling cultural icon.

A Big Long Talk With Cord Jefferson: Emmy-winning writer of television masterpieces like The Good Place, Watchmen, and Succession Cord Jefferson will sit down for a long talk about his life and his new film, American Fiction with his friend and collaborator Mike Schur. An adaptation of Percival Everett's novel Erasure, the film satirizes the commodification of Black artists — in a directorial debut for Jefferson that was highly lauded following its premiere at the Toronto International Film Festival. This will be a rare opportunity to hear from one of Hollywood's most forward-thinking and prolific creative minds before you're watching his Oscar acceptance speech on TV.

Tickets to Vulture Festival events start at $15. Tickets include access to the Lot at Nya Studios and one complimentary drink ticket. Follow @vulturefestival and @vulture for updates.
The festival is sponsored by Bulleit, DICE, Gold Peak, RumChata®, Trolli, and Supergoop!®.
***
ABOUT VULTURE
Vulture offers smart, comprehensive coverage of TV, movies, music, and much more. Vulture celebrates culture both high and low, because you never know where you'll find the next truly brilliant moment.
ABOUT VOX MEDIA
Vox Media is the leading modern media company, reaching audiences everywhere they are. Known for editorial properties including Vox, SB Nation, New York Magazine, The Dodo, and The Verge, the company's portfolio features the most relevant, respected, and engaging editorial properties and voices. The company is also home to award-winning storytelling businesses such as Vox Media Studios and the Vox Media Podcast Network as well as innovative technologies that support the entire media industry, including the Concert advertising marketplace. Vox Media proves that quality can scale.
MEDIA CONTACTS
Shawn Purdy, Slate PR, shawn@slate-pr.com; teamgelb@slate-pr.com
Priyanka Mantha, New York Magazine, priyanka.mantha@nymag.com
Amani Orr, New York Magazine, amani.orr@nymag.com