308 EAST 79TH STREET, PENTHOUSE W
The Facts: 2,250-square-foot, three-bedroom, two-bath penthouse with 2,300-square-foot terrace.
Maintenance: $3,688 per month.
Agent: Toni Haber, Prudential Douglas Elliman.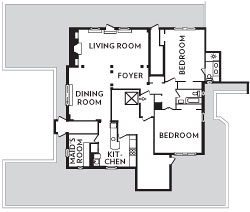 For a lot of people, a prewar penthouse with a giant terrace on the Upper East Side is the beau ideal. Yet it's still on the market after two months. Why?
Samantha Kleier Forbes, Gumley Haft Kleier: "The sun makes everything spectacular," says Kleier Forbes of the light that streams in on three sides. She liked nearly everything else, too—"the fireplaces, the terrace"—but recommends that the place be cleared out. "I would remove some of the clutter … It's a little bit overfurnished, and some people can't get past that."
Her assessment: $3.35 million. ("$3.4 million on a sunny day.")
Elizabeth Sahlman, Halstead: If it were two blocks closer to Central Park, Sahlman says, the owners could ask an extra $1 million. But east of Third, "people want to have a certain lifestyle," she says, adding that "the interior would have to be updated, and you have to allot for that."
Her assessment: $3.25 million.
Debra Hoffman-Brill, Corcoran: Hoffman-Brill praises the smart kitchen renovation, but adds that the apartment "doesn't show well. There's a lot of clutter." Not exactly what you need when "everyone's taking their time and unusual apartments are selling slowly."
Her assessment: $2.3 million.
And the actual asking price is … $3.295 million.