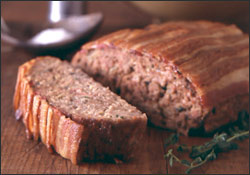 Meat Loaf With Mushroom Sauce

The Chef
TOM VALENTI of Ouest

Servings
Serves six to eight.

Ingredients
1 tablespoon olive oil
1 medium Spanish onion, finely chopped
3 cloves garlic, minced
2 eggs, beaten
1/2 teaspoon chopped thyme leaves
3 tablespoons plus 1 teaspoon
Dijon mustard
2 tablespoons Worcestershire sauce
1/2 teaspoon Tabasco sauce
1 cup milk
2 pounds ground meat (equal parts beef, pork, and veal preferred)
2/3 cup crushed saltines
1/4 cup minced flat-leaf parsley
1 tablespoon coarse salt
1 teaspoon freshly ground black pepper
6 ounces thinly sliced bacon (optional)

Mushroom Sauce:
3 tablespoons butter
2 cloves garlic, minced
2 portobello mushrooms, cut into 3/8-inch cubes
1 16-ounce can low-sodium beef broth
1 ounce dried porcini mushrooms, ground to dust in a coffee grinder
1 tablespoon Wondra flour

Cooking Instructions
Preheat the oven to 350 degrees.

Pour the oil into a sauté pan and set over medium-high heat. Add the onion and garlic and sauté until translucent, about 5 minutes. Remove from heat and allow to cool.

In a mixing bowl, stir together the eggs, thyme, Dijon mustard, Worcestershire sauce, Tabasco sauce, and milk.

Place the ground meat into another bowl and pour the egg mixture over the meat. Add the saltines, parsley, onion, and garlic to the bowl. Season with salt and pepper.

Roll up your sleeves, and knead the meat together with the other ingredients until well blended (if you like, cook a small portion of the mixture in a pan, taste, and adjust seasoning).

Transfer to a cookie sheet and form into a loaf. If using the bacon, wrap the slices lengthwise over the top and tuck them under the loaf, to completely cover the meat.

Bake for 1 hour or until an instant-read thermometer inserted into the center of the loaf reads 160 degrees. Remove from the oven and set aside to rest for 5 minutes. Slice and serve with mushroom sauce (recipe below) and mashed potatoes.

Mushroom Sauce:
Heat 2 tablespoons butter in a sauté pan, add the garlic and portobello, and sauté until soft.

Bring the broth to a boil in a saucepan, and reduce by a quarter. Remove from the heat and add the ground porcini.

Mix the flour and 4 tablespoons water in a bowl, stirring until combined. Add the sautéed mushrooms and flour to the porcini broth, set the saucepan over low heat, and stir until the broth thickens. Stir in the remaining butter just before serving.



Photograph by Anna Williams.