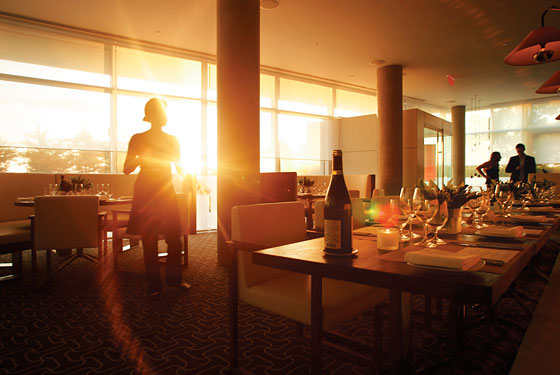 Jean Georges's Prix Fixe Lunch
1 Central Park W., nr. 60th St.; 212-299-3900
This legendary meal once cost just $24. It's $28 now, but that's still a small price to pay for, say, dabs of fresh Santa Barbara uni on postage stamps of buttered black bread, followed by a single, deliciously soft short rib flavored with jalapeño and mint. The price doesn't include dessert, but if you're patient, the petits fours will arrive: glittery chocolates, passion-fruit meringues, and handmade marshmallows snipped tableside, just the way the rich folks get them at dinnertime, with silver scissors.
The Picholine Bar Menu
35 W. 64th St., nr. Central Park W.; 212-724-8585
Belly up with the rest of the opera loons to the new tapas-themed bar at Terrance Brennan's Upper West Side restaurant, and you'll find $18 buys all sorts of wonders. Like deposits of paella wrapped in crispy spring-roll skins ("paella spring rolls"); sherry-flavored sorbet crowned with strips of crackly, baked serrano ham; and assorted innards (duck liver, chopped calves liver) designed to be spread, luxuriously, over slabs of truffled toast.
The Anthos Lamb Burger
36 W. 52nd St., nr. Fifth Ave.; 212-582-6900
Pay a flat $20 at lunchtime for Michael Psilakis's epic lamb burger and you won't be disappointed. It's mixed with crushed garlic, sweet pepper, and herbs, wrapped in caul fat, char-grilled to juicy perfection, and smothered with a creamy feta-cheese sauce on a toasted brioche bun.
Aquavit Cafe
65 E. 55th St., nr. Madison Ave.; 212-307-7311
You can drop lots of cash at Marcus Samuelsson's main dining room, or you can do what I do: sneak into the Aquavit Cafe, a nirvana for gourmet penny-pinchers, especially at lunchtime. A mere $19 buys the exemplary smorgasbord plate, a hobbit-size sampling of tasty "Swedish bites." Or, for the same price, you can get "home-cooked" blue-plate specials. On Thursdays, the Artsoppa (pork sausages and pea soup) comes with Swedish pancakes and raspberries. Even the full-on, three-course prix fixe lunch costs a modest $24.
Lunch at Perry St
176 Perry St., nr. West St.; 212-352-1900
My normal lunchtime choice in this West Village neighborhood is the profoundly delicious Cubano sandwich at the Spotted Pig ($15). But for a more elevated and only slightly more expensive experience, I like to visit Jean-Georges Vongerichten's personal canteen. The $24 lunch prix fixe lets you choose three courses from the standard menu served in small "tasting" sizes. My recommendation? Anything to do with eggs, and any dish on the menu with the word crunchy in its title. And when they're on the menu, the beef dishes are the best in town.