Food trucks, the next step up the evolutionary ladder from the traditional sidewalk food cart (trucks are generally larger, more tricked-out, and self-propelled), aren't exactly new. Trucks serving pizza or halal chicken and rice have fed midtown office workers and outer-borough revelers for years. What is new is the elevation of the form—the quality, variety, and sheer number of the things have never been greater. Here, a look at 25 of our favorites.

Moshe's Falafel 46th St. and Sixth Ave.
A small portion of the crispy, fluffy falafels (three for $3.75) is a meal; a large order (five for $5.25) is a feast.

NYC Cravings Truck twitter.com/nyccravings
Pair the meaty Taiwanese fried pork or fried chicken over rice ($7) with a side of anchovies with peanuts and chili peppers ($4).
Rickshaw Dumpling Truck twitter.com/rickshawbar
The chicken-and-Thai-basil (six for $6) are the best of these snack-size savory creations.
Jiannetto's Pizza jiannettospizza.com
Their Grandma slice ($2.75) is a thin-crust Sicilian that's crunchy (but not brittle) with sauce that's sweet (but not too sweet).

Wafels & Dinges twitter.com/waffletruck
The Brussels wafel ($5) is airy enough for summer. Save the denser Liège variety ($5) for colder weather. Smother either in fudge or Nutella.
Endless Summer N. 3rd at Bedford St., Williamsburg
The juicy pork ($2.50) or beef ($3) tacos with avocado crema are deliciously overstuffed.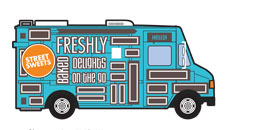 Street Sweets twitter.com/streetsweets
Fear the addictive potential of the whoopie pies. The chocolate and pumpkin varieties are baked daily and cost a dangerous $2 apiece.
La Cense Beef Burger Truck twitter.com/LCBBurgerTruck
There are two things on the menu, a hamburger ($6) and a hamburger with cheese ($6.50). Neither disappoints.
El Rey del Taco 30th Ave. nr. 33rd St., Astoria
Late-night drinkers are powerless before the "sincronizada" ($7)— a gooey melted ham-and-cheese between pressed flour tortillas.
The Brothers L&C Latin Fast Food 18th St. at Sixth Ave.
For $2.50 (or three for $7), get a double corn tortilla filled with juicy, flavorful shredded pork, beef, or chicken.
Red Hook Trucks Red Hook Ball Fields, Court St. at Bay St., Red Hook
The tacos, pupusas, and huaraches (all under $10) that helped reignite New York's love affair with street food.
Super Tacos 96th St. at Broadway and 14th St. at 7th Ave.
Try the tlacoyos ($3): long masa flatbreads stuffed with refried beans and topped, tamale style, with bright-orange spicy pork, sweet chopped onion, lettuce, and cilantro.
Van Leeuwen twitter.com/VLAIC
The anti–Mister Softee. The milk and cream come from upstate cows, the ginger is "baby-fiber-free," and the chocolate is from Michel Cluizel.

Bistro Truck twitter.com/bistrotruck
A sort of Niçoise sandwich, the Tangiers Bocadillo ($6) is packed with tuna, hard-boiled egg, veggies, mortadella, and french fries inside.
GO Burger twitter.com/goburger
The namesake burgers are good. The $6 Kobe hot dog—served on a buttery bun and topped with chili and cheese or apple slaw and jalapeño—is better.
Frites 'N' Meats twitter.com/fritesnmeats
You'll be tempted to order an "American Kobe" burger ($7.50), but the cheaper ($5.50) grass-fed Angus is plenty thick and juicy enough.
Steak Truck 47th St. at Park Ave.
Enough yummy kebabs ($2.50), cheesesteaks ($4), and chicken-and-rice platters ($4) for a month of lunches without duplication.
The Treat Truck 212-691-5226
A rolling bakery full of cookies ($1 each) and brownies ($2.50 and up). The Mexican Chocolate is a real killer.
Big Gay Ice Cream Truck twitter.com/biggayicecream
The tasty soft-serve is really just a vehicle for exotic toppings like wasabi-pea powder, olive oil, and cardamom.
Yvonne Yvonne 71st St. and York Ave.
Consummate hostess Yvonne makes a perfect braised oxtail ($6.50) and other Jamaican staples like curried goat.
Schnitzel & Things twitter.com/schnitzeltruck
There's more food with the platter (schnitzel and two sides, $10), but the sandwich ($8) keeps the focus on the chicken, pork, cod, or veal.
Patacon Pisao 202nd St. nr. Tenth Ave.
Order the "full" sandwich ($5.50), a gob of marinated beef, pork, and chicken and a square of fried cheese stuffed inside two crispy disks of fried plantain.
Mini Picanteria El Guayaquileño 37th St. at Sixth Ave. and Warren St. at Roosevelt Ave., Jackson Heights
Midtowners (at lunch) and Ecuadorans (at the nocturnal Queens location) go for the encebollado fish soup ($8).
World's Best Sandwich 20th St. and Broadway
The name may be an overstatement, but the chicken-salad sandwich ($4)—with more meat than mayo—certainly outperforms most delis'.
Berry Fro Yo Union Square
A cheap fix of tangy, unsweetened yogurt, with toppings that range from the virtuous (granola) to the shameless (Lucky Charms–style marshmallows).