Red and white are no longer the main considerations in New York wine shopping. Thanks to a recent wave of small shops opening with carefully curated collections built around the owner's philosophy, the choices have broadened to organic or sustainable, limited production, or just great with food, but always good value for the price. Consider them retail sommeliers, with not a bad bottle—or a mindlessly acquired one— on any of their lists.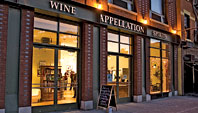 Appellation Wine & Spirits
156 Tenth Ave., nr. 19th St.; 212-741-9474 or appellationnyc.com
The philosophy of this airy West Chelsea shop might be "The very best high is a natural high"—almost all of the roughly 250 wines are organic or biodynamic. It's a casually eco-conscious attitude that seems to carry over from Cookshop just up the block. Ask owner Scott Pactor for the most amazing bargain and he may steer you to a Greek Skouras Cabernet blend for $8.99, an earthy, almost herbal red. If money is no object, though, you can splurge on an $1,199.99 Romanée-Conti La Tâche.
Bottlerocket Wine & Spirit
5 W. 19th St., nr. Fifth Ave.; 212-929-2323 or bottlerocketwine.com
If Romper Room carried wine, it would look like this. The philosophy is wine buying made fun and easy—all 350-or-so choices are arranged by country along one wall, then redistributed in central kiosks as partners for food (chicken to takeout) or by style or value (cheap to cheapest). Bottles start at $6, but if you ask for the most rewarding wine for the price, you may walk out with a Ridge Three Valleys Zinfandel blend with big, jammy, round-and-ripe flavor for all of $22.
Moore Brothers Wine Company
33 E. 20th St., nr. Broadway; 866-986-6673 or moorebrothers.com
The coat rack hung with loaner jackets sets the tone at this 56-degree Flatiron showcase. It's all about the human touch, from handpicking small-production wines, mostly from France, Germany, and Italy, to maintaining every bottle at cellar temperature from winery to checkout, and the difference in taste is perceptible. Ditch your famous-label fetish and listen when guided to a tart but full-bodied Touraine Sauvignon from Domaine de la Potine with grassy, minerally flavor for $12.50.
Pasanella and Son Vintners
115 South St., nr. Beekman St.; 212-233-8383 or pasanellaandson.com
Small is beautiful at this light-streaked store opposite the old Fulton Fish Market: All Italian and Burgundian wines are from producers who do things on a human scale, many rarely seen hereabouts. Wall banners suggest food pairings; a cabinet near the vintage Ferrari houses esoteric choices. The bargain pick is an outstanding $14.99 Cantina Zaccagnini Montepulciano d'Abruzzo 2003, with plummy richness and almost peppery resonance.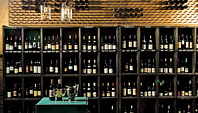 September Wines & Spirits
100 Stanton St., at Ludlow St.; 212-388-0770 or septemberwines.com
This is the wine store as womb: Tight, cozy, and nurturing. The philosophy in this sleek Lower East Side space might as well be "We don't need no stinkin' Big Viticulture"—all the artisanal wines are well off the Chardonnay-beaten path. Ask for something outstanding for a pittance and staffers will immediately grab the 2006 Wrongo Dongo Jumilla, a Spanish red for $8.99 with raspberries and cocoa on the palate and hints of allspice in the nose.
Tinto Fino
85 First Ave., nr. 6th St.; 212-254-0850 or tintofino.com
Spanish only is spoken here. Pedro Almodóvar might consider the décor understated, but this sliver of an East Village shop is like a jewel box, with crazed mirrors painted with names of wine-producing regions. The sherry choices, naturally, are primo. A best buy is Menguante Garnacha 2005 for $10 but with enough raisiny, peppery liveliness to be worth four times the price at a trendy restaurant (back in stock in early March).