Superstores like Dean & DeLuca and Zabar's might characterize specialty-food shopping in Manhattan, but Brooklyn has its own gourmet gestalt. The New Brooklyn General Store—perfected, if not pioneered, by Marlow & Sons in Williamsburg—is quirky and meticulously curated, with a strong locavore bent. It is often rustic and ecofriendly and caters to the discerning appetites and disposable incomes of its Edible Brooklyn–reading target demographic. Its ranks include places like Bedford Cheese Shop and Bierkraft, Foragers Market and Blue Apron Foods, and its signifiers are the small-batch, artisanally made products du jour (Hot Bread Kitchen tortillas and Salvatore Bklyn ricotta, of late, and an endless supply of McClure's pickles).
The gourmet growth sector expands this week with the arrival of Bklyn Larder, the new venture from Andrew Feinberg and Francine Stephens of the Prospect Heights pizzeria Franny's. "We opened this place so we'd never have to shop anywhere else," says Stephens, who saw a neighborhood niche for high-quality products and really good prepared foods. What was conceived as a small cheese shop grew to encompass a streamlined selection of kitchen staples: bulk Puglian olive oil stored in a 50-liter steel fusto, bean-to-bar American chocolates, housemade gelati, family-farm organic milk, dried pastas, cured meats, and, yes, cheese, which resides in a pine-shelved room climatically maintained by partner-cheesemonger Sergio Hernandez. But aside from good taste and a modern, almost stark aesthetic, what set Bklyn Larder apart from the competition are its prepared foods, which range from heritage-pork porchetta to a selection of sandwiches. The current roster includes a grilled L'Etivaz cheese, a broccoli rabe with young Pecorino, and a Burgers' Missouri bacon with hard-boiled egg, which is the closest New Brooklyn General Storekeepers get to a BLT when it's not tomato season.
From Pickles to Pork
Brooklyn's new crop of food shops.
Marlow & Daughters
95 Broadway, nr. Berry St., Williamsburg; 718-388-5700
Tom Mylan's the resident snout- to-tail butcher, but even vegetarians will find plenty to like at this astoundingly well-stocked shop, which has inherited most of Marlow & Sons' provisions. Don't miss: Rancho Gordo heirloom beans, Guy Jones's mesclun mix, Benton's bacon.
Brooklyn Standard
188 Nassau Ave., nr. Jewel St., Greenpoint; 718-472-2150
Cody Utzman's countercultural bodega sells condoms and batteries, but also hummus chips, all-organic produce, and vegan subs. Stumptown coffee is $1, with a 25 cent discount if you bring a mug.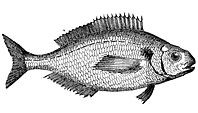 Choice Greene
214 Greene Ave., nr. Grand Ave., Clinton Hill; 718-230-1243
Choice Market's grocery offshoot has what many of its ilk don't: a fish counter with a dedicated sushi chef.
Urban Rustic
236 N. 12th St., nr. Driggs Ave., Williamsburg; 718-388-9444
From the rough-hewn design to the fading organic produce, this place has college co-op written all over it. But everything from Seventh Generation baby wipes to organic cat food makes it one-stop shopping for the young urban professional hippie.
The Greene Grape Provisions
753 Fulton St., at S. Portland Ave., Ft. Greene; 718-233-2700
Within this market's snug confines you will find not only a serious fish counter with a wild-salmon arrival schedule, but also It's-It ice-cream sandwiches, Macedonian ajvar, local asparagus, the Woodman's hardwood charcoal, and the daily paper.
Bklyn Larder
228 Flatbush Ave., nr. Sixth Ave., Park Slope; 718-783-1250