Hot dog, $3.99
Nathan's Famous
1310 Surf Ave., at Stillwell Ave.; 718-946-2202
There's a reason they've got "famous" in their name: The hot dog here (and here alone — skip it at any other location of the chain) is a classic. The sausage has a toothsome snap, sweet-smoky flavor, and a buttery, charred bun that renders toppings like sauerkraut or stewed onions entirely irrelevant.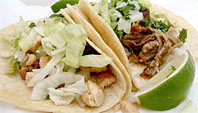 Tacos, $3 each
Grill House
Boardwalk, nr. 15th St.; 718-265-0347
There are half a dozen counters affiliated with the hundred-yard-long Grill House, each selling its own specialty, from fresh-shucked clams to funnel cake. Head to the far western end of the booth for the Mexican offerings, where you can pick up a round of tacos that are easily as good as any in town. Your best bets: tangy chicken, charcoal-grilled after an all-day marinade in garlic and fresh herbs, or the meltingly tender shredded carnitas. Add some sliced avocado and cheese for $0.50 each, and be the envy of the boardwalk.
Quarter chicken, $5
Pio Pio Riko
1023 Boardwalk, nr. 12th St.; 718-266-4092
The ubiquitous Peruvian rotisserie chain might not seem like a natural fit for the beach, but its quarter chicken — dark-skinned, dark-fleshed, deeply flavorful — goes surprisingly well with the salt tang in the air. Sit down in the roped-in seating area for a little bit of peace and quiet among the otherwise madding crowd.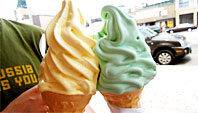 Soft-serve cone, $3
Denny's Delight
1212 Surf Ave., nr. Stillwell Ave.; 718-266-9371
Sure, there's fried dough and hot dogs to be had at this seriously old-school stand just off the boardwalk, but the real draw is the super-creamy, super-fresh soft-serve custard — once a Coney Island staple, now maddeningly hard to come by. Skip the chocolate or vanilla in favor of a cone of their justly famous pistachio. (Or if you're feeling particularly adventurous, a pistachio-banana swirl.)
Margherita pizza slice, $2.81
Totonno's Pizzeria Napoletano
1524 Neptune Ave., nr. 15th St.; 718-372-8606
Be warned: To get a single slice of Totonno's legendary Neapolitan pizza, you're going to have to order a whole pie, so it's smart to bring friends. The charred crust, bright-sweet tomato sauce, and super-fresh mozzarella elevate this significantly over most other pizzas in New York, let alone Coney Island.
WORTH THE SPLURGE
The Sea Gate Special, $9
Classic Heros
1410 Neptune Ave., nr. Stillwell; 718-266-4376
A few blocks off the beaten path of tourists and day-trippers, Classic Heros' greatness is revealed by the crowd of cops always hanging around during mealtimes. Its signature creation, the Sea Gate Special, is a true showstopper: a fresh Italian loaf loaded up with housemade brisket doused in gravy, a pile of caramelized onions, and a healthy serving of fresh mozzarella. It all gets a run under the broiler and comes out a gooey, meaty torpedo of sandwich perfection.