Despite Paula Deen's type-2 diabetes revelation and the debut last week of the Food Network's reality show Fat Chef, not everyone who makes their living in a kitchen is overweight and out of shape. With few exceptions, you might even say that there's an inverse relationship between Michelin stars and body-mass index. Much of this has to do with the changing nature of the job, of course—today's celebrity chef is expected to cut a certain figure on the small screen, and to photogenically embody his brand, no matter how many image consultants and personal trainers it takes. But it goes deeper than that. Not only is cooking grueling work that requires a certain level of physical fitness, but it just might attract the personality type that thrives on the adrenaline unleashed during the typical dinner rush. Then again, it could be that very pressure-cooker situation that drives chefs like Gordon Ramsay and Bobby Flay to run marathons and Tom Colicchio to climb into the boxing ring. Some go beyond even that, subjecting themselves to competitive-level training or becoming obsessed with high-intensity sports, either to build stamina, develop discipline, or simply to blow off steam. Parm's Rich Torrisi took up kung fu when he was cooking at A Voce and can't imagine life without it. Hugue Dufour, of M. Wells fame, has fervently played ice hockey longer than he's been a cook (he's Canadian, after all). In the downtime between Chicago's L20 and a restaurant he hopes to open in New York, Laurent Gras rode 15,000 miles on his Pinarello Dogma road bike last year, just for fun. And then there's Eleven Madison Park's practically bionic man, Daniel Humm. When he isn't brining pigs' heads and such, he's running marathons, racing mountain bikes, and swimming laps. "Cooking is also an endurance sport," he says. And, these days, just as competitive. Here, some chef-athlete stats that might surprise you.
The Iron Man: Daniel Humm
Eleven Madison Park

Sport: Competes in a dozen 30-mile mountain-bike races per year at the highest amateur level.
Longest ride: British Columbia's 300-mile, seven-day BC Bike Race.
Marathons run: Five; best time: 2:51.
Typical workout: 7 a.m. mile jog with 2-year-old daughter, twelve-mile run alone, a swim at the Y. Photo: Alamy (body); courtesy of Daniel Humm (face). Illustration by Jesse Lenz.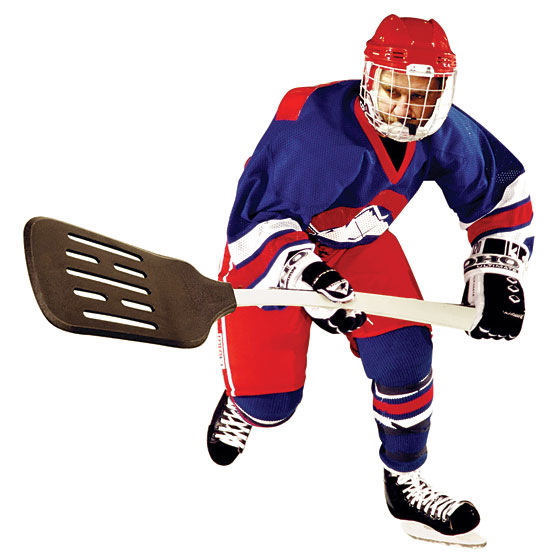 The Kung Fu Kid: Rich Torrisi
Torrisi Italian Specialties, Parm

Sport: Fu Jow Pai, the martial art modeled after the movements of an attacking tiger.
Current level: First-degree black belt.
Inner warrior: "When I started I really just wanted to learn how to kick ass. Eventually, I realized that to be great at it is to never use it."
Post-training-session snack: Protein shake. No chicken parm? "Never." Photo: Alamy (body); courtesy of Rich Torrisi (face). Illustration by Jesse Lenz.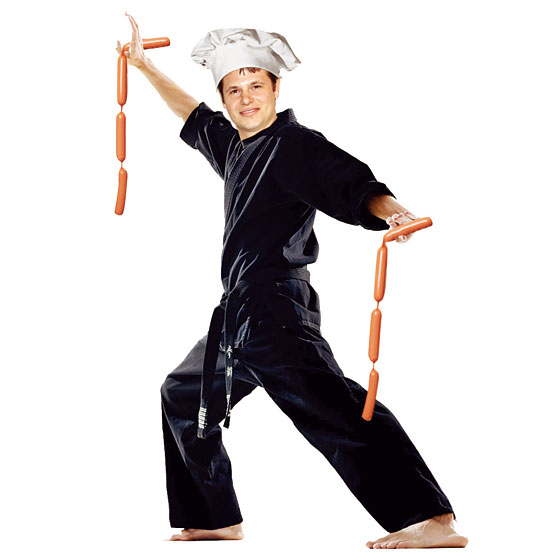 The Cyclist: Laurent Gras
triple-Michelin-starred pop-up king, late of Chicago's L20, currently scouting New York location

Career highlight: Took year off to join competitive cycling team and train quasi-professionally, garnering two second-place finishes.
A good ride: A 100-mile round trip from Chelsea apartment to Bear Mountain.
Added bonus: "When I ride, I eat all the time and never feel full." Photo: Alamy (body); courtesy of Laurent Gras (face). Illustration by Jesse Lenz.