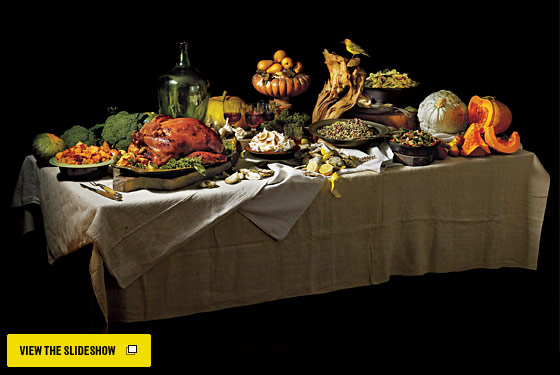 Photographs by Zachary Zavislak
The over-the-top feast has become a fixture of New York dining. Though once a friends-of-the-chef-only event, family-style bacchanals are now available to anyone with ten or so dining companions, a formidable appetite, and the forethought to snare a reservation well in advance. It is a style of eating that feels particularly apt right now: What could be more fitting for the holidays than extreme communal eating? We asked chefs April Bloomfield and Andrew Carmellini, both at the forefront of the feasting trend, to each share a festive—yet feasible—large-­scale spread. Their efforts, on the following pages, deliver delicious dishes that could satisfy a small army, or at least one ravenous extended family.
Andrew Carmellini's Thanksgiving Feast
Feasts are nothing new to Andrew Carmellini of Locanda Verde and the Dutch, who began dishing out family-style dinners to his most regular of regulars at Café Boulud in the nineties. "You could order a tasting menu anywhere," he says. "But large-format dinners brought a new level of social interaction: Diners using their hands, passing platters, serving themselves as much as they wanted." The infatuation eventually evolved into a modernized Italian abbondanza feast at Locanda Verde and now, for the Dutch's first Thanksgiving, an all-American turkey blowout. His advice for perfecting such a mammoth bird? "Time and brine"—soaking the turkey in maple brine the day before the feast, then stuffing it with a spicy Cajun cornbread-and-andouille mix for the final oven stretch.
See the Recipes:
Serves 12
Oyster Chowder With Beer and Bacon
Slow-Cooked Roast Turkey With Cornbread-Andouille Stuffing
Mom's Collard Greens
Wild-Rice-and-Quinoa Pilaf With Pecans, Green Onions, and Dried Cranberries
Cauliflower With Pears, Sage, and Hazelnuts
Sweet-Potato Meringue Pie With Pecan Crust
Photographs by Zachary Zavislak
April Bloomfield's Christmas Feast
April Bloomfield's favorite part about serving an elaborate feast: the ritual of it all. "We ring a bell, and everyone cheers and claps as the whole beast is paraded out," says Bloomfield, who introduced whole-suckling-pig dinners at the Spotted Pig and now features three feasts a night at the Breslin, her medieval gastropub. The latter will also be offering a roast-duck feast through the holidays. "It's fun to cook something whole, something extravagant to bring people together," she says of the British- and Italian-influenced menu, which begins with her Devils on Horseback—crispy bacon-wrapped prunes punctuated with spicy pear—and ends with Banoffee pie—a not-too-sweet banana-and-toffee confection.
See the Recipes:
Serves 10
Devils on Horseback
Salad Greens With Roasted Butternut Squash, Pomegranate Seeds, and Parmesan
Balsamic-Glazed Slow-Roasted Duck
Roasted Vegetables: Red Onions, Carrots, Parsnips, and Fennel
Jerusalem Artichoke Smash
Swiss Chard With Olive Oil
Banoffee Pie
Food styling by Alison Attenborough. Prop styling by Philippa Brathwaite.

Credits: Thanksgiving photo: Turkey platter and breadboard from Le Fanion; underlying tablecloth, glass bottle, and pewter serving bowl from Paula Rubenstein; top tablecloths, urn, driftwood, wooden and stone plinths, pewter soup bowls, soup pot, serving dishes, and all else from the private collection of Vito Giallo. Christmas photo: Velvet, fabric, platters, silver tray, horn salad servers, blue-and-white dinner plates, and silver-footed vase from the private collection of Vito Giallo; silver-footed Asprey bowl, George III silver entrée dish, and porcelain bowl from Niall Smith Antiques; candelabra from Bergdorf Goodman; Ironstone vegetable dish from Paula Rubenstein; duck from D'Artagnan.
Oyster Chowder With Beer and Bacon Photo: Zachary Zavislak
Cornbread-Andouille Stuffing Photo: Zachary Zavislak
Mom's Collard Greens Photo: Zachary Zavislak
Wild-Rice-and-Quinoa Pilaf With Pecans, Green Onions, and Dried Cranberries Photo: Zachary Zavislak
Cauliflower With Pears, Sage, and Hazelnuts Photo: Zachary Zavislak
Sweet-Potato Meringue Pie With Pecan Crust Photo: Zachary Zavislak
Devils on Horseback Photo: Zachary Zavislak
Balsamic-Glazed Slow-Roasted Duck Photo: Zachary Zavislak
Roasted Vegetables: Red Onions, Carrots, Parsnips, and Fennel Photo: Zachary Zavislak
Jerusalem Artichoke Smash Photo: Zachary Zavislak
Swiss Chard With Olive Oil Photo: Zachary Zavislak
Banoffee Pie Photo: Zachary Zavislak