Openings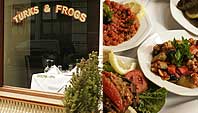 Turks & Frogs Tribeca
458 Greenwich St., nr. Desbrosses St.; 212-966-4774
Osman and Orhan Cakir, the hospitable brothers who converted a West Village antiques shop into a cozy wine bar called Turks & Frogs, expand on their Ottoman (and ottoman) empire with a full-fledged Turkish restaurant in Tribeca. Together, they outfitted a former stonemason's studio with French and Turkish antiques, a bar up front and a lounge in back, and a wine cellar for private parties in the basement. Cold meze are presented in traditional Turkish style on a large round tray, from which diners choose among stuffed grape leaves, bean salads, artichoke hearts, and multiple lush variations on an eggplant theme (smoked, baked, and stuffed). Lebni, the thick yogurt with walnuts, is as rich and delicious as the coban salad is crunchy and refreshing. Do justice to the meze, though, and you might have to forgo the entrées—but make sure to sample the Turkish wines, which come with enthusiastic commentary from the owners.
Quality Meats
57 W. 58th St., nr. Sixth Ave.; 212-371-7777
After 22 years as the Manhattan Ocean Club, Alan Stillman's seafood restaurant is reborn this week as a steakhouse. And if Quality Meats feels fresher and younger than Stillman's beef-centric Smith & Wollensky brand, it's because his son, Michael, is playing a larger role. It was Michael's idea to recruit AvroKo, the designers of Public and the Stanton Social, to reconceive the space, and that they have—first by stripping it down to its original exposed brick and steel-bracketed columns, and then riffing on a quasi-industrial butcher-shop theme with white tile, butcher block, and nickel-plated meat-hook light fixtures. There's a charcuterie bar at the entrance, where chef Craig Koketsu (of Manhattan Ocean Club, and Lespinasse before that) offers cured meats and Cato Corner Farm cheese; a raw-bar selection worthy of the site's prior incarnation; and newfangled steakhouse sides like creamed-spinach soufflé. Steak sauce is made fresh tableside, and renowned Napa vintner Delia Viader produces the private-label house wine.
European Union
235 E. 4th St., nr. Ave. B; 212-254-2900
After many months, a change of chefs, and an ongoing quest to obtain that elusive liquor license, Bob Giraldi and Jason Hennings have finally opened their East Village gastropub (b.y.o. for now). Although the owners are understandably frustrated by their plight—particularly vexing, as they're surrounded by wine bars—there are other, alcohol-free attractions: a menu that melds several European cuisines, charcuterie and raw-bar selections, and a new-that-feels-old design by AvroKo, which has been extremely busy of late (see Quality Meats, above). The ceiling is salvaged barn wood; glassware and dishes are stored on exposed racks; and construction unearthed brick walls and a hidden skylight. Chef Gwenaël Le Pape crosses culinary borders with dishes like boquerones with fingerlings, bratwurst-stuffed pretzels, and skate-frites with pickled tartar sauce, all of which Hennings plans to serve, for the moment at least, with fruit-based mocktails.
AND … Life gets sweeter for the financial district, where the third—and largest—Financier Patisserie opens this week. A new hot breakfast menu features egg sandwiches, French toast, and waffles (35 Cedar St., nr. William St.; 212-952-3838).