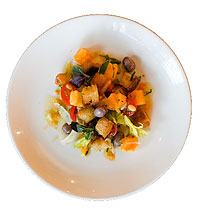 openings
La Lunetta
116 Smith St., nr. Dean St., Boerum Hill, Brooklyn; 718-488-6269
Smith Street's restaurant row has seen its share of openings and closings—more than a few of them at this address alone, which went from the clam-shacky Pier 116 to the creative-Japanese Taku, and has now been converted by the Taku team into the less-expensive Italian-inspired La Lunetta. Chef-partner Adam Shepard has swapped his Berkshire-pork ramen for braised pork belly with stewed runner beans, and his signature chicken wings for fried artichokes (look for those dishes to resurface in lower Manhattan, where Shepard plans to relocate Taku). The rest of the menu hews to the increasingly prevalent small-plates format, with an assortment of wine-friendly cured meats and cheeses, and prices ranging from $3 for mushroom bruschetta to $16 for penne with rosemary-braised lamb and ricotta. The redesign encompasses red tufted-leather banquettes and antiqued sconces, and the garden seats 30 as long as the weather holds.
Noo Na
565 Vanderbilt Ave., at Pacific St., Prospect Heights, Brooklyn; 718-398-6662
Korean food has always been considered an insular cuisine, less accessible than Japanese, Chinese, and Thai, which might be the reason it's made so few inroads into non-Asian, foodie-populated Brooklyn neighborhoods like Park Slope and Cobble Hill. But thanks to Cathy Palm, a Fort Greene resident who tired of trekking to Manhattan's 32nd Street for a bulgogi fix, Korean cooking has arrived on Prospect Heights's Vanderbilt Avenue. Palm also owns the nearby Le Gamin café, but at Noo Na (an endearment a Korean boy uses for his older sister), there's not a whiff of Franco-fusion—at least not until dessert. Before the ginger crème brûlée and five-spice chocolate cake with candied-ginger crème fraîche, there's beef and pork man du, bi bim bab, and spicy soft-tofu-and-seafood stew. BYO for now.
Metro Marché
625 Eighth Ave., at 41st St.; 212-239-1010
It took Francophile restaurateur Simon Oren over five years to put his new brasserie, Metro Marché, inside the Port Authority bus terminal. Why anyone would want to put a nice brasserie inside the Port Authority bus terminal, we don't know. But there it is, with its imported zinc bar, its cheery red-and-yellow painted walls, and its steak-frites, like something that fell out of the sky. The venture's a collaboration with the Metro Cafe chain, which has stocked the space up front with prepared foods to grab and go before you board your bus to Cleveland.
AND… The snug West Village pizzeria Gioia may be no more, but its gas-and-wood-fueled brick oven (and a few of its pies) live on at Pasita, a new wine bar specializing in Spanish and South American bottles. One of the partners is Venezuelan, which accounts for the ropa-vieja-and-manchego pizza, and the pasapalos, or Venezuelan tapas, like arepitas and empanaditas (47 Eighth Ave., nr. 4th St.; 212-255-3900).