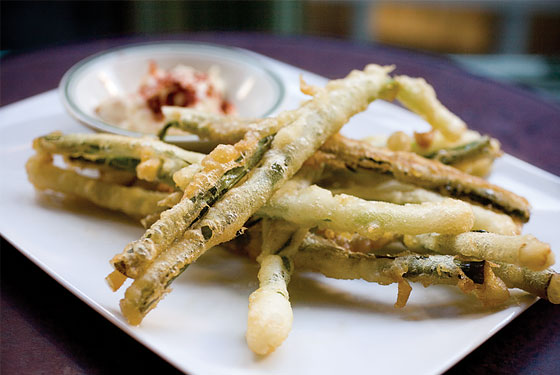 Belcourt
84 E. 4th St., at Second Ave.; 212-979-2034
Touting the virtues of the small, sustainable family farm is one thing. Living the life of a farmer is another, and that's exactly what Belcourt chef Matt Hamilton has done. A few years ago, he wrote the owner of a Tuscan olive farm to see whether she needed some help. She did, and Hamilton spent the next two years as a hired hand. "I did everything that a farmer does: I butchered livestock, fed the animals, pruned trees, and harvested persimmons, pears, almonds, apples, and olives." That rustic European sojourn should come in handy at Belcourt, owner Mehenni Zebentout's antique-outfitted reinvention of his Frutti di Mare restaurant, where Hamilton will apply the quirky seasonal approach he honed at Uovo and Pair of 8s to a Pan-Mediterranean menu. The fish soup bourride gets a boost from the addition of brandade dumplings, grilled sweetbreads are served like falafel with flatbread, and boudin blanc gets the hot-dog treatment and an accompaniment of housemade wild-pepper potato chips.
Shorty's.32
199 Prince St., nr. Sullivan St.; 212-375-8275
For Josh Eden, chef-partner of the new Shorty's.32, there is no shame in comfort food. The New York native spent twelve years working for Jean-Georges Vongerichten, from whom he learned this vital lesson: "The day you cook for your customers and not yourself is the day you learn to be a chef." Hence, the burger and steak-frites on his New American menu, the $19 roast chicken, and the desire to build a true neighborhood clientele. At any restaurant that ultimately succeeds, he says, "your customers live upstairs. They live down the street." And to keep them coming back, he's given straightforward dishes a dash of refinement, as in the roasted cod with Gruyère broth, the Riesling-poached pears, and the steamed black sea bass with quinoa and pickled beets (pictured). With this modest 32-seat restaurant, Eden has not only become a first-time restaurateur, he's also embraced the none-too-flattering nickname given to him years ago by onetime JoJo chef de cuisine Didier Virot. "Shorty's just sounds like a good place to eat," Eden says.
AND…
Los Dados expands this week with a takeout-only taquería, where chef Sue Torres unleashes a full roster of Mexican street food. Look for tacos and tortas, tamales and enchiladas, and the seldom-seen chalupas and sopes. Mango "flowers" get sprinkled with chile, and dessert comes in the form of a multitude of Mexican candies (73 Gansevoort St., at Washington St.; 646-810-7290).
What Lidia Bastianich is to Italian cooking, Carmen González might be to Puerto Rican. The celebrated Miami chef brings her upscale Latina style to the ever-evolving Lucy of Gramercy space at the ABC Home store (35 E. 18th St., nr. Broadway; 212-475-5829).