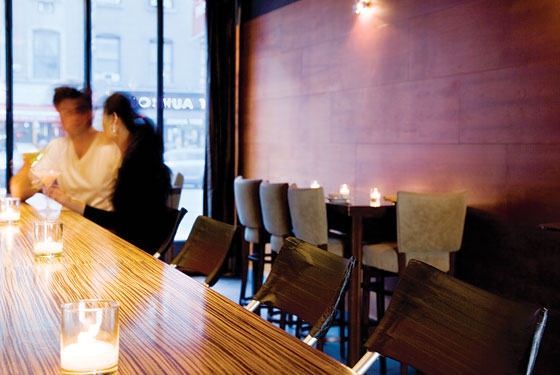 Moco Global Dining
516 Third Ave., nr. 34th St.; 212-685-3663
The Murray Hill sushi bar formerly known as Maxie has undergone a quiet transformation, with the addition of a new management team, new menu, and boundary-breaking new chef. Joe Kurauchi trained in Japan, where he learned kaiseki technique, before embarking on a worldwide culinary tour, eating and cooking in 120 countries, by his count, and working in such far-flung kitchens as El Bulli, the Fat Duck, and Stella Maris in Paris. Moco's modest environs belie a daringly eclectic menu, where "entremeses" like pan con tomate appear alongside Nagoya-style chicken wings, and a soup called "misostrone" combines white miso, tofu, eggplant, carrots, zucchini, and wakame with frothy red-miso espuma. There's also a wide array of untraditional maki rolls, and panko-crusted ice-cream croquettes for dessert.
Bar Milano
323 Third Ave., at 24th St. 212-683-3035
On April 11, Jason Denton (of 'ino, Lupa, and 'inoteca) and his brother and 'inoteca partner Joe amp up their culinary ambitions at Bar Milano, their marble-walled, suavely upholstered foray into Northern Italian fine dining. A few telltale signs they've left the rustic enoteca world behind them: A proprietary line of glassware designed and blown in Poland, all the better for serving mixologist-partner Tony Abou-Ganim's $13 cocktails; a designated pastry chef who's not only baking the contents of the bread basket but making his own bread crumbs—plus elevated riffs on classic sweets like sesame cookies and Neapolitan ice cream; and a pair of co-chef-partners, Steve Connaughton (Lupa) and Eric Kleinman ('inoteca), who've collaborated on refined fare like tonno vitello (pictured), an artful composition of grilled tuna, veal sweetbreads, and cannellini beans.
bar Q
308–310 Bleecker St., nr. Grove St. 212-206-7817
This week, Annisa chef-partner Anita Lo expands her West Village domain with bar Q, a 120-seat restaurant specializing in Asian barbecue, where grilled tuna "ribs" and spit-roasted pork belly add exotically spiced intrigue to the burgeoning BBQ category. Lo tea-smokes her duck, her chicken, and her salmon, and augments the meaty menu with a raw-bar selection of sashimi, shellfish (Taylor Bay scallops, periwinkles), and mix-and-match sauces (shiso, Korean hot-pepper paste). The dessert menu riffs on tradition with warm sesame mochi and walnut soup with malted Rice Krispies. As he did at Annisa, Chanterelle sommelier Roger Dagorn consulted on the wine list, which is joined here by an unusual house cocktail: spiked bubble tea. And a steel-framed glass greenhouse out back, designed, like the rest of the slate-and-marble-clad space, by the team behind Momofuku and ChikaLicious, makes for all-weather garden dining.