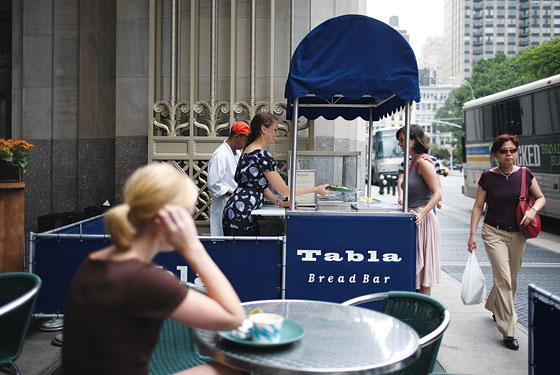 Tabla Street Cart
11 Madison Ave., at 25th St.
Like Mario Batali and Daisy May's Adam Perry Lang, not to mention his boss Danny Meyer—who, you may recall, used to run a humble little hot-dog cart out of Madison Square Park before he turned it into a full-fledged shack—Tabla's Floyd Cardoz has entered the pushcart business. He's set up right outside his restaurant, across from the park, and within paratha-tossing distance of the dreaded Shake Shack line, hoping, perhaps, to steer some of that sweet action his way. On the brief takeaway-only menu: a chicken tikka roti roll with mint chutney, a Bombay bhel puri, and a chocolate kulfi pop dipped in more chocolate like an Eskimo Pie. Monday through Friday, 11:30 a.m. to 3:30 p.m.; everything $4 to $8.
Delicatessen
54 Prince St., at Lafayette St.; 212-226-0211
Where once there was Buffa's luncheonette, with its greasy-spoon menu and quaintly abbreviated operating hours, there will be, as of this weekend, the ultramodern Delicatessen, with international comfort food and service extending from breakfast through the late night. The sophomore project from the team behind Chelsea's Cafeteria, Delicatessen is equipped with retractable glass-and-stainless-steel garage doors, two bars, menu covers shot by Terry Richardson, and staff uniforms designed by Charlotte Ronson. Chef Doron Wong, who has worked in outposts as far-flung as Singapore and New Jersey, has devised innovations like Reuben fritters, cheeseburger spring rolls, and wonton-wrapped halibut tacos with kimchee sour cream, which he plans to serve alongside deli classics like matzo-ball soup and pastrami on rye. In the fall, he'll dispense a dozen varieties of mac and cheese from the adjacent Macbar for takeout and delivery.
Peaches
393 Lewis Ave., nr. Decatur St., Bedford-Stuyvesant; 718-942-4162
As if in response to the question—"So, is there an American cuisine?"—recently posed in a scholarly report by the James Beard Foundation, Craig Samuel and Ben Grossman would like to present Exhibit A, their new Stuyvesant Heights bistro, Peaches. As the name suggests, the emphasis here is on southern cooking, most of it classic (jambalaya, pulled-pork sandwiches, fried green tomatoes), some of it a little creative (watermelon-and-country-ham salad). If that's not American enough for you, Samuel and Grossman—who also own the Smoke Joint and Little Piggy (Market) in Fort Greene—plan to use the restaurant's outdoor garden for special events including clambakes, fish fries, and crawfish boils.