Emporio
231 Mott St., nr. Prince St. 212-966-1234
Is New York having a Roman moment? It would seem so, with the recent openings of the Roman-style pizzeria Farinella, plus Stateside outposts of Sora Lella and Obika, and Bedford Street's forthcoming Quinto Quarto Osteria Romana. This week, the team behind Aurora of Soho and Williamsburg brings us Emporio, a Roman-inspired trattoria that's meant, via a white-tile-and-weathered-wood transformation of François Payard's late InTent, to evoke a twenties-era Roman grocery (provisions will be sold, as well). Chef Riccardo Buitoni references Rome in dishes like Frascati-wine-braised rabbit, favas with mint and pecorino, and housemade tonnarelli cacio e pepe, but the menu also exhibits signs of a concerted effort to integrate local products like Flying Pigs Farm pork and Cato Corner Farm's Hooligan cheese. And because this is New York City circa 2009, there's pizza from a wood-burning brick oven, with toppings like guanciale, Tuscan kale, and pecorino cream.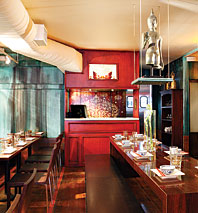 Bodhi Tree
58 Third Ave., nr. 10th St. 212-677-5199
Seven years ago, Pariya Chayasakulviwat met chef Pornthep Jarumpornsakul while both were working at Park Slope's Rice Thai Kitchen, and since then, the two have gone on to open EM Thai Kitchen in Carroll Gardens. They're also partners in the tiny Kensington takeout joint AM Thai Chili Basil Kitchen, where Jarumpornsakul's wife, Num, has earned a devoted following with her own cooking. This week, Con Ed willing, the trio opens their first Manhattan venture, the comparatively glitzy Bodhi Tree in the East Village. The menu covers territory both familiar (satays, tom kha) and less so, listing such intriguing dishes as sautéed garlic and Asian chives wrapped in a steamed-rice-noodle skin, fettuccine with Thai-dill-cabbage sauce, and grilled honey pork with white beans and tofu in Thai-five-spice-cinnamon brown sauce.
Nios
130 W. 46th St., nr. Sixth Ave. 212-485-2999
The San Francisco–based Kimpton hotel group has made some changes at the restaurant in its theater-district property, the Muse. The former District space reopens this week as Nios, after renovations that include the installation of a long marble bar and an accompanying bar-food-oriented menu. To aid in the transformation, Kimpton drafted two California consultants from its inner ranks: the aptly named master sommelier Emily Wines, from Hotel Palomar's Fifth Floor, and mixologist Jacques Bezuidenhout, from Harry Denton's Starlight Room at the Sir Francis Drake. Their new wine and cocktail lists are meant to complement chef Patricia Williams's food, from the incremental portions of cheese ($3 each), charcuterie ($4 each), and Christopher Norman truffles ($2 apiece) to gussied-up comfort fare like a grilled "artisanal cheese" sandwich, and large plates like saffron chicken with Israeli couscous (pictured).