Mermaid Oyster Bar
79 Macdougal St., nr. W. Houston St.; 212-260-0100
The third branch in the school of Mermaid fish shacks opens this week, in the space previously occupied by Smith's. Gone are that South Village restaurant's popular grilled-cheese nights and chicken dinner for two, as well as its cozy back bar, which has been transplanted to the front of the long, narrow space. But fans of the Mermaid Inn will find its signature $26 lobster sandwich and Old Bay fries, plus sixteen kinds of oysters, from $1.75 Long Island Blue Points to $2.75 Oregon Kumamotos. Chef Laurence Edelman rounds out the seafaring menu with lobster bisque, tagliatelle fra diavolo, and soft-corn-tortilla tacos filled with shrimp, chorizo, or fried tilapia.
Purple Yam
1314 Cortelyou Rd., nr. Rugby Rd. Ditmas Park; 718-940-8188
Chef Romy Dorotan and his wife Amy Besa closed their venerable Filipino Pan-Asian restaurant Cendrillon last March, lured by the lower rents and community vibe of Ditmas Park, where they've set up shop on a burgeoning restaurant row. Although traces of Cendrillon remain, like the signature Philippine adobo and barbecued ribs, they're joined by a coterie of new Korean-inspired dishes, a decorative bamboo motif, and that thing that's far easier to come by in Brooklyn than in cramped Manhattan: a serene garden.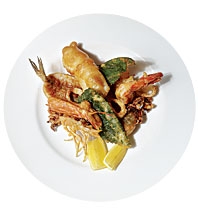 Maialino
2 Lexington Ave., at 21st St.; 212-777-2410
In only three months, Danny Meyer (with a restrained assist from David Rockwell) has transformed the Gramercy Park Hotel's darkly moody Wakiya space into a sun-splashed trattoria, with checked tablecloths, weathered beams, and marble counters laden with salumi, cheese, and pastry. The idea is to serve not only as destination restaurant, but as neighborhood canteen, a place to drop by for morning coffee and cornetto, or an afternoon tramezzino and quartino of wine. The first phase, though, is dinner, which launches this week. Rome is the inspiration but not the rule, which means that although chef Nick Anderer will cover the culinary bases (tonnarelli cacio e pepe, oxtail stew), he'll still make full seasonal use of the nearby Greenmarket and source his eponymous maialini, or pigs, from regional farms like Four Story Hill. Cheese and wine will be strictly Italian, but salumi will include top-notch domestics (La Quercia organic prosciutto, housemade coppa Romana). And for dessert, Gramercy Tavern alum Jennifer Shelbo has been tweaking torta della nonna, as well as the distinctly Italo–New York hybrid, Concord-grape gelato. "It reminds me of Bubblicious," she says, "but in a good way!"