Sorrel, the arrowhead-shaped herb and member of the buckwheat family that's prized for its inherently tart, lemony flavor, is traditionally used in cream soups and fish sauces. At Prune, Gabrielle Hamilton adds diced potatoes to her smooth sorrel purée but leaves them chunky for added texture. What the chef is aiming for is a bright and tangy potage with a soft, creamy foundation—a vibrantly sour, deeply rich dose of spring.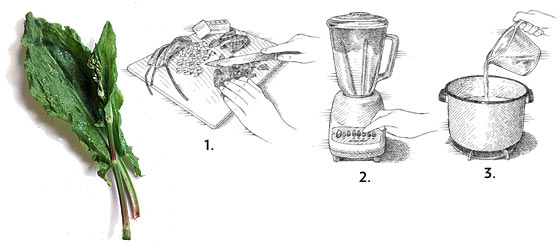 Gabrielle Hamilton'sSorrel Soup
2 tsp. kosher salt
1 large russet potato, peeled and cut in 1/2-inch dice, reserved in cold water
1 stick of unsalted butter
1 large shallot, finely diced
1 pound sorrel, washed well
4 cups chicken stock
Pepper
1 cup heavy cream
Add kosher salt to one cup of water in a small saucepan and bring to a boil over high heat. Add potato and cook until water begins to return to a boil (pieces should be neither crunchy nor mushy and should hold their shape). Drain and reserve water. Melt 3 tablespoons butter in a soup pot over medium-low heat, and sweat shallots until translucent. (1) Chop sorrel and add to shallots. Cook briefly, until sorrel changes color from bright to drab green. Add chicken stock, potato cooking water, and salt and pepper to taste. Bring to boil and shut off. (2) Carefully blend in batches while hot, adding a chunk of butter to each batch, until silky smooth. Return blended soup to pot, (3) add cream, and adjust seasoning. To serve, distribute potatoes among soup bowls and pour liquid over them.