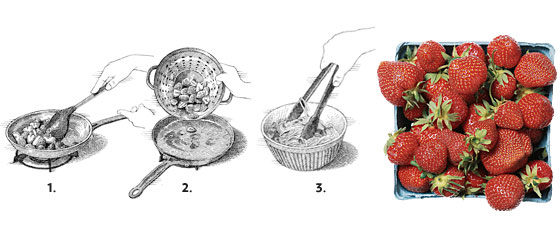 Supremely sweet and delicious, local strawberries are superb eaten raw, of course, or dipped in fresh cream, but why stop there? Just as many pastry chefs have taken to incorporating savory ingredients into their repertoires, Sfoglia chef-partners Ron Suhanosky and Colleen Marnell-Suhanosky showcase the surprisingly versatile spring berry in what's become their signature pasta dish.
Sfoglia's Spaghetti with Strawberries
1 pound good-quality dried spaghetti (like Setaro)
4 tablespoons extra-virgin olive oil, plus more for finishing
1 pound ripe strawberries, cleaned and halved
2 tablespoons good aged (eight-year-old) balsamic vinegar
1 cup San Marzano tomato purée
4 ounces reserved pasta water
Sea salt and freshly ground black pepper to taste
Cook the pasta in rapidly boiling salted water until al dente. (1) In a large sauté pan, warm the olive oil and half of the strawberries over medium heat. Cook until the strawberries start to release juice. Add balsamic and reduce by half. (2) Add tomato purée, the rest of the strawberries, and the reserved pasta water, and reduce by half again until the sauce thickens. Season to taste. (3) Toss with spaghetti. Finish with olive oil and black pepper.