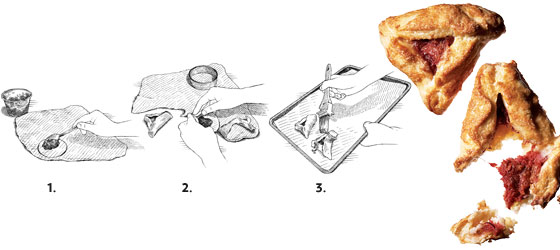 Although hamantaschen are most often filled with prune or poppy seeds, Trois Pommes Patisserie chef-owner Emily Isaac dispenses with tradition for her spring-inspired rhubarb version (even if she has to resort to hothouse rhubarb from Holland until the local stuff makes its Greenmarket debut). Named for either the pockets or hat of the evil Persian minister Haman, whose plan to murder the kingdom's Jewry was foiled by Queen Esther, the cookies are eaten to commemorate Purim, the Jewish holiday that begins on March 20 at sundown.
Emily Isaac's Rhubarb Hamantaschen
FOR DOUGH:
8 ounces soft unsalted butter (2 sticks)
8 ounces cream cheese, room temperature
2 cups flour
Pinch salt
1/4 teaspoon vanilla extract
1 teaspoon lemon zest
FOR FILLING:
2 cups rhubarb cut into 1/4-inch dice
1/2 cup sugar
1/4 cup water
1/2 teaspoon cinnamon
1 teaspoon cornstarch
4 tablespoons graham- cracker crumbs or cake crumbs
1 egg, beaten
2 tablespoons raw sugar
Preheat oven to 350. Cream the butter and cream cheese in a standing mixer with the paddle attachment. Add the flour, salt, vanilla, and lemon zest. Form into a disk (about 6 inches wide, 2 inches thick), and wrap in plastic wrap. Refrigerate for at least 2 hours. To make the filling, cook the rhubarb in a small saucepan over low to medium heat with the water and half of the sugar for about 15 minutes, or until it completely disintegrates. Allow to cool, and mix in the remaining sugar, cinnamon, cornstarch, and crumbs. To form the hamantaschen, dust the dough with flour and roll it out into a 12-inch circle about a 1/2 inch thick. Using a 3 1/2-inch round cutter, cut the dough into circles. (1) As you make each circle, place a teaspoon of the filling in its center and (2) gently shape 3 closed edges around the filling, leaving a small opening. Freeze for 1 hour on a cookie or sheet tray that's been sprayed with vegetable oil or lined with parchment. (3) Brush cookies with egg and sprinkle generously with raw sugar. Bake until golden brown, about 20 to 30 minutes.

Making Hamantaschen From Trois Pommes Patisserie