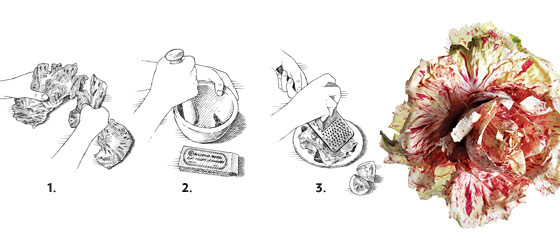 In the States, radicchio is a bit player in the salad kingdom, most commonly seen as the red component of the ubiquitous tricolore. In Italy, where varieties are named after towns of origin, the refreshingly bitter chicory is held in higher esteem, earning protected geographic status like cheese or wine. Typically available between November and March, the more obscure varieties, like the speckled Castelfranco, the elongated Tardivo, and the endive-like Treviso, can be found for the next few weeks at Eli's Vinegar Factory and Eli's Manhattan, and make a vibrant salad in this recipe from Maremma's Cesare Casella.
Cesare Casella's Three-Radicchio Salad With Anchovy Dressing and Grana Padano
1 head radicchio di Castelfranco
1 head radicchio di Treviso
2 heads Tardivo
1 large clove garlic, or 2 small cloves
4 anchovy fillets, in salt, rinsed well
1 tablespoon fresh lemon juice
3 tablespoons extra-virgin olive oil
1 tablespoon red- wine vinegar
1 tablespoon red wine
Salt and freshly ground black pepper, to taste
4 ounces Grana Padano, shaved
(1) Remove the leaves from the Castelfranco and cut into four pieces, lengthwise. Remove the leaves from the Treviso and cut in half, lengthwise. For the Tardivo, separate the leaves but keep whole. Place all leaves in a large bowl. Set aside. (2) Using a mortar and pestle, mash the garlic and anchovy fillets until they reach a smooth, pastelike consistency. Whisking continuously, begin slowly adding the liquid ingredients until well combined. Add salt and pepper to taste. Continue to whisk. Add the dressing to the radicchio and gently stir to coat all the leaves. Taste for additional seasoning. (3) Divide the salad onto four plates, and shave the Grana Padano on top.