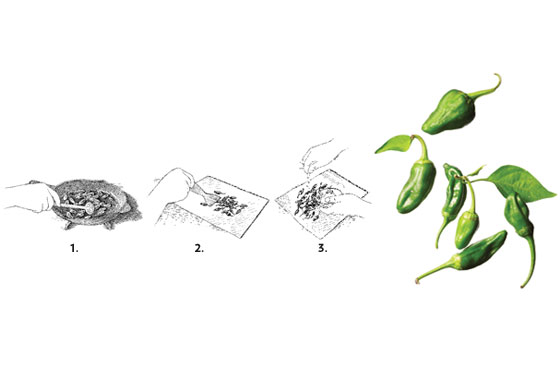 Stubby pimientos de Padrón are a speciality of Galicia, Spain. In recent years, they and their Asian-cultivar ilk, like shishitos and fushimis, have become just as popular in the tapas bars of New York. Blistered in hot oil and generously salted, as prepared by Suba chef Seamus Mullen, they make a tasty, and sometimes surprising, snack: One in ten can be quite spicy; late-season peppers, harvested in September and October, can be even hotter.
Seamus Mullen's Pimientos de Padrón
1/2 pound pimientos de Padrón (available at Yuno's Farm stand at Union Square Greenmarket), washed and dried well
2 tbsp. olive oil
Maldon sea salt
Heat oil in sauté pan until smoking hot. (1) Sauté peppers until they blister, approximately one minute, turning them over to cook all sides. (2) Remove and drain on paper towel. (3) Sprinkle with Maldon sea salt and serve. For a more piquant bite, add a splash of sherry vinegar.