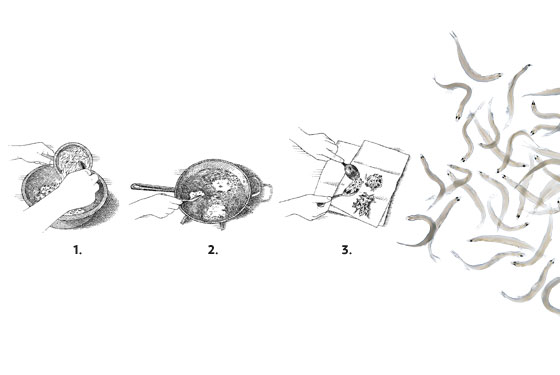 Itty-bitty bianchetti are big this time of year in Sicily, where the locals go wild for the little larval offspring (or neonata) of the pesce azzurro category (anchovies, sardines, mackerel, and the like). Felidia chef and Sicilian native Fortunato Nicotra likes to toss them with linguine and cherry tomatoes, or to fry them up street-food style into fritters, as in the recipe below. Fresh bianchetti are as hard to find here as they must be to catch, but Randazzo's in the Bronx imports them from Greece, which is close enough to home for Nicotra.
Fortunato Nicotra's Frittelle di Bianchetti
2 egg whites
Sea salt
1/2 clove garlic, finely chopped
1 tbsp. parsley, finely chopped
1 tbsp. chives, finely chopped
1 tbsp. fresh Pecorino, coarsely grated
1 tbsp. fresh bread crumbs or panko
1 cup fresh bianchetti
Grapeseed or olive oil
In a large bowl, gently beat the egg whites together with a pinch of salt until they start to turn foamy. Whisk in the garlic, herbs, pecorino, and bread crumbs. (1) Add the bianchetti and gently stir to combine, making sure not to break the fish. (If the mixture appears a little watery, add more bread crumbs.) Coat the bottom of a large nonstick sauté pan with approximately a ½-to-¾-inch layer of oil. Heat oil until very hot, between 325 and 340 degrees, but do not allow it to smoke. (2) Using a tablespoon, scoop the frittelle mixture into loosely formed balls and add to the hot oil, taking care not to overcrowd the pan. Cook for 2 to 3 minutes on each side, until golden brown. (3) Place on paper towels to absorb excess oil, season to taste, and serve as is or with a spicy marinara sauce.