Plug in your microwave oven and stand back, it's asparagus season. That's right. One of the best ways to cook the fleeting springtime delicacy is not unlike the method used for heating up an Amy's burrito. If you don't believe us, just ask Andrew Carmellini. He learned the technique not from Daniel Boulud, whom he faithfully served at Café Boulud, but from an even greater culinary authority: his mother.
Andrew Carmellini's Microwaved Asparagus
FOR THE ASPARAGUS:
1 bunch thick asparagus
2 tbs. extra-virgin olive oil
Zest of 1 orange
FOR THE DRESSING:
2 oranges
4 tbs. extra-virgin olive oil
2 scallions, finely chopped
1 tsp. dried oregano, preferably on the branch (at BuonItalia)
Juice of 1 lemon
Salt and coarsely ground black pepper to taste
Sea salt for sprinkling
FOR THE ASPARAGUS: (1) Cut off an inch from the bottom of each spear and discard. Place the asparagus in a microwave-safe dish with high sides. Add the olive oil and ¼ cup water. (2) Using a Microplane, grate the orange zest over the top. Cover the dish with plastic wrap and (3) put it in the microwave for 2 minutes on high. Rotate the dish and cook for approximately 2 more minutes.
FOR THE DRESSING: Segment the oranges by slicing off the top and bottom of each, removing the peel and pith, and cutting the segments out from between the dividing membranes. Place segments or "suprêmes" in a bowl and squeeze the juice from the orange membranes over them. Add the olive oil, scallion, oregano, and lemon juice. Combine with a spoon. Season with salt and pepper. Remove plastic wrap from dish and drain any water. Spoon dressing over asparagus and sprinkle with sea salt. Serves 4 to 6.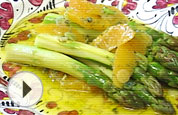 Carmellini Cooks Spring Asparagus
Watch the Video

(Adapted from Urban Italian: Simple Recipes and True Stories From a Life in Food, by Andrew Carmellini and Gwen Hyman; Bloomsbury USA, 2008.)