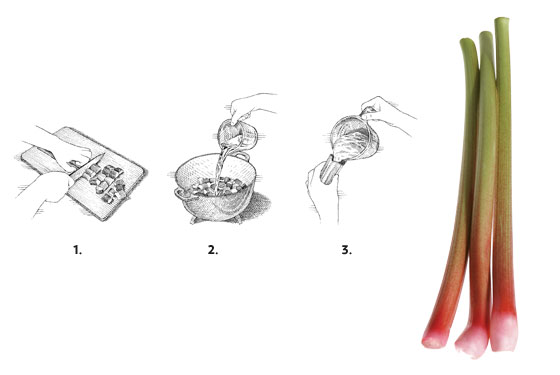 Some say it's a fruit, others a veggie. According to Alice Waters, "Rhubarb is the vegetable bridge between the tree fruits of winter and summer." Whatever you call it, spring's most celebrated leaf stem has breezed into town with a pink-streaked flourish and is currently stealing the show at a Greenmarket near you. Sweeten it with sugar, and you have the makings of a first-rate filling for a pie, tart, crumble, or galette. Or if you have summer on the brain, do as the people behind Chelsea Market's People's Pops do, and make ice pops.
People's Pops' Rhubarb Ice Pops
1 pound rhubarb
4 oz. water, plus more to cover rhubarb
4 oz. cane sugar
1 cinnamon stick
2 1/2 oz. heavy cream
10 3-oz. ice-pop molds
For the rhubarb: Wash and (1) chop the rhubarb into one-inch pieces. Place rhubarb in wide-bottomed, nonreactive pot, and (2) add approximately 1 inch of water, or enough to cover the rhubarb. Cover the pot, and cook over medium heat until the rhubarb breaks down into a lumpy purée, about 15 to 20 minutes. Strain the purée from its juice, and reserve both. For the simple syrup: In a small pot, combine 4 ounces of water with the cane sugar. Add the cinnamon stick. Gently heat the mixture, stirring occasionally, until the sugar is dissolved. Remove from burner, discard the cinnamon stick, and let syrup cool. For the ice pops: In a pitcher, combine the rhubarb purée and the simple syrup. Adjust sweetness—keeping in mind that some sweetness will dissipate upon freezing—by adding some of the reserved rhubarb juice. (Save remaining juice for another use.) Blend in cream. (3) Pour mixture into ice-pop molds, and freeze overnight.