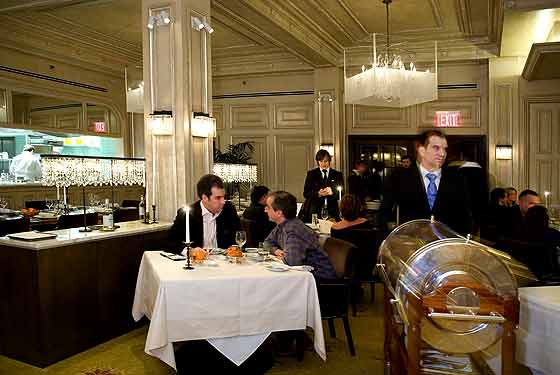 I'm sure there are grizzled restaurant veterans who can remember a time, not so long ago, when New York's accomplished chefs were content to run one successful, highly acclaimed restaurant instead of four or five. In this brand-happy, globalist era, however, culinary notoriety tends to be directly proportional to the quantity of TV shows a chef produces, the array of potentially lucrative business plans he conjures up, and, of course, the number of kitchens he shuttles between. So it was no surprise when Geoffrey Zakarian, a chef whose career almost perfectly mirrors the glitzy trajectory of the New York dining scene in the past decade or so, announced last year that he would shortly be expanding his culinary holdings. Zakarian made his reputation serving power lunches at 44, the glamorous, media-infested restaurant in the Royalton Hotel. His fans followed him to Patroon, where he was the executive chef, and then to his first solo restaurant, Town, a sophisticated, even suave midtown establishment that opened a few years ago in the Chambers Hotel. Now comes his latest enterprise, Country.
Country (the name is a perhaps too clever play off of Town) consists of a downstairs café and a more rarefied upstairs room, which serves an $85 prix fixe menu prepared, for now anyway, by Zakarian himself. Both establishments are located off the lobby of the Carlton hotel on lower Madison Avenue, a cavernous former notorious flophouse that recently received an extravagant makeover at the hands of architect and interior designer David Rockwell. The restaurants are designed by Rockwell, too, and both exude a kind of Disneyfied, big-city slickness. The mood downstairs is dark, loud, and clubby in the evenings. Upstairs, there's a great Belle Epoque skylight made of green-and-white glass, and chandeliers hang above the open kitchen. The upstairs tables are spaced far apart and covered in white linen, and they're attended by flocks of gentlemen wearing dark Dolce & Gabbana suits, many of whom speak in polished accents from places like Paris and St.-Tropez.
This whole operation was originally advertised as a simple, rustic place, a kind of casual bookend to its more lofty uptown cousin, Town. To the extent this holds true, you'll find the idea reflected in the downstairs space. Zakarian oversees both spaces with the help of Doug Psaltis, formerly of Mix, the doomed Jeffery Chodorow–Alain Ducasse venture. Psaltis seems to have a fondness for quirky packaging, which he indulges downstairs with portions of "artisanal" pasta (soaked in an oily tomato-and-cheese sauce) served in Pyrex-like containers, and excellent hand-cut beef tartare presented in a pickling jar. On the more rustic side, there's an enviably smooth foie gras-and-chicken-liver pâté, a soft-boiled egg lost in a brackish asparagus marmalade, and a white gazpacho that tastes a little too much like grape juice (it's made with a grape gelée). If you enjoy tender but oversauced pork ribs, they're on the menu, too, along with a lamb shank braised in perhaps too many Moroccan spices, and a very good cheeseburger served at lunchtime with a tall cone of fries.
There are no fries available upstairs, a region the brusque telephone reservationists refer to as "the grand dining room." The menu here is slim by gourmet-restaurant standards (a choice of a dozen or so items served over three courses, not including dessert) and is designed to change every few weeks according to the chef's whim. Zakarian is an eclectic, even chameleon-like cook, but, like Mario Batali's at his new restaurant, Del Posto, Zakarian's style here is traditional in an almost achingly mannered, Michelin-approved way. Each meal begins with a small flotilla of amuses-bouches (frog's-legs beignets, say), followed by a traditional velouté (made with cèpes mushrooms on one of the evenings I visited and shellfish on another), or a foie gras terrine, or a deceptively simple (and delicious) market salad tossed tableside in a white porcelain bowl. It was the tail end of truffle season when I ate upstairs, and Zakarian scatters them like confetti on lobster, in his vegetable fricassee (sweetened with a citrus sabayon), on sweetbreads, and on pieces of beef drenched in Périgueux sauce.
This bombardment of old-fashioned riches is impressive and, over three courses, even a little daunting. Both veloutés I sampled were properly rich and creamy (each contained an egg yolk cut into a wheel of toasty brioche), and the excellent vegetable fricassee contained a selection of winter vegetables, all gently warmed to different textures. The offal addicts at my table gave two thumbs-up to the sweetbreads, and I liked the duck tart, spooned with a shallot-and-red-wine reduction, which appeared on the menu only once during my visits. But something called "warm sea urchin" featured blobs of sea urchin; long tubes of pasta stuffed with lemon confit, truffles, and béchamel; a few random segments of Meyer lemon; and who knows what else. The pork entrée was an overly busy medley of pig products (belly, chop, confit) tossed with potato gnocchi and mushrooms. Then there was the Dover sole, which was somehow shaped to resemble a tube of toothpaste. "Is this Dover sole," whispered my wife as she prodded it with her fork, "or is it a giant fish stick?"
Zakarian is clearly still tinkering, and on my last visit to the grand dining room, the giant fish stick had mercifully disappeared, replaced by a perfectly cooked piece of halibut set in a green springtime pesto of crushed arugula, white wine, and clams. The sea-urchin creation had disappeared, too, in favor of nice cigar-size cannelloni stuffed with minced lamb and crème fraîche. After these dishes, the inevitable cheese cart came trundling by, laden with delicately stinky wheels of Bleu d'Auvergne and Epoisse. It was followed by a selection of Eurocentric desserts like crème citron (lemon sorbet over a lemon brioche), and an impressive wedge cut from a giant pithiviers (a kind of French puff pastry) filled with sugary crushed almonds. This food was presented with all the exaggerated pomp and ceremony you'd expect at a grand European hotel. But we're not in Europe, of course. And, as you sip your glass of after-dinner Muscat, you can't help wondering whether, in their rush to expand, these facile and talented New York chefs haven't begun to run out of fresh ideas.
COUNTRY


90 Madison Ave., at 29th St.
212-889-7100
• View Listing

COUNTRY
Address:90 Madison Ave., at 29th St.; 212-889-7100
Hours: Café: Breakfast, Monday through Friday 7 to 10:30 a.m. Lunch, Monday through Friday, 11:30 a.m. to 3 p.m. Dinner Monday through Saturday, 5:30 p.m. to midnight. Sunday, dinner 5:30 to 10 p.m. Saturday and Sunday, brunch from 7 a.m. to 3 p.m. Upstairs: Monday through Saturday, dinner 6 to 10 p.m.
Prices: Café: Appetizers, $9 to $17, entrées, $17 to $26. Upstairs: $85 prix fixe.
Ideal Meal: In the upstairs dining room, shellfish velouté, lamb cannelloni, halibut, almond pithiviers. In the café, beef tartare, seared skate wing, peanut-butter royale. Note: The downstairs café serves a full breakfast and lunch menu, and the room is much more peaceable during the daylight hours.
Scratchpad:The food and service upstairs are at a potentially three-star level, but the somewhat strained concept and relative narrowness of the menu, combined with the uneven barely one-star quality of the café downstairs, drags everything down a notch.