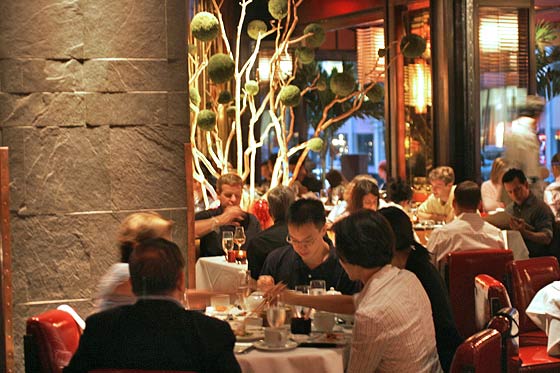 As I sat at Japonais, sipping my Floating Orchid Martini (vodka, fresh pear juice, Cointreau, plus an "edible orchid," which I did not eat), groping for new ways to describe the latest glossy, Pan-Asian disco palace to land in our midst (from Chicago, by way of Vegas), a dish appeared that was so misconceived, so eccentric, so downright flat-footed, that it did the job for me. The Wagyu beef "Toban Yaki" style is not to be confused with the Wagyu rib eye (ten ounces for $58) or the Wagyu-brisket ravioli (which you will find on the menu under the category Les entrées chaudes). No, the Wagyu Toban Yaki (in a pot) comes to the table in a steaming clay vessel. The lid is then lifted, with some ceremony, to reveal a dank mélange of peppers, mushrooms, and the beef itself, simmered to a kind of dull-gray nothingness in a broth described as a Kirin Light beer fondue. I took one hesitant bite, then another. Then I scribbled the following cosmic question in my notebook: "What am I doing here?"
The initial answer, of course, is that it is my grim professional duty to eat whatever is in front of me. The second, slightly more depressing one, is that people seem to have an endless appetite for this kind of stuff. The pseudo-Japanese big-box formula, which Nobu pioneered so inventively over a decade ago and which so many places (including Nobu itself) now slavishly imitate, has become, arguably, the signature restaurant style of our era. At Japonais, which opened this summer on 18th Street off Park Avenue South, all of the time-tested gimmicks are on display. There is the theatrical interior (ceiling rafters carved in the gentle shape of a wave, a Dr. Seuss–like topiary stuck with balls of moss, bathrooms flecked with gold) designed by one of the co-owners, Jeffrey Beers. There is the gimmick-laden menu (myriad categories and subcategories, French headings), the crowded bars (I counted three), and the dimly lit cocktail nooks (one upstairs, one down), where people sit on sultry, low-slung couches, sipping their highly sugared drinks, tapping their toes to the unrelenting nightclub beat.
A few of the splashy new Asian joints in town (Morimoto, Matsuri, Buddakhan) happen to have accomplished, even world-class, chefs in the kitchen. At Japonais, however, the menu is an overwrought, even cryptic, document, including subsections for "Les Soupes" and "Les Salades," plus a list of appetizers and maki rolls designed mostly to be picked at with your drinks. The house sushi is standard, though aggressively priced, and the chef's signature rolls (try "Spicy Mono" and "Tuna Tuna Salmon") are perfectly good. But after that, things go steadily downhill. The first item I sampled was a strange medley of seafood tartares, eight in all, laid out in a tidy row on little spoons. The best of these was made with scallops; the worst was the tuna, cut in overlarge crimson lumps, and the shrimp, which was sticky, like tapioca, and smelled a little too much like fish. Then came another Wagyu delicacy, this one the brisket ravioli, floating in a broth spiked with a kind of Japanese light beer called Hitachino. The ravioli itself was tasty enough, but the broth was sweet, and vaguely pinkish, like it had been flavored with cotton candy, and after a sip or two I put it aside.
Despite the menu headings and the vaguely Continental name, there's nothing very French about the food at Japonais. Among Les entrées froides, the slices of Hawaiian hamachi (doused with a light yuzu vinaigrette) drew grudging admiration from the increasingly petulant assemblage of gastronomes at my table, but the foie gras au torchon, everyone agreed, did not benefit from a robust dribbling of vanilla-tapioca sauce. I very much enjoyed my sampling of Wagyu carpaccio (drizzled with chives and shavings of yuzu), but the little strips of sirloin cooked on a piping-hot rock (called "the Rock," and listed under Les specialités de la maison) tasted more or less like little strips of sirloin grilled on anything else. The lobster spring rolls had a pleasing, crunchy texture but tasted barely of lobster; the Tokyo Drums were the less delicious teriyaki equivalent of Buffalo wings, and the straightforward crab cakes (pan-seared, with a soy-mustard sauce) could have been the product of any pricey though not very ambitious hotel kitchen in, say, Chicago.
The main courses at Japonais (Les plats principaux) tend to be standard Western entrées dressed with a variety of random Asian flavors. One of my guests, a stolid steak eater from upstate, enjoyed his filet mignon but questioned the presence of white miso in his potato purée. If you can handle the cost, the Wagyu rib eye is the best beef dish on the menu (it's rich but not too fatty), and the rack of lamb is okay, provided you like your lamb touched with sour plum sauce. I ordered the tuna steak but have no memory of it, which may not be a bad thing, since the hamachi I sampled on another evening was overcooked and mired in a bizarre mushroom broth, filled with fishy dumpling balls made with mashed scallops and shrimp. For poultry eaters, there's a massive, very un-Japanese portion of roasted chicken, flavored, not unpleasantly, with chestnuts, and a Peking-duck knockoff called Le Quack Japonais, which might have been decent if the pancakes hadn't been chalky and the duck seized in industrial amounts of hoisin glaze.
The food at Japonais is hastily served, for the most part, and on one occasion a waiter tripped, sending showers of red wine splattering across our table. Not that incidents like this seemed to faze the revelers, who jammed the place when I visited, even on weekday evenings in the depths of summer. The tables were filled with ladies wearing glittery backless dresses, hawk-faced gentlemen chattering into their Treos, and crowds of pink-cheeked bankers jamming $8 pieces of otoro into their mouths. "Maybe people like a restaurant with a good backbeat," opined one of the gastronomes at my table as the crowd roiled around us. Certainly no one's here for the desserts. These include an assemblage of pre-refrigerated chocolate items (the most prominent being a mousse flecked, like several dishes at Japonais, with gold leaf) and an esoteric interpretation of tiramisu, flavored with green tea. The most satisfying of the bunch is a simple apple cobbler. This was served in the traditional manner, with a layer of crumble on top and a scoop of vanilla ice cream. And it was brought to the table, to my quiet horror, bubbling in a clay Toban Yaki pot.
Japonais
NO STARS
Address: 111 E. 18th St., nr. Park Ave. S.; 212-260-2020
Hours: Dinner, Monday through Thursday, 5 to 11 p.m.; Friday and Saturday, until 11:30 p.m.; Sunday, 4:30 to 10 p.m.
Prices: Appetizers, $4 to $24; entrées, $19 to $35.
Ideal Meal: Spicy Mono and Tuna Tuna Salmon rolls, Wagyu-beef carpaccio, sushi and sashimi, apple cobbler.
Note: For drinks, the place to go is upstairs; for dinner, agitate for a spot at the sushi bar.
Scratchpad: The best food here is designed, nightclub style, to be eaten with drinks. For a real dinner, go somewhere else.