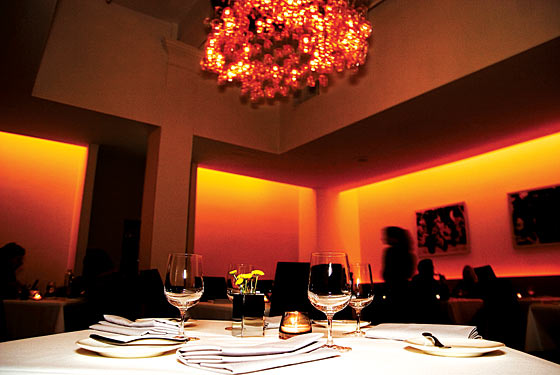 For weary boulevardiers like myself, a place like Varietal, which opened not long ago on a dreary stretch of West 25th Street, throws up all sorts of red flags. First there is the name, with its overtones of wine snobbery and self-satisfied, organic correctness. Then there's the location, on a shabby block in a well-known restaurant death zone between the Flatiron district and the bustling center of Chelsea. Then there's the décor, done in a slick neomodernist style like a thousand restaurants before it. The pod chairs in the lounge appear to have been lifted directly from a Jetsons cartoon, and the bar is made with a sleek white-stone composite one might see in an Icelandic airport lounge. The dining room is windowless and unevenly lit, with photographs of giant dewy grapes on the walls, and the menu presages all kinds of disaster. Do we really need pomegranate paired with sea scallops, pork belly braised in tobacco, and hen-of-the-woods mushrooms flavored with lemon verbena? "Run for your life," my friend the Food Aristocrat hissed on one visit. "Before it's too late."
But being a stolid and dutiful professional, I stayed put. Which, it turned out, was not such a bad thing. There are other clichéd qualities about Varietal that a jaded, obsessively nitpicky restaurant critic might choose to bring up. Like the hokey chandeliers constructed from wineglasses, or the friendly though slightly overarticulate waiters who offer endless recitations of the abstract and sometimes downright weird food. But in the end, the whole potentially grim scene is rescued by the cooking, which is highly complex, aggressively trendy, and often pretty good. Hen-of-the-woods mushrooms don't go with lemon verbena, it turns out (especially when they're pallidly cooked). But it's possible to braise good pork belly in tobacco (it's possible to braise good pork belly in anything), provided you make the skin nice and crackly and serve it with baby collard greens. And a scallop can survive an encounter with pomegranate, provided it's fresh, well seared, and flavored with cumin and a touch of cardamom.
The executive chef at Varietal, Ed Witt, is a veteran of Il Buco and an unapologetic advocate of fussy, boutique ingredients (monkfish liver, fuyu persimmons, vanilla-argon oil) and even fussier fusion cooking. Order the shrimp appetizer, and it comes to the table floating in a tasty bowl of consommé, with grains of crunchy black "forbidden rice" from Vietnam. Venison (another appetizer) is served carpaccio style, with a spoonful of rich Greek yogurt and Sichuan pepper, and the excellent grilled octopus is plated with a streak of fresh-made salsa verde. Among the big-ticket entrées, my duck (with baby turnips and almonds) was underdone, and the chile-roasted lobster (served with an odd medley of yams and maitake mushrooms) was a little meager for its $36 price tag. But the beef (grass-fed strip steak with short ribs braised in coffee) drew the applause of even the most dainty aesthetes at the table, and so did the sautéed snapper, which is flavored with blood oranges and giant caperberries fried in tempura batter.
Varietal was consciously designed to attract discerning food types the way a birdhouse attracts blue jays. So it's not surprising that the tables were filled, on the evenings I visited, with off-duty chefs, persnickety connoisseurs eating their dinners in tiny bites, and wine snobs in their dark undertaker suits, sniffing the impressively wide-ranging selection of wines, 77 of which are available by the glass. This mannered little jamboree reaches its crescendo with a series of engaging, Jackson Pollock–style desserts, each one arranged on the plate in a kind of splatter pattern by the pastry chef, Jordan Kahn. My favorite was titled "Wolfberry" and consisted of crumbled macaroons, soybeans, lime sabayon, and the slightest hint of ketjap manis, which, in case you didn't know, is an exotic Indonesian spice. The fenugreek toffee, celery root, cocoa nib, and cherrywood ice-cream combo ("Celery Root Abstract") isn't so bad either, provided, of course, you have the tolerance for a certain amount of artifice and attitude.
Klee Brasserie, which also opened not long ago in Chelsea in a small bistrolike space near the busy intersection of Ninth Avenue and 23rd Street, represents a similar though more casual amalgamation of fashionable restaurant conceits. There is the brasserie reference, which means you can enjoy blue-plate specials on different days of the week (good slow-roasted lamb on Saturdays, not-so-good "Viennese fried chicken" on Mondays) and a properly hearty selection of foreign beers (Kölsch Reisdorf from Germany, Saison Dupont from Belgium). There is the earthy, overlarge menu laced with trendy Alsatian-Austrian recipes (Klee means "clover" in German), and sections devoted to increasingly untrendy genres like Small Bites, Wood Stone Oven, and Mesquite Grill. The bar serves archly named cocktails ("the Grape," "Mango Tango"), in the manner of many downtown bars these days, and the room is made to feel stylishly casual in the usual way, with the presence of lots of blond, well-carpentered wood.
Given Klee's pleasant, neighborly scale, the food is better than you would expect, but given the prices, it's probably not quite as good as it should be. The dishes I tended to like were the smaller ones, like the fresh, leafy salads (butter lettuce with dill dressing, blue cheese with romaine and roasted hazelnuts), good arctic-char tartare spritzed with lime, a nice mushroom soup with frizzled leeks, and the pork tonnato, made with a light tuna sauce and rumpled slices of Kurobuta pork. The larger items were more straightforward but more uneven. The swordfish steak ($26) was fine as swordfish goes, as were the wood-oven-roasted pork loin ($24) and the strips of charred Wagyu hanger steak ($27). On the other hand, my platter of Wiener schnitzel was overbreaded, and the chicken ($21) could have been roasted in the diner down the street. You won't find a better selection of cheese at your local diner (there are tastings from five countries), however, or a more dense, chocolatey Sacher torte, and if you like this sort of thing, the lunchtime hot dog ($10) is made with Kobe beef.

Varietal
View Menu
Address: 138 W. 25th St., nr. Seventh Ave.; 212-633-1800
Hours: 5:30 to 11 p.m., Monday through Saturday.
Prices: Appetizers, $10 to $18; entrées, $26 to $36.
Ideal Meal: Venison or octopus, grass-fed beef, "Celery Root Abstract."
Note: The sophisticated bar menu includes excellent brandade "fries" stacked like little logs and scattered with black-olive powder.
Scratchpad: The ambience deserves a single star at best, but the inventiveness of the cooking combined with the varied wine cellar bump everything up at least one notch.


Klee Brasserie
View Menu
Address: 200 Ninth Ave., nr. 22nd St.; 212-633-8033
Hours: Lunch noon to 3 p.m., Thursday through Sunday. Dinner 5:30 to 11 p.m. daily.
Prices: Appetizers, $8 to $14; entrées, $21 to $27.
Ideal Meal: Kurobuta-pork tonnato, swordfish, Sacher torte.
Note: Try the Holunder Margarita, made with Corzo tequila and elderflowers.
Scratchpad: This sophisticated though pricey neighborhood joint is worth a single star, but if you're not in the area, don't go out of your way.