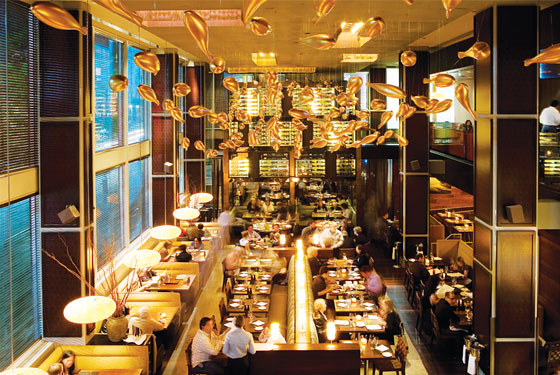 More than any dish I can think of, salmon is useless to restaurant critics. It's a stolid, predictable fish that chefs tend to prepare in stolid, predictable ways. Bred on vast seafood farms, like drug-addled chickens, the formerly noble salmon rarely tastes great these days, and it rarely tastes bad. "The Cheerios of restaurant food," one of my discerning fish- aesthete friends calls it. So leave it to Jeffrey Chodorow, the tireless impresario of Chinese food (China Grill), Cuban food (Asia de Cuba), Brazilian food (the defunct Caviar and Banana), and, most recently, Kobe beef (Kobe Club), to imbue this tired, overstretched fish with a dose of big-city glamour. The name of his newest restaurant is Wild Salmon, and the venue is Chodorow's grandest stage of all, a majestic glass-and-metal structure on Third Avenue, in midtown, which once housed an insurance company. More recently, the space has been home to two failed Chodorow productions: an Italian joint featuring the franchise-happy chef Todd English, and a doomed, Titanic-size steak parlor called Tuscan Steak.
Wild Salmon is not a franchise, however, and to implement his particular vision (this production's full title is "Wild Salmon: A Pacific N.W. Brasserie"), Chodorow has brought in Charles Ramseyer, a noted seafood chef from that great salmon mecca, Seattle, Washington. Ramseyer makes a point of flying in different varieties of fresh wild salmon, daily, from the Pacific Northwest. Indeed, the first thing you see, upon entering the grand, corporate space, is a small mountain of ice stuck with glistening cohos and sockeyes, and many other slightly bizarre sea creatures besides (check out the frighteningly phallic "elephant trunk" geoduck clams from Puget Sound). The tall, glass-and-metal room appears much as it did during the previous Chodorow productions, only the overweening smell of truffle oil has disappeared (for that, go to Kobe Club), and the ceiling has been hung with glowing, lattice-covered lanterns, and hundreds of curious, sperm-shaped sculptures, which appear to bound along under the roof of the restaurant, like so many salmon on a great spawn.
Such theatrics are tame by Chodorow's standards (for real theatrics, again, see Kobe Club), and the restaurant's menu, which covers a single large page, is relatively tame too. There are only eight kinds of sauce offered with your salmon (compared with thirteen for your steak at Kobe Club), and if you avoid most of them, along with many of the superfluous non-seafood items, it's possible to enjoy that rare thing in the hectic Chodorow universe: a fairly good, fairly relaxed meal. I am usually averse to grandiose seafood platters, but the cheapest one at Wild Salmon (they range from the large $45 "Mt. St. Helens" to the mammoth $160 "Mt. Rainier") contains four pleasingly massive Pacific shrimp, fresh mussels from Washington State, dainty Kumamotos (oysters will vary on the day), and fat scallops smoked to a wizened, tasty brownness in the chef's personal smoker. Ramseyer also introduces New Yorkers to the pleasures of house-smoked king, sockeye, and coho salmon, and serves them in a way locals can appreciate, with crunchy hot latkes, topped with caviar and sour cream.
This "Assorted Smoked In-House Salmon Platter" is one of fifteen appetizers offered at Wild Salmon, a surprising number of which are pretty good. The "Seattle Crab and Corn Chowder" didn't taste much of crab, but the chowder itself was properly creamy. My fried calamari was slick with grease, but $16 buys a nice duo of tartares made from smoked sockeye and king salmon. An odd seafood agglomeration called a "Northwest seafood margarita" tastes more like fruit salad than anything else, but the seafood ravioli (stuffed with crabmeat and shrimp) doesn't suffer much from being served in what the menu describes as a "Chardonnay tarragon" broth. I wouldn't pay $26 for a few meager slices of Wagyu carpaccio, but the delicate foie gras flown in from Sonoma County is almost worth the extravagant price. For diners fixated on geographical variety, there are scallops from Alaska, wrapped in crinkly lamb prosciutto, and delicious little quail from Oregon, glazed with balsamic vinegar, and grilled whole in a wood-fired oven.
The main courses are less successful, but if you forsake the more overworked preparations for simplicity, you should survive. The baroque dishes include Washugyu short ribs braised to a dank, brown nothingness; spidery, fishy tasting King-crab legs doused with Meyer-lemon butter sauce; and haunches of over-sweet pork osso buco set upright on the plate, like dinosaur bones. Alaskan sablefish, on the other hand, is smoked over applewood, and served with nice fat slices of bacon. The clam linguine is a satisfying mix of garlic, butter, and tiny steamed clams from a distant place called Samish Bay, and if you order the lightly breaded sand dab, you will find that it's a smooth, Pacific Coast version of Dover sole. Then there's the salmon, which comes in three varieties (king, coho, sockeye) cooked in varying ways ("bronzed," "grilled," "en papillote," "cedar planked"). After much experimentation, I suggest the cedar-planked coho (it's $10 less than the king), with a sidecar of a weirdly enlivening creation called "Oregon Blueberry Red Pepper Jalapeño Salsa."
Do dishes like this reveal the tired fish in a whole new light? I suppose they do. And if you still can't taste the difference between a king salmon and a coho after a couple of visits to Wild Salmon (I couldn't), there's nothing about the Cheerios of restaurant food that a few hours in a smoker, and a platter of first-class latkes, won't cure.
Given the chef's seafood fixation, you'd expect the desserts to be an afterthought, and for the most part, they are. The featured item is a non-flaming baked Alaska sculpted in the shape of a white marshmallow igloo, with a strange penguin figurine made of fudge chocolate on the side. I liked the igloo okay, but the penguin had been sitting in the fridge for about five days too long. Ditto the cup of lemon panna cotta, decorated with vaguely plasticated swirls of raspberry. But the strawberry-rhubarb crisp is serviceable, and if you're looking for something appropriately risqué to top off your Chodorow experience, try the apple upside-down cake, which comes with a scoop of ice cream, flavored, not disastrously, with Tillamook cheddar cheese.

Wild Salmon
View Menu
Address: 622 Third Ave., nr. 40th St.; 212-404-1700.
Hours: Lunch, Monday through Friday 11:30 a.m. to 2 p.m. Dinner, Monday through Wednesday 5:30 to 10 p.m., Thursday through Saturday 5 to 11 p.m., Sunday 5 to 9 p.m. Brunch, Sunday 11:30 a.m. to 5 p.m.
Prices: Appetizers, $11 to $26; entrées, $21 to $38.
Ideal Meal: "Mt. St. Helens" seafood platter, house-smoked salmon platter, sand dab or sablefish, apple upside-down cake.
Note: Recently opened for brunch. The specialty: eggs Benedict with house-smoked sockeye, king, and coho, over latkes.
Scratchpad: This isn't a great restaurant, but if you choose wisely, you'll have a good meal. Half a star for the grandeur of the room; another half for the chef's basement smoker.