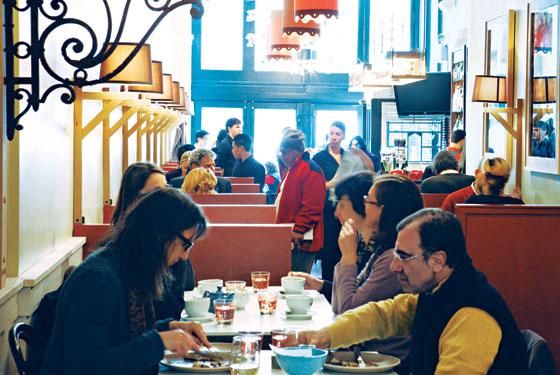 As any blog-obsessed restaurant geek worth his gourmet salt can tell you, the hallowed Michelin-guide star-rating system works as follows: Three stars denote "exceptional cuisine, worth a special journey"; two stars "excellent cooking, and worth a detour"; and one star "a very good restaurant in its category." But as tastes change and the economic downturn continues its rampage through restaurant land, the notion of "exceptional cuisine" continues to shift before our eyes. While bourgeois burger joints and glorified noodle bars proliferate around town, old-line "three-star" restaurants are coming under increasing pressure from diners who either don't want to eat their "exceptional" brand of cuisine anymore or can't afford to pay for it. If Michelin retains its lofty, increasingly outdated standards in this age of culinary deflation, soon there won't be any stars to dispense at all.
These grim thoughts played through my mind as I squeezed into one of the small tables at Cyril Renaud's new restaurant, Bar Breton, which opened late last year on an indistinct stretch of Fifth Avenue in the Flatiron district. Renaud (as any blog-obsessed restaurant geek can tell you) is a talented chef from Brittany whose excellent little French restaurant Fleur de Sel was granted a star by Michelin three years running, beginning in 2006. But Renaud closed Fleur de Sel earlier this year, and he has replaced it with a down-market bistro a few blocks away that features a happy hour (4 to 8 p.m.), a signature cheeseburger (the "BB Burger"), and even a flat-screen TV, which glimmers dispiritingly above the bar. Instead of the former haughty, European-tinged clientele, the customers now include groups of disoriented shoppers, and instead of Michelin-approved soufflés, the specialty of the house is a kind of crêpe called a galette, stuffed with ham and cheese or smoked salmon or Nutella.
Galettes are a Breton invention, it turns out, made with buckwheat flour, and Renaud presents them appealingly enough, sliced in delicate segments on little trays made of black slate. There's a very nice one served at breakfast, made with a comforting mash of eggs and chorizo, and if you go at dinner, the galette to get is the one garnished with carrots and celery root and filled with deposits of braised lamb. The non-galette portion of the menu is slightly less interesting and tends to veer unsteadily between proficiently rendered bistro favorites and a high-minded Frenchman's somewhat tortured idea of what nouveau-casual food should be. The appetizers include tedious curls of shrimp crusted in phyllo, an interesting Caesar-like salad construction made with romaine and chunks of crunchy duck confit, and a delicious little brick of suckling pig and foie gras terrine, which Renaud plates with an elegant little tuile tasting faintly of buckwheat.
The main courses at Bar Breton tend to be more spotty and various, and at this early date the service (which is better on crowded evenings, strangely, than slow ones) is a little spotty, too. The scallops I ordered one night were dank and bland, and the sea bass was unsettlingly fishy, and if you like rabbit, don't order the rabbit–and–foie gras roulade, which was overcooked the night I tried it and set in a wan carrot broth. But Renaud turns out a capably poached duck breast and a delicately sweet, wine-rich version of boeuf bourguignonne, and his burger is as good as most of the haute-burger variations now flooding the market. At his former restaurant, the desserts included a feathery pistachio financier with a dab of brown-butter ice cream, but at Bar Breton you'll have to make do with garden-variety profiteroles. If you're feeling nostalgic, however, try the chocolate mousse, which is scattered with chocolate-covered Rice Krispies and enlivened, for old times' sake, with a touch of fleur de sel.
To her credit, the great tapas master of Chelsea, Alex Raij, doesn't seem to care what the lordly mandarins at Michelin think. She and husband Eder Montero's new restaurant, Txikito (Raij was the chef at the excellent neighborhood tapas joint Tía Pol), isn't built for grandeur. It's built, like a sturdy fishing boat, for surviving in rough weather, over the long haul. The walls of the snug little room are clad with faded old clapboard, and the little gray chairs are made with what looks like recycled plastic. The menu of exotically spelled Basque finger snacks and drinking foods (the restaurant's name means little in Euskara, and is pronounced "chick–KEE–toe") is impressively diverse without being overstuffed. It's also informative (did you know the Basque name for pig trotters and tripe was "txarripatak"?) and fairly modestly priced, provided you don't order fourteen things at once and many glasses of good, inky Tempranillo, like I did.
I liked the tuna sandwich (atún), the salty, fatty lamb chops (chuletillas), the crispy little bundles of blood sausage (morcilla), and the cool little blocks of foie gras drizzled with a violet gelée (foie mi-cuit). Some of the more exotic Basque dishes promise more than they deliver, among them my eagerly anticipated, though wet and rubbery, pork trotters, and an over-salted helping of squid in ink. But you can wash away these mild moments of unpleasantness with sips of many interesting Spanish wines (try the sweet, sangria-like Basque Zurracapote), and if you visit on Wednesday nights, the kitchen serves a giant rib-eye, which will provide you and your family with enough protein for several weeks. The desserts are designed with a similar heft in mind, particularly the puffy muscatel cake, which is cut in thick, country-size wedges and hoisted to the table with a Michelin-approved dollop of crème fraîche on top.

Bar Breton
Address: 254 Fifth Ave., nr. 28th St.; 212-213-4999
Hours: Breakfast Monday through Friday, 9 a.m. to 11:30 a.m. Brunch Saturday and Sunday, 10 a.m. to 4 p.m. Dinner Sunday through Thursday, 4 to 11 p.m., Friday and Saturday to 11:30.
Prices: Appetizers, $8 to $14; entrées, $16 to $27.
Ideal Meal: Suckling pig and braised-lamb galette, boeuf bourguignonne, profiteroles.
Note: The galettes make a nice brunch.
Scratchpad: Renaud has surely lost his Michelin star, but we'll give him one of ours for the galettes alone.


Txikito
Address: 240 Ninth Ave., nr. 25th St.; 212-242-4730
Hours: Dinner Tuesday through Thursday and Sunday, 5 to 11 p.m., Friday and Saturday to midnight. Lunch Tuesday through Friday, noon to 3 p.m.
Prices: Appetizers, $6 to $10; entrées, $11 to $20.
Ideal Meal: Foie mi-cuit, morcilla, lamb chops, arugula salad, muscatel cake.
Note: The "El Doble" burger, served at lunch, is one of the better new burgers in town.
Scratchpad: The food approaches two-star level on occasion, but in one-star surroundings.