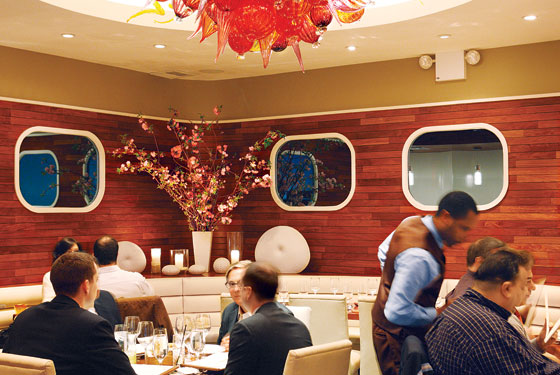 During these dark and tenuous times, there are certain qualities in a new restaurant that all but guarantee sparsely filled dining rooms, skimpy profits, and inevitable doom. Location is one, especially when the establishment in question is on the ground floor of a lonely townhouse building, next to a deserted parking lot, on a bleak stretch of sidewalk above the Holland Tunnel entrance. In this age of a cheeseburger on every menu and hyper-ecoconscious dining, building your restaurant around ambitious high-end seafood dishes is also a high-risk proposition. Intricate emulsions and archaic, formerly trendy foams interspersed with not one but two amuse and intermezzo courses is another dubious, potentially fatal, idea. And in an era when bars are replacing tables, and the most fashionable new restaurants tend to resemble bomb shelters, classically trained waiters sporting silk vests are still another possible kiss of death—not to mention the presence, in the front of the house, of a bow-tie-wearing maître d' who speaks with a refined French accent.
So it was with deep foreboding, and a heavy heart, that I sat down to dinner at Harbour, a new seafood restaurant, which opened quietly, a month or so ago, among the old warehouses and windblown parking lots along south Hudson Street, two blocks from the river. The maître d' is Belgian, as it happens, and the former general manager of David Bouley's flagship establishment, and Harbour's chef-partner is Joe Isidori, who labored for years as the top chef in Donald Trump's scattered empire. The layout is narrow and feng shui–challenged, with a long flat-screen TV and bar area in the front and a larger dining room in the back, which you reach through a little passageway. As at Lure Fishbar in Soho, the décor resembles the stateroom of a sleek, Eurotrash yacht. "I feel like I'm on the set of an Austin Powers movie," one of my guests said, as she took in the butterscotch-colored banquettes covered in plush leather, the porthole-shaped tinted-glass windows (which look out on slabs of concrete), and the walls and tables cut, like the deck of a ship, with strips of thickly lacquered teakwood.
The wait staff at Harbour use au courant catchphrases like "market-inspired" and "sustainable" to describe various items on the fish-heavy menu, which is both carefully edited (nine appetizers, nine entrées) and reasonably priced (only one entrée over $30). But the restaurant is the brainchild of an ocean-loving former Wall Street plutocrat named Richard Schaeffer, and many of the flowery touches executed by the former Trump employee, Isidori, have what seems like an almost willfully nostalgic, Go-Go-era feel. The predinner serving of Beausoleil oysters, from Nova Scotia, was obscured in a dated green parsley foam, and before any food arrived at the table, everyone received an amuse-bouche made with chilled pea soup and slices of green apple, among other things. Later, the intermezzo of cantaloupe sorbet with candied plum and Meyer-lemon soda was poured into tall martini glasses by the maître d' himself. "When's the last time you saw that at a new restaurant?" asked one of my obsessive gourmet friends, who gamely spends his time these days passing judgment on pizza crusts in the city's suddenly proliferating high-minded pizza joints.
Isidori and his staff won a Michelin star catering to assorted fat cats and big-money whales at DJT, in the Trump Las Vegas hotel (along with Jean-Georges, Isidori also catered The Donald's latest wedding), which means, presumably, they're not interested in fancy pizza or gourmet burgers or any other permutations of the nouvelle-comfort-food movement. The first dish we sampled was the lobster garden salad, a combination of fresh Maine lobster and assorted microgreens (tiny tomatoes, boutique radishes, etc.), with a lemon-and-yuzu-flavored dressing. It was followed by a thick, overly fussy clam chowder, which tasted more like a pan roast than a chowder ("This would make a good sauce on something" said the Obsessive Gourmet), and two intricate, Asian-influenced crudo-style fish dishes, one made with raw sea scallops crowned with fresh uni, the other with slices of sweet, farm-raised yellowtail, layered over sliced shrimp, crunchy strips of jicama, and ribbon-thin slices of serrano ham.
It's not until the entrées, however, that the cooking at Harbour begins to come alive. Isidori pairs his fresh sea scallops with soft chunks of caramelized cauliflower, and finishes them with a foamy, invigorating emulsion flavored with lobster stock and paprika. My whole branzino was expertly crisped in a light flour crust, and a potentially unwieldy chunk of tilefish was perfectly cooked, sprinkled with bits of crispy garlic, and set in an exotically delicious reduction ("Yellow curry, shumai, and lop chum," the menu said) that tasted like a classic Parisian fish preparation crossed with hints of Hong Kong, Goa, and the South Korean coast. Similar inventive fusion touches show up in the Arctic char (served over wedges of ruby grapefruit, with miso and yuzu), the Bouley-quality poached lobster (with wild ramps and maitake mushrooms, in a faintly sweet, pea-flavored broth), and the soft-shell crab, which is crunchy-fried, like tempura, and served with celery-root rémoulade and a pepper-and-lardo pipérade.
Are people rushing to Harbour to get a taste of this artsy, accomplished cooking? Not on the evenings I dropped in. Should the kitchen start serving three-star lobster rolls or sustainable salmon burgers? Probably. In the meantime, you should know that the wine list is balanced and well priced ("They chill the reds, which you never see anymore," observed the Obsessive Gourmet) and that all of the food is portaged to the table on silver trays. That includes the desserts, like the tasty, though slightly deflated on the night I tried it, espresso soufflé, an elaborate fruit salad decked with tiny Frisbees of méringue, and a smooth butterscotch pudding that benefits, miraculously, from a sprinkling of freshly popped popcorn. Or forget about the desserts and wait for the petits fours, which include almond macaroons stuffed with chocolate ganache, among other elegant, unexpected items, and have the crucial benefit of being free.

Harbour
Address: 290 Hudson St., nr. Spring St.; 212-989-6410
Hours: Monday through Wednesday 6 p.m. to 10:30 p.m., Thursday through Saturday to 11:30 p.m.
Prices: Appetizers, $8 to $16; entrées, $19 to $39.
Ideal Meal: Kampachi crudo, tilefish, lobster or Arctic char, butterscotch pudding.
Note: Chef Isidori's $45 tasting menu is one of the better new gourmet deals in town.
Scratchpad: In this age of retrenchment, it's refreshing to see a restaurant shoot for the stars. One star for the service, and another for the surprisingly accomplished food.