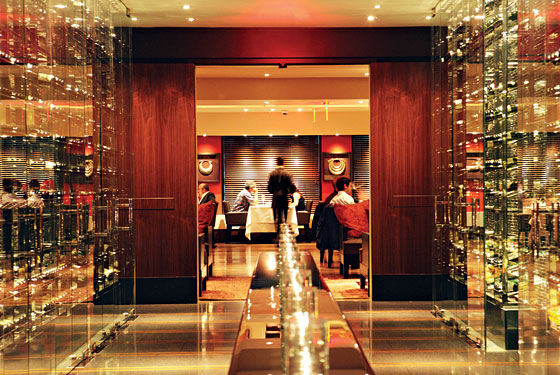 For months now, reports of a mysterious retro dining palace have been floating uptown from Wall Street, like rumors of a lost world. Intrepid restaurant anthropologists who made the trek downtown returned with tales of vanished wonders, like caviar spoons carved from mother-of-pearl, and miniature crêpes decked with fluttering flags of gold leaf. There were exotic, rarely glimpsed ingredients on the menu (urfa spice, wilted tetragonia, galangal gelée), and not one but two towering glass wine displays filled with the kind of conspicuous boom-era vintages people can no longer afford to drink. The place took its weird, tongue-twisting name ("It sounds Mongolian," someone told me) from a mysterious chef no one had ever heard of and who is reputed to be a master of the kind of ancient, half-forgotten French and Asian-fusion techniques that haven't been seen in this burger-ravaged metropolis since the glory days of Nobu and Jean Georges.
SHO Shaun Hergatt has been open since June, but to get there it still helps to have a GPS in your pocket. First, you must find an obscure condo development called the Setai, on Broad Street. The Setai's façade is covered in a scrim of construction scaffolding, and it's located on a stretch of Broad Street closed to traffic (it's one block from the New York Stock Exchange) and patrolled, like the Green Zone in Baghdad, by heavily armed policemen and their bomb-sniffing dogs. The restaurant is up a special elevator, on the second floor, in a warren of low-lit rooms. The walls are covered in silk and decorated with the kind of randomly purchased artifacts (old calligraphy brushes, a necklace from Tibet) you see in airport hotels in Bangkok or Bahrain. "Where the hell are we?" one of my guests whispered as we wandered into the windowless, sparsely populated dining room. "Welcome to the Twilight Zone," I said.
If you've been subsisting, these last few years, on a diet of pork products and righteously farmed, locavore-approved restaurant fare, everything about SHO Shaun Hergatt feels stuffy and slightly passé, as if it happened decades ago, in a strange, gastronomic galaxy far, far away. But as the food begins issuing from the kitchen, it quickly becomes apparent that this is not such a bad thing. The first item we sampled was a frizzled zucchini blossom filled with an opulent mash of blue prawns flown in from Hawaii. It was followed by squares of bluefin tuna (expertly plated with rice-wine vinegar over a layer of sweet scallop carpaccio), and then an archaic-sounding construction called "mille-feuille of foie gras." Instead of puffy French pastry crust, however, this mille-feuille was made with layers of tuiles touched with pistachios and ginger and interspersed with slices of cool foie gras. It tasted rich, but not in a heavy, overbearing way, and had the pleasing aftertaste of gingersnaps.
The architect of these delicacies is a talented Australian chef named Shaun Hergatt, who toiled for many years in the upper levels of the Ritz-Carlton hotel chain. His signature appetizer is a decadent Ritz-like creation called "The Golden Egg" (a single poached egg set in a cauliflower purée with caviar), which even the nostalgic gourmets at my table thought was decorated with excessive amounts of gold leaf. But no one complained too bitterly about the rich, steamy "double duck" consommé, or the risotto, which the chef makes with pearl barley, instead of rice, and folds with maitake mushrooms and extravagant amounts of butter and cream. Lobster, when it makes its predictable appearance, is also braised, the old-fashioned way, in gout-inducing amounts of butter, and if you have a hankering for expertly cooked quail while wandering the canyons of Wall Street, you'll find it here, lightly crystallized in cornstarch and spiced with a Thai-style curry made with coconut milk and red chiles.
Inevitably, some of Hergatt's baroque creations tip into the realm of parody. Among the entrées, the precious flea-size yogurt-marinated poussin didn't appear to have been marinated in enough yogurt, and my well-cooked halibut was muffled in a weirdly thick purée of celeriac flavored with too many black truffles. But Hergatt is well schooled in classical technique (his last job in New York was running the kitchen at Atelier for Gabriel Kreuther, who's now at the Modern), and he has a knack for inserting disparate flavors into his recipes without overwhelming their essential integrity. Steamed black bass is sunk ingeniously in a gingery Chinese broth, and my delicious portion of muscovy duck was poured with traditional bigarade citrus sauce and served with a little side of foie gras inventively flavored with red hibiscus. And who knew that you could make a crunchy Swiss rösti from parsnips instead of potatoes?
Is there a market for this kind of flowery, dated auteur-style cooking in lean, recession-era Manhattan? Judging from the sparsely filled white tops on the evenings I dropped by, possibly not. But the three-course prix fixe dinner at SHO Shaun Hergatt costs a relatively recession-friendly $69 (there's an à la carte menu available at dinner, but just in the front room rather than the main dining room). The fixed-price meal includes predinner amuses (with gold leaf, of course) and the pampering attentions of a self-consciously stilted but well-meaning wait staff. Unlike many snooty joints uptown, it also includes a series of decorative, preciously rendered desserts, like the chocolate-domed java crémeux, the "chocolate and jasmine inspiration" (dark-chocolate, chocolate-crème, and milk-chocolate sorbet), and a slim little banana mille-feuille, which looks like it's just been flown in from one of the trendier pastry shops in Paris. As these intricate, curiously old-school little dishes made their way around the table, one of the wistful gourmets raised his glass in a little toast: "Here's to the boom," he said.

SHO Shaun Hergatt (View Menu)
Address: 40 Broad St., 2nd Flr., nr. Exchange Pl.; 212-809-3993
Hours: Dinner, Monday through Saturday, 5 to 10 p.m. Lunch, Monday through Friday, noon to 2 p.m. Breakfast, Monday through Friday, 7 to 9:30 a.m.
Ideal Meal: Coconut-milk-glazed quail, muscovy- duck breast, chocolate and jasmine inspiration.
Note: The restaurant's slap-up Wall Street breakfast includes five varieties of pastry, plus French toast tipped with orange blossoms.
Prices: Appetizers, $16 to $20; entrées, $25 to $35. Three-course prix fixe: $69 for dinner, $30 for lunch.
Scratchpad: Three stars for Hergatt's high-wire, if slightly archaic, cooking; minus one for the location and the décor.