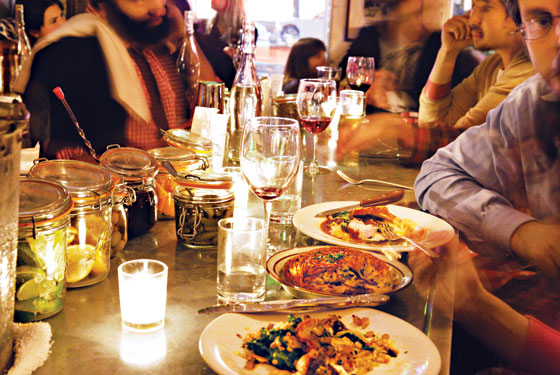 If I see another decorative pickle jar, I might go insane," I muttered (then dutifully tweeted) to no one in particular, while cooling my heels before dinner at the buzzy new West Village bistro Joseph Leonard. Like countless buzzy downtown restaurants these days, the snug, candlelit room was filled with all sorts of carefully procured down-home knickknacks. There were Mason jars placed on the distressed farm-style tables and along the pewter-topped bar (and filled with actual pickles), and old hardcovers stacked along the walls. Faded photo portraits were hung here and there on the white brick ("They're the investors' grandparents," the bartender confided), as were assorted antique mirrors fuzzed with age. The checkered napkins looked as if they'd been cut from old tablecloths (they hadn't), and the mismatched flatware seemed rummaged from assorted flea markets up and down the eastern seaboard (it had).
The architect of this carefully curated little space is Gabriel Stulman, who used to run the front of the house at another diminutive, wildly popular West Village restaurant, the Little Owl. He's named his new restaurant for his grandfathers, Joseph and Leonard, and the plates on the cozily spaced tables used to be stored in his mother's garage. Like the Little Owl, Joseph Leonard occupies a prime piece of Village real estate: in this case, on the corner of Waverly Place near Sheridan Square, where the popular brasserie Les Deux Gamins once stood. There are no reservations at Joseph Leonard. This ensures that tables (there are only seven of them) fill up quickly (arrive before 6:30 or you'll find yourself loitering out on the sidewalk like I did, several evenings in a row) and that, as the night wears on, the room takes on a pleasantly intimate, cocktail-party feel.
Joseph Leonard's very standard bistro menu isn't inspired enough to add to this festive atmosphere, but neither is it so horrible that it detracts from the proceedings. You can procure decent oysters at the bar (fresh bluepoints for $1.50), and a pink slab of country pâté served, predictably, on a butcher board, with a brittle stack of toast points ($9). I'm as weary of grits as I am of pickle jars, but the kitchen serves its version with fresh shrimp, in the proper Low Country style, and laces it with Cheddar and crinkly wheels of andouille sausage. The jar of bland, oily brandade was listless by comparison, and so was the steak tartare, which didn't benefit from the poached egg planted sloppily on top. My over-peppered bowl of linguine had a needless poached egg in it, too, but if you order the faithful (if undersize) house frisée salad, the egg yolk is placed on a circle of crunchy toasted brioche and plated, mercifully, on the side.
Given Stulman's keen antenna for culinary fashion, you'd expect a signature burger on the menu at Joseph Leonard, and, in fact, they've just begun serving one at lunchtime. There's also a satisfying version of steak au poivre on the dinner menu (butter-streaked and crusted in generous amounts of pepper), and if you want a truly inventive, rib-sticking dish, I suggest the pork hock ($19), which the kitchen braises, deep fries, and sprinkles with frizzled capers. The best seafood item I sampled was the skate wing, and if you have room at your clamorous little table, you can supplement it with glazed carrots, like your mother used to make, or a crackly, farm-size portion of hash browns. The typically meager small-restaurant dessert roster (there's no freezer in the tiny kitchen) includes chocolate brownies, a rich slab of carrot cake, and salted caramel pudding. All the ladies at the bar were ordering the caramel pudding. It's served in a Mason jar, of course.
Civetta, which has been open since the summer, is a partial, somewhat confused spin-off of Sfoglia, Ron and Colleen Suhanosky's tiny, polished, rabidly popular restaurant on the Upper East Side. Ron Suhanosky consulted on the menu, the kitchen is being run by one of his former chefs, and the man in charge, Lou Ceruzzi, is one of the partners at the uptown restaurant. But there's nothing quaint or Sfoglia-like about the room at Civetta, which feels big and shambling and half-put-together. There's a generic store-bought quality to the decorations, which include steel chandeliers made from wine barrels, low, curved taverna-like ceilings, and tables and chairs made of thick polished wood in the familiar neo-rustic Tuscan style. A strange, half-empty lounge area lurks downstairs, complete with faded red pillows and an abandoned D.J. booth. The service in both spaces alternates between hectic and nonexistent, and when you sit down to dinner, you can feel the steady rumbling of the No. 4 train under your chair.
When I first visited the restaurant this summer, the kitchen seemed to be in a similar state of disarray. But the menu has been edited recently, and if you choose wisely, it's possible to have a decent meal. The new antipasti list includes strips of house-cured tuna scattered with toasted almonds, and little arancini filled with ground sausage and melted Fontina cheese. The dreckish, funky version of Sfoglia's famous sea-urchin pasta (scattered with black sesame seeds) has disappeared, replaced by less racy, more manageable dishes like soft gnocchi tossed with roasted mushrooms, and tubes of rigatoni smothered in a creamy Bolognese. The stolid, home-style entrées (gently cooked osso buco, sweet sausages over lentils, good, crunchy-skinned chicken al mattone) are all better than the greasy pork cutlet I ordered this summer. Best of all, though, are the desserts, particularly the bread pudding, which is laced, in Colleen Suhanosky's trademark style, with caramel and a faint, uptown hint of citrus.

Joseph Leonard (View Menu)
Address:170 Waverly Pl., at Grove St.; 646-429-8383
Hours: Dinner, Tuesday through Saturday 5:30 p.m. to 2 a.m., Sunday 5:30 p.m. to midnight. Lunch, Tuesday through Friday 11:30 a.m. to 3:30 p.m. Brunch, Saturday and Sunday 11:30 a.m. to 3:30 p.m.
Prices: Appetizers, $7–$12; entrées, $18–$27.
Ideal Meal: Shrimp and grits, crispy braised pork hock, carrot cake.
Note: The best table in the house is in the back right corner, away from the trampling herd.
Scratchpad: One star for the neighborly, party atmosphere. Slightly better cooking could turn the joint into a destination.


Civetta (View Menu)
Address: 98 Kenmare St., nr. Centre St.; 212-274-9898
Hours: Dinner, daily 6 p.m. to midnight. Lunch, Monday through Friday noon to 4 p.m. Brunch, Saturday and Sunday noon to 3 p.m.
Prices: Appetizers, $12; entrées, $18–$30.
Ideal Meal: Gnocchi with roasted mushrooms, chicken al mattone, caramel bread pudding.
Note:The Italian wine list is moderately priced, and surprisingly deep for a restaurant this size.
Scratchpad: It's no Sfoglia, but we'll give half a star for the pastas, and another half for the desserts.