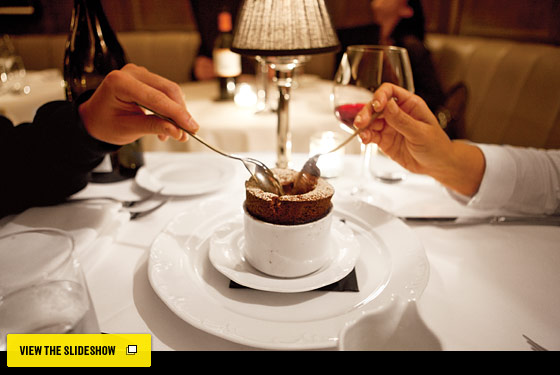 Crown
Photographs by Danny Kim
In this constrained, no-nonsense, post-boom era, most ambitious New York chefs attempt to make their names by leasing dark little spaces in out-of-the-way neighborhoods and crafting spare, locally sourced comfort-food dishes. But during the course of his short, meteoric career, John DeLucie has prospered by doing things the old-fashioned way. As executive chef at the Waverly Inn, he was known for dressing the famous house version of macaroni and cheese with truffles. When he finally opened his own restaurant, the Lion, he exhibited an old-world fondness for expensive caviars (golden osetra, $125), pricey French wines ($1,850 for a bottle of Bollinger Blanc de Noirs '00), and elaborate, Hollywood-style props (oil paintings, sparkling chandeliers, etc.). Like an old-school restaurateur, he choreographs his productions with a specific audience in mind, and, more than most chefs today, he's an entertainer at heart.
DeLucie's latest big-money culinary show is called Crown, and it's been playing for nearly three months now to packed houses, and characteristically mixed reviews, on the bottom floor of a posh Upper East Side townhouse off Madison Avenue, across from the Frank E. Campbell Funeral Chapel. As at the Waverly, the entrance to the restaurant is discreetly marked, and guarded in the evenings by a doorman who could easily be mistaken for a nightclub bouncer. Echoing both the Waverly and the Lion, there's a cramped, darkly lit Black Hole of Calcutta bar area in the front of the house, which is designed as a kind of holding pen for people straining to gain entrance to the grand dining room, and reservations are doled out to a select, clubby clientele, which means normal civilians will find themselves sitting down to dinner, like I did, at 5:45 or ten o'clock.
The room at Crown is larger and more comfortable than DeLucie's hysterically loud, tightly packed operations downtown, but it looks, as those establishments do, like a Broadway set designer's idea of what a grand New York restaurant ought to be. There's the elegant glass-covered Atelier room in the back of the surprisingly large townhouse space, and the walls of the main dining room are clad in wood molding and stained in soft shades of gray. The waiters wear starchy white dinner jackets, and the tables are covered with crisp white linens and set, cruise-ship style, with old-fashioned lamps fitted with tiny black lampshades. The walls of the bar are plastered with evocative black-and-white photographs of gentlemen in tuxedos and women wearing flapper-era dresses, and no matter what time of the evening you visit, the room is sunk in a shadowy, carefully calibrated speakeasy gloom.
"This is officially the darkest restaurant in Manhattan," said one of my guests as we used little push-button flashlights (provided by our helpful waitperson) to examine the first wave of appetizers on the table. They included two tartares (one made with Tasmanian sea trout, the other with overchilled Wagyu beef and too much truffle oil) and a classic, decadently smooth terrine of Hudson Valley foie gras garnished with a row of freshly cut figs. The de rigueur caviar service is available too (golden osetra from California, for $110), along with a well-constructed salad of sautéed boutique mushrooms tossed with chestnuts, several surprisingly good handmade pastas (try the carbonara-style penne tossed with pancetta and a fried egg), and a warm, faintly curried bowl of squash soup, which our waiter poured with great ceremony over a light, melting, savory flan flavored with sweet onions.
Many of the aged totems of the classic uptown dining experience are present on the slightly more prosaic entrée list, including grilled Maine lobster; platters of overcooked, slightly stringy Muscovy duck for two; and several cuts of decent, if extravagantly priced, beefsteak ($55 Delmonico, $65 tenderloin, and $125 côte de boeuf for two) served with giant, tottering marrow bones and generous spoonfuls of freshly whipped béarnaise. Compared with the beef dishes, my expertly cooked rack of lamb (plated over buttery chanterelles with bordelaise on the side) was a relative bargain at $46, and so were the veal medallions ($37), which the kitchen wraps in strips of speck and plates over a pile of rapini and spring onions. The scallops I sampled one evening lacked that plump, extra-fresh sweetness, so get the halibut instead, which is wreathed in an emulsion tinged with vermouth and scattered with Romanesco cauliflower and crunchy slivers of almond.
The room at Crown was usually empty when I arrived for my 5:45 dinners, but the tables soon filled up with a festive assortment of DeLucie regulars (Star Jones cooling her heels at the bar) and local representatives of the One Percent, dressed for the evening in their blazers and glittering, brooch-encrusted gowns. They sipped fishbowl-size snifters of cognac from the extensive list of spirits and hoisted $45 glasses of vintage Champagne poured from giant, frosty magnums. The dessert list includes wedges of fig cake prepared by Michael White's former pastry chef Heather Bertinetti, and a large, bracing affogato made with zabaglione-flavored ice cream and two shots of espresso. But the best way to end your meal at this elaborate uptown DeLucie production is with the surprisingly elegant milk-chocolate soufflé, which is finished in nouvelle Belle Epoque fashion, with a pour of warm malt-flavored crème anglaise.

Crown
Address: 24 E. 81st St., nr. Madison Ave.; 646-559-4880
Hours: Dinner Sunday through Thursday 5:30 to 11 p.m., Friday and Saturday to midnight. Lunch Monday through Friday 11:30 a.m. to 3 p.m.
Prices: Appetizers, $14 to $25; entrées, $27 to $65.
Ideal Meal: Foie gras terrine or housemade penne, Atlantic halibut or rack of lamb, milk-chocolate soufflé.
Note: The restaurant's lunch menu includes a Pecorino-cheese fondue and, of course, a $22 Crown burger.
Scratchpad: One star for the cooking, which is a cut above the usual DeLucie level, and another for the service and the setting.
Crown Photo: Danny Kim
Crown Photo: Danny Kim
Crown Photo: Danny Kim
Crown Photo: Danny Kim
Crown Photo: Danny Kim
Crown Photo: Danny Kim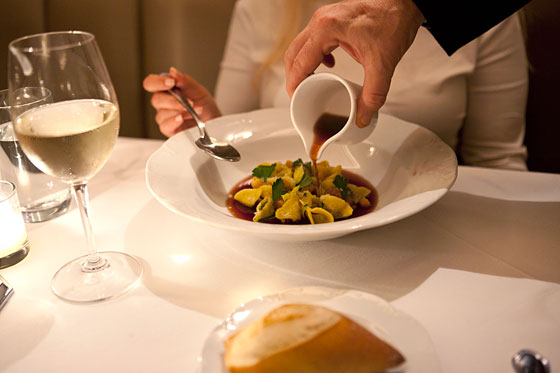 Crown Photo: Danny Kim
Crown Photo: Danny Kim