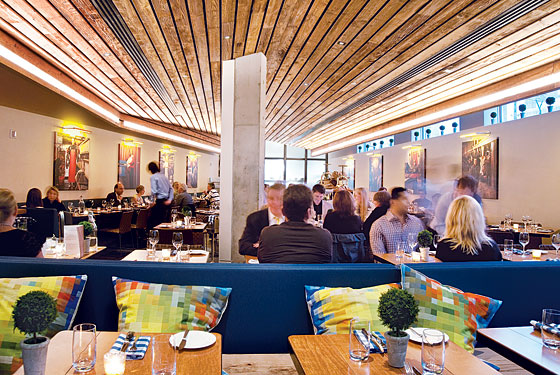 If Jean-Georges Vongerichten was the multitalented Picasso of nineties auteur "superstar" chefs, then David Burke was the blustering cook's version of Julian Schnabel. At hit restaurants like the Park Avenue Café, Burke embellished his recipes with fanciful props, created inventive sculptures on the plate from lobster shells and other oddments, and slapped countless fusion ingredients together in the hope that a few of them would stick. Like the market for Schnabel's more garish canvases, however, the one for Burke's expressive brand of showmanship has dwindled over the years. Recently he's lent his name (like lots of the star chefs from the vanished nineties) to more formulaic enterprises, including seafood restaurants (Fishtail by David Burke), steakhouses (in Vegas, Chicago, and the Foxwoods casino), and even a string of signature comfort-food spots at unusual locales like Bloomingdale's and the newish Bowlmor Lanes, in Times Square.
So it was only a matter of time before Burke (like Jean-Georges before him) tackled the most fashionable and formulaic trend of our time, farm-to-table dining. ­David Burke Kitchen, which opened not long ago in the basement of the starkly modernist, almost comically un-­bucolic James New York hotel, in lower Soho, is decorated with all the familiar totems of our barnyard-mad era. The walls of the softly lit, dun-colored room are adorned with the usual giant color photographs of apple-cheeked "suppliers" cuddling the usual lobsters, piglets, and baby sheep. The ceiling is clad with planks of tastefully distressed wood that look like they've been ripped from the side of an Amish barn, and the café-style chairs are made with woven leather. The tabletops are cut from polished wood and set with blue-check napkins, like at a church picnic, and when you ask for a glass of water, it's poured from specially made bottles stenciled with the image of a capering rabbit.
"We're going to be keeping our own honeybees when the terrace opens upstairs," one of the bartenders told me brightly, as I sat slumped at the bar one chilly spring evening, nursing an agave tequila drink called the Border, which was garnished, in high Burkean style, with a slice of beef jerky. Unlike Burke's elaborately long-winded menus of the past, the one here is printed on a single page and contains a variety of market-themed "jar" snacks, like a form of hummus made from white beans, and puréed chicken liver garnished, not unpleasantly, with port-soaked prunes. Dishes are adjusted weekly, according to the rhythms of the markets, and the menu includes a series of country-style blue-plate specials, like buttermilk fried chicken (Tuesdays) and a bizarre, mossy-green version of mac 'n' cheese (Mondays), which contained white asparagus and ramps on the evening I ordered it (both overcooked), as well as a Schnabelesque topping of rubbery crayfish tails.
Of course, the key to Greenmarket nirvana, as any member of the locavore priesthood (including the newly converted Jean-Georges) will tell you, is to let the ingredients speak for themselves. But the incurably baroque Burke can't resist being himself. He dresses a perfectly fresh fluke-crudo appetizer with giant nodes of slightly less fresh uni, and muffles sweet, market-fresh scallops in soupy puddles of braised oxtail. Everyone at my table enjoyed the chef's ornate take on pea soup (it features a poached egg bound in crackly prosciutto), and his signature, fusion-style "Pretzel Crab Cake," which is sandwiched between pretzel sticks and touched with a hint of orange. But an interesting-sounding creation called "Ants on a Log" turned out to be slabs of gelatinous bone marrow randomly dressed with escargot, and, on the night I was there, the ravioli appetizer was garnished with bland wheels of lobster sausage and stuffed with a dreckish, eighties-style deposit of melted Camembert (it's now been swapped out for a sweet-pea ravioli).
The entrées at this farm-to-table restaurant are predictably rich and protein-heavy, and some of them stand up to the two-fisted Burkean treatment better than others. The roast Giannone chicken, with spring onions and mint-­flavored zucchini, is an honest, straightforward rendition of a classic barnyard dish. Ditto the well-­marbled $45 Buckhead rib eye and the thick heritage pork chop, which comes with a slightly oversweet marmalade made with bacon and apples, and excellent green-tinted onion rings touched with parsley. But the impressive-looking short rib (with cavatelli and truffle cream) was tough and stringy on the evening I sampled it, and the boutique Hudson Valley Lola duck was swamped in a tarlike glaze of honey and soy. The thick lamb loin chop (with smoked-barley risotto) was curiously devoid of lamby taste, and fillet of Idaho trout looked nice on the plate but lacked that popping, just-caught freshness.
But so what? David Burke's fans don't go to his restaurants to dine on spring ramps or quibble over the freshness of a piece of fish. They go to be diverted and entertained, and if you're looking for a diverting dinner (or lunch, or hotel breakfast) on the bleak borders of southwestern Soho, you could do worse. If you don't like beef jerky in your tequila drink, there are all sorts of antically named libations to choose from at the bar, including the Rabbit Hunter, which is an inventive version of the Dark and Stormy made with Bulleit bourbon instead of rum. Most entertaining of all, though, are the desserts, which range from a professionally constructed chocolate napoleon (made with thin layers of shiny gianduja-infused chocolate) to the chef's signature cheesecake Lollipop Tree (with whipped cream flavored with passion fruit) to a serviceable apple tart crowned, in high barnyard style, with a candied fennel chip.

David Burke Kitchen
Address: 23 Grand St., at Sixth Ave.; 212-201-9119
Hours: Breakfast Monday through Friday 7 a.m. to 10 a.m., lunch Monday through Friday noon to 3 p.m., brunch Saturday 10 a.m. to 3 p.m. and Sunday 10 a.m. to 4 p.m., dinner Monday through Sunday 5 p.m. to 11 p.m.
Prices: Appetizers, $6 to $17; entrées, $26 to $45.
Ideal Meal: "Pretzel Crab Cake," roast chicken or Buckhead rib eye, gianduja mousse.
Note: The new lunchtime menu includes chorizo-and-fried-egg pizza, and a signature Kitchen burger with jalapeño fries.
Scratchpad: Jean Georges it's not. But if you're looking for a professional meal on the cheerless Holland Tunnel fringe of Soho, you could do worse. One star.