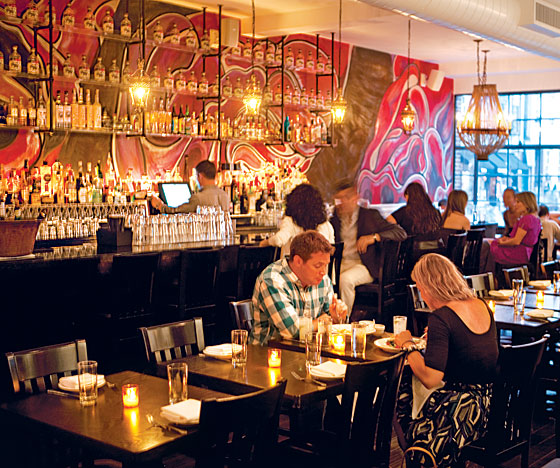 Ever since David Chang made the momentous decision, nearly a decade ago, to abandon the kitchen at Café Boulud and open a small noodle shop downtown, ambitious young cooks have been leaving gourmet kitchens in droves. They've opened Italian delicatessens (Rich Torrisi and Mario Carbone at Torrisi Italian Specialties), neighborly southern-cooking joints (Robert Newton's Seersucker in Brooklyn), and countless burger bars. But even by today's standards, Alex Stupak's decision came as a shock. Over the years, he's won many accolades and awards for his avant-garde dessert creations, first in Chicago, with the molecular gastronomist Grant Achatz, and then here in New York, with Wylie Dufresne, at wd~50. But late last year, Stupak announced that he would be laying down his syringes and immersion blenders to pursue what, presumably, was a lifetime dream. The most creative dessert chef of his generation had decided to open what one of my scandalized gourmet colleagues described as "a high-end taco shop."
Empellón is the name of Stupak's new project, and in fairness, it's not really a high-end taco shop at all, although there are plenty of high-end tacos on the menu. It's a casually elegant Mexican restaurant that has been designed (like Torrisi and the Momofukus before it) to appeal to the new breed of scruffy, tattoo-bearing, avowedly non-gourmet culinary sophisticates who have radically reshaped the city's dining scene over the past decade. This means the brick walls of the old space on West 4th Street are painted in a clean, no-nonsense shade of white. There is a bronzed Virgin Mary from Mexico by the restrooms and a Frida Kahlo–like portrait on one of the walls, but otherwise the main dining room is mostly devoid of frippery. The wooden tables are linen-free, and the long bar is designed as much for eating as it is for tippling the restaurant's exhaustive, impressively esoteric selection of artisanal tequilas and mezcals.
Like many serious-minded young chefs of his generation, Stupak, who includes inspirational quotes from the avant-garde chef Ferran Adrià on the restaurant's website, clearly wants the fireworks at Empellón to take place on the plate (Empellón means "push" in Spanish, as in "to push the limits"). Instead of the usual dreary, prepackaged tomato salsa, our pre-dinner tortilla chips arrived with four dipping sauces, the best of which were infused with mashed pumpkinseeds and a velvet mix of smoked cashews. Light, puffy twists of deep-fried (though curiously un-porky-tasting) pork-skin chicharrones appeared after that, along with several pleasingly gooey quesos fundidos made with Jack cheese (try the spicy red and green ground-chorizo version), and a series of inventive ceviches (tequila-cured hamachi tossed with cucumbers and mango, peekytoe crab with jalapeño, octopus mixed in a sugary, chipotle-based Papanteca salsa from Veracruz) served in simple white bowls.
"I don't think this is your average West Village Mexican joint," muttered one of my guests as we examined Stupak's soft-corn-tortilla taco creations, which began to appear, after the ceviches, in all sorts of unexpected combinations. There was one made with crunchy, deboned chicken wings soaked in a tangy peanut mole (delicious), and another made with a giant Scotch egg clad in ground chorizo (curiously bland). My tasters enjoyed the seafood taco (made with chunks of tempura-fried baby shark), and the plumply delicious seared-scallop tacos, which the kitchen dresses with a mild version of a habanero-and-tomato salsa from the Yucatán called xni pec (a.k.a. "dog's nose," so named because it's often spicy enough to make your nose wet). But the tacos I couldn't get out of my head were the classics, like braised beef tongue (which Stupak simmers to a kind of funky softness in beer and soaks in a spicy árbol salsa), and the smoky lamb barbacoa, which is steamed for hours and touched with a "drunken" salsa flavored with Oaxacan chiles, mezcal, and orange juice.
After this parade of gut-busting delicacies (I forgot to mention the very good sopes, or fried corn tarts, which you can get topped with meatballs, or refried beans and a fried egg), most of the entrées at Empellón felt like an afterthought. "Who wants a bite?" asked one of the bleary fressers at my table as he pushed away a bowl of corn dumplings that were mixed, slightly incoherently, with nameko mushrooms and chunks of overcooked sweetbreads. The turbot I sampled was a nicely cooked piece of fish, but it was overwhelmed by a mass of mustard greens and a layer of enchilada-like papadzules from the Yucatán, which were smeared in pumpkinseed paste. If you're in the mood for something light, try the shrimp and rice with plantains in a bubbly crab broth. Otherwise, try the fatty, popping baby back ribs, which are served with a giant sausage spiced with ground ancho chiles, cumin, and vinegar, and with a buttery, gritslike mass of red posole.
If by some miracle you're still sitting upright after all this elaborate grub, the inventive drinks program at Empellón should put you under the table for good. There are over 30 mezcals and 40 tequilas available at the bar, including a bottle of exceedingly rare Pierde Almas mezcal, from Oaxaca, which is apparently treated with the remains of a smoked rabbit and costs $55 per shot. My favorite tequila cocktail was a spicy, cilantro-infused concoction called the Por Qué No, and if you like your mezcal mixed, try the aptly named Darkest Corner of Oaxaca, which is spiked with fresh orange juice and dusted with flakes of dried chile. The simple, competent desserts, which are composed by Stupak's wife, Lauren Resler, include plates of Mexican cookies, and cherry-size "buñuelos," fritters served with bowls of warm honey for dipping. If you pine for Stupak's exotic creations, try the passion-fruit tart, which is topped with a cap of burnt meringue and tipped with the faintest wisp of mezcal.

Empellón
Address: 230 W. 4th St., at W. 10th St.; 212-367-0999
Hours: Dinner, Monday through Friday 5 p.m. to midnight. Saturday and Sunday from 6 p.m. to midnight (late-night menu Friday and Saturday from midnight to 1:45 a.m.). Brunch, Saturday and Sunday 11 a.m. to 3 p.m.
Prices: Appetizers, $8 to $19; entrées, $23 to $45.
Ideal Meal: Guacamole with chips and salsa, peekytoe crab with jalapeño, tacos (barbacoa, beef tongue, chicken, scallop), baby back ribs, buñuelos or passion-fruit tart.
Note: Empellón's weekend brunch menu includes six Mexican-style egg dishes, and Bellinis mixed with guava juice.
Scratchpad: One star for Stupak's inventive Mexican menu, and another for the drinks.