Photographs by Danny Kim

What in the world has gotten into Jeffrey Chodorow?" muttered one of the food snobs at my table as he took a perfectly brined pickle from the exceptional "delicatessen" board at the rashly conceived, surprisingly accomplished "modern Jewish-American" restaurant Kutsher's Tribeca and crunched it happily between his teeth. Chodorow, of course, is the restaurateur New York food snobs love to hate. Over the years, the successful entrepreneur (he's made millions in real estate, among other investments) has been derided by members of the self-appointed culinary smart set as a hopeless populist (his five China Grill franchises are wildly profitable), a purveyor of overpriced, passé luxury foods and schlock décor (the samurai-sword-covered Kobe Club), and a serial sponsor of endless star-crossed, crackpot dining schemes (Rocco DiSpirito's reality-TV restaurant Rocco's, as well as Wild Salmon and Brasserio Caviar & Banana, to name just a few).
But lately, Chodorow's dark reputation has begun to brighten. In the past few years, while many restaurateurs have been cowering on the sidelines, he's put his money behind a string of popular, even critical hits, including Bar Basque, Zak Pelaccio's Fatty 'Cue and Fatty Crab, and the fashionable new Chinese farm-to-table establishment RedFarm. Now comes Kutsher's, which has been designed by Chodorow's young partner Zach Kutsher as a kind of upscale homage to his family's famous Kutsher's Country Club resort in the Catskills. The room, on Franklin Street, is appointed in a stylish, nouveau-Fontainebleau way with gold-colored light fixtures, whitewashed backlit walls, and a bar top made of copper. There's a dish called pickled herring "two ways" on the menu, the kasha varnishkes are made with wild mushrooms and quinoa, not kasha, and the house gefilte fish is molded into decorative gourmet pedestals and feathered with micro-greens and a parsley vinaigrette.
"This is not my grandmother's Kut­sher's," said one of my guests as the first wave of newfangled, heretical deli creations began arriving at the table. A platter of kreplach, filled here with creamy ricotta, was dismissed out of hand by the assembled experts ("This tastes like something from a kosher Italian restaurant in Scarsdale," one said), but the contents of the excellent house delicatessen plate (which include pink veal tongue and strips of soft, house-cured duck and ­deckle pastrami with pickles, mustard, and a pot of delicious horseradish aïoli) were quickly devoured. The same thing happened to a platter of crisped artichokes alla Judea (frizzled in the Roman style with garlic, Parmesan, and lemons) and to the ingenious aforementioned herring dish, which is also cured in-house and served in two little Alfred Portale–style towers, one of them dressed in the traditional way, with sour cream and pickled onions, the other with wasabi and yuzu.
Kutsher's executive chef, Mark Spangenthal, has worked at top kitchens around the city, and if there's a problem with his radical interpretations of these ancient dishes, it's that some of them are actually too good. At least that was the twisted, Talmudic argument presented by one of the food scholars at my table, who pronounced his matzo-ball soup to be "overstudied." The smooth chopped chicken liver at Kutsher's is folded with unorthodox spoonfuls of gourmet duck liver ("nouvelle chopped liver," one of the scholars called it), and you can get your (slightly sodden) potato latkes topped with three kinds of caviar or a compote made with local Greenmarket apples. The traditionalists at the table were confused by the weirdly elegant shape of the gefilte fish, but the texture and taste, it was generally agreed, were a cut above what they'd been forced to endure over the decades at family holiday feasts.
The entrée list at Kutsher's is filled with similar game attempts to enliven old canonical favorites. The falafel-crusted salmon tasted like a piece of cafeteria-quality fish with a shmear of dry falafel on top, but the Catskill Mountain trout is cut in two nicely roasted fillets and served with Meyer-lemon confit on the side. My order of Friday-Night Roast Chicken was overbrined, but the totemic Eastern European beef dishes (gray blocks of flanken braised in red wine, improbably tender Romanian skirt steak smothered in sweet onions), my experts assured me, are as good as anything served by the tottering old waiters at Sammy's. The bountiful lunchtime deli-style sandwiches (try the Reuben or the KT pastrami) may not have quite the pedigree of the venerable classics at Katz's or Carnegie, but you can complement them with towers of fries tossed with duck schmaltz, or order a first-rate La Frieda special-blend burger, served on wedges of toasty sesame-seed challah.
On the evenings I dropped in, the tables were crowded with a mix of swank-looking downtown diners ("This is JDate ground zero," someone said) interspersed with groups of bewildered-looking elders bundled in their thick winter coats. There's no Manischewitz on the wine list at this decidedly un-kosher restaurant. Instead, you can obtain a glass of Nicolas Feuillatte Champagne to sip with your caviar-topped latkes, along with a selection of $12 cocktails with belabored Catskill-era names like Bug Juice and Bungalow Bunny. The desserts include a bread pudding awkwardly constructed from chocolate babka and a decorative rainbow sundae with spongy rainbow cookies at the bottom. But after a heavy dinner, the best option is the cookie plate, the ceremonial contents of which (hamantaschen, weighty macaroons, house-baked rugelach) are designed to be nibbled with a digestive cup of tea.

Kutsher's Tribeca
186 Franklin St., nr. Greenwich St.; 212-431-0606
Hours: Dinner Monday through Thursday 5:30 to 11 p.m., Friday and Saturday till midnight, Sunday 5 to 10 p.m. Lunch Monday through Friday 11:30 a.m. to 3:30 p.m. Brunch Saturday and Sunday 10 a.m. to 3:30 p.m.
Prices: Appetizers, $11 to $16; entrées, $19 to $29.
Ideal Meal: The delicatessen plate, pickled herring two ways, grilled Romanian steak, cookie plate, KT pastrami sandwich.
Note: Our brunch experts commend the KT hash and eggs (poached eggs over pastrami hash) and "the Leo," Kutsher's take on scrambled eggs with lox and onions.
Scratchpad: One star for the daring concept and another for the surprisingly effective execution.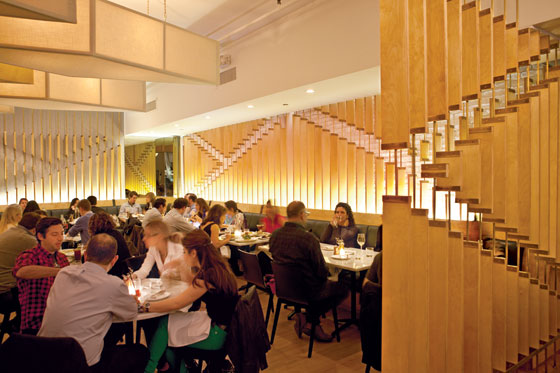 Kutsher's Tribeca Photo: Danny Kim
Kutsher's Tribeca Photo: Danny Kim
Kutsher's Tribeca Photo: Danny Kim
Kutsher's Tribeca Photo: Danny Kim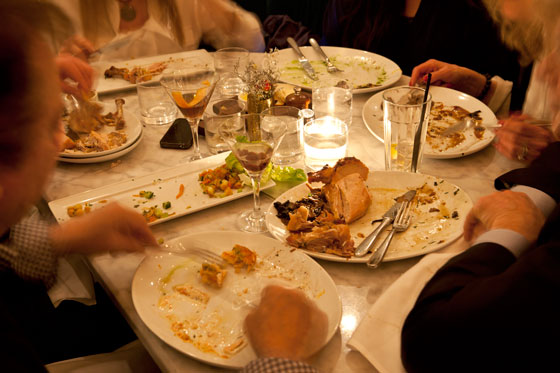 Kutsher's Tribeca Photo: Danny Kim
Kutsher's Tribeca Photo: Danny Kim