Le Bernardin
Photographs by Danny Kim
Is that French hip-hop I'm hearing?" asked one of my slightly disoriented guests as we cooled our heels in the posh little "lounge" area, one of many new features of the slightly disorienting 2.0 version of the great midtown restaurant Le Bernardin. There used to be no racy backbeat nor even a proper lounge area at Le Bernardin, of course. The old front of the house included a bar so small that you were discouraged from sitting at it and a couch or two where you could perch while waiting to collect your coat. There used to be no lounge menu, either (the new one includes a $35 caviar-and-salmon croque monsieur, and Eric Ripert's homage to the American lobster roll, truffled and served "en brioche" for $19), nor a selection of signature cocktails with names like MLC Mezcal and French Connection, which have been designed for this regal midtown seafood palace by the mixologist Greg Seider, the owner of Summit Bar down on Avenue C.
These radical changes, plus many more, are the result of an elaborate and well-publicized makeover designed to make Le Bernardin more accessible to what longtime co-owner Maguy Le Coze describes as the restaurant's "younger clientele." The distinctive old oil paintings of French fishermen and Brittany seascapes have been packed away and replaced with tobacco-brown latticework and a large triptych of a stormy wash of waves by the Brooklyn artist Ran Ortner. The lovely coffered wood ceiling is still intact, but the rug is now gray and the windows are covered in shimmery metal-and-bamboo treatments. The new, slightly clunky hotel-lobby-style chairs are made from shiny steel and covered in dark, cigar-colored leather, and the ocean-blue vests and ties the waitstaff used to wear have been replaced with modish Nehru jackets that look like they've been lifted from the wardrobe of the Green Hornet's sidekick, Kato.
"I'm still getting used to this," said Mrs. Platt as we were led to our table under one of the towering, twig-filled botanical arrangements that dominate the center of the restaurant's more modern, but slightly more generic-looking, dining room. That's the danger of a full-body makeover, of course. As any legendary brand from Coke to Mercedes-Benz knows, you may attract a new kind of clientele when you tinker with the venerable old formulas, but you also risk baffling your devoted followers. The new room, designed by the architectural firm Bentel & Bentel, which also did the Danny Meyer restaurants Gramercy Tavern and the Modern, is more commodious than before (there are fewer tables). But the postmodern touches (the tinny, upbeat soundtrack, the hard-edged art, the gleaming new plates by Bernardaud) make the space feel busier and more hectic, and the essential stately character (the "Frenchness," as Mrs. Platt put it) of the old restaurant is gone.
It may take time for some of us to acclimate to this racy new look, but happily nothing much has changed in Ripert's legendary kitchen. The new $120 prix fixe menu looks more complicated than before (it's stocked with ingredients and laid out over two pages), but the dishes are still divided into Ripert's sacred categories (Almost Raw, Barely Touched, Lightly Cooked), and the best of them are still worth the price of admission. After I finished chugging my bracing (and, yes, delicious) mezcal cocktail, we took delivery of the amuses, which included chunks of truffled lobster in a celeriac velouté so luxurious and complex that I found myself licking the bottom of the demitasse cup in which it was served. Ripert's signature tuna-and-foie-gras creation arrived shortly after that (strips of sashimi-grade yellowfin laid over a cool slice of duck-liver pâté), along with deliciously dissolving slices of raw scallop dressed with tangy, faintly minty chimichurri sauce and served in a pearl-bottomed shell.
One or two of the items in the Barely Touched section (the wet, Bolognese-stuffed calamari and the rounds of tuna in an innocuous dashi gelée) lacked that extra dimension of flavor that Ripert is famous for. But no one at my table had anything unkind to say about the melting little slices of octopus (they're smoked, char-grilled, and scattered with Asian-style fermented black beans) or the peekytoe-crab cake, which the chef garnishes with a teaspoon of guacamole tipped with tequila and a stack of penny-size potato crisps. Ripert dabbles with similar fusion combinations on the Lightly Cooked section of the menu, but the best things tend to be the classic Euro­centric dishes, like the red snapper (spiced with smoked paprika and chorizo and encrusted with a buttery scrim of toast), and the delicious codfish barigoule, which Ripert rings with buttery strips of artichoke and stacks with shavings of Périgord truffles.
Like the old Le Bernardin, the new one tends to feel more like a business club at lunchtime, when the corporate suits flood in, and no matter what time of day you drop by, the curb outside is lined with an impressive array of gently idling fat-cat limousines. Once you get used to the Green Hornet outfits, the service is as immaculate as ever, and there are still four sommeliers on the floor to help customers navigate what is arguably the most refined collection of white wines on the planet. Longtime pastry chef Michael Laiskonis will be leaving at the end of the year, which may explain why some of the new desserts (frozen Concord-grape spheres, an apple-cinnamon parfait obscured in apple foam) seem overwrought and unfocused. For now, the best way to end your meal is with the slim, candy-bar-size crémeux made with wickedly dark Dominican chocolate. But given the dizzying pace of events at this grand old restaurant, that, too, is bound to change.

Le Bernardin
Address: 155 W. 51st St., nr. Seventh Ave.; 212-554-1515
Hours: Dinner Monday through Thursday 5:15 p.m. to 10:30 p.m., Friday and Saturday to 11 p.m. Lunch Monday through Friday noon to 2:30 p.m.
Prices: $120 prix fixe.
Ideal Meal: Peekytoe-crab cake, octopus or seared langoustines, codfish barigoule, chocolate crémeux.
Note: Ripert's truffled lobster en brioche is undoubtedly the most decadently delicious lobster roll in the city. It's the size of a small plum, however, and costs roughly $10 per bite.
Scratchpad: This is one of only two restaurants that's ever gotten our "ethereal" five-star designation. A little bit of the old magic is gone with the new renovation, and so is one of the stars.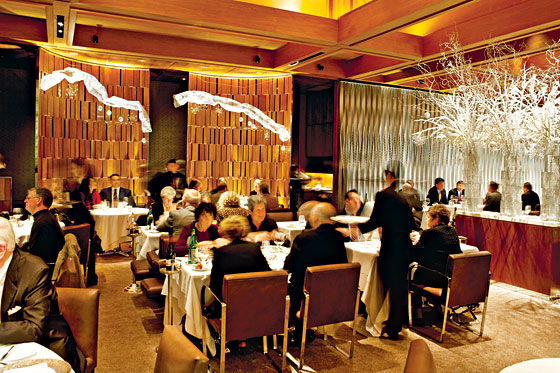 Le Bernardin Photo: Danny Kim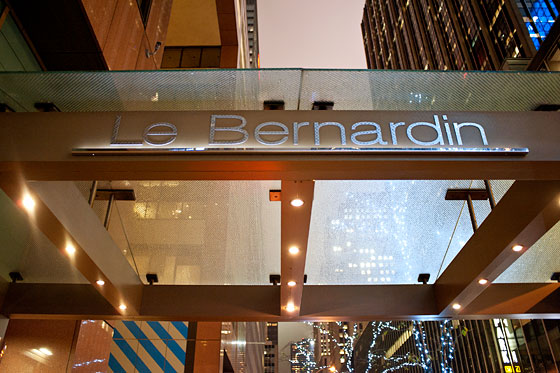 Le Bernardin Photo: Danny Kim
Le Bernardin Photo: Danny Kim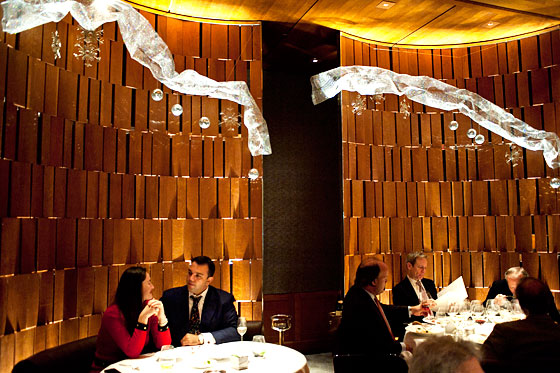 Le Bernardin Photo: Danny Kim
Le Bernardin Photo: Danny Kim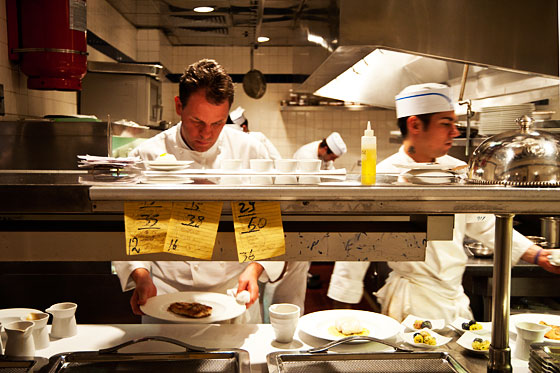 Le Bernardin Photo: Danny Kim
Le Bernardin Photo: Danny Kim