Photographs by Danny Kim

Maria Loi's eponymous Greek restaurant looks at first like another in the long string of doomed culinary concepts that have been tried over the years in what's known in restaurant circles as the Compass space, on 70th Street off Amsterdam Avenue. There's a new sign over the door, of course, adorned with what appears to be a hastily rendered logo featuring loopy script and white leaves against a bright-purple background. The flatly lit, sparsely populated bar area in the front of the house appears the way it did during previous incarnations ("Like the stateroom of a Slovenian cruise ship" was how one dining companion described it to me long ago), and if you feel like lingering there these days, the slightly haunted-looking bartenders will serve you cocktails with hokey cruise-ship names like Taste of Greece and Fire of Patras, which is made with Knob Creek, sweet Greek wine, and a touch of honey.
Once you move into the main dining room, however, the sense of foreboding lifts a little and the mood begins to change. The walls of the endlessly redesigned room are now trimmed in white and decorated with soothing photos depicting the green Nafpaktos coast. There's a tray of fresh pomegranates by the doorway, along with bottles of Greek wine and loaves of bread. The backs of the chairs are covered in elegant striped satin, and the tables are arranged in neat rows and set with crisp white linens. Unlike in the past, they're actually filled with diners, merrily tucking into hot baked spinach pies threaded with feta, platters of keftedakia meatballs, and dainty cheese croquettes garnished with a fig compote. Some nights, you might even see Loi herself—the self-proclaimed Martha Stewart of Greece—bustling around the room, greeting customers with her practiced ­laser-beam smile.
Like her American doppelgänger, Loi radiates a sense of focused, almost terminal cheeriness, and she's made a career as a cookbook author and TV hostess out of taking the basic everyday elements of Greek cuisine and repackaging them with her signature brand of quirky, crowd-pleasing style. There are four kinds of salad on her classic taverna menu (get the horiatiki, with feta, chunks of tomato, and Loi's vinaigrette) and if you order the ahini sea-urchin appetizer, the dabs of fresh urchin are served in porcelain spoons pooled with olive oil, with buttery triangles of toasted pita on the side. The grilled shrimp at Loi are wrapped in crunchy strands of shredded wheat, the calamari are cut in little twirls and soaked in a rich pistachio sauce, and the superb charred octopus was sprinkled with fried chickpeas and shavings of almond on the evening I enjoyed it, and had the soft consistency of a fresh plum.
As is sometimes the case when dining in Greece, some of the more standard entrées at Loi weren't as successful as these classic seafood dishes. Ms. Platt had nothing but kind things to say about Maria's "traditional" moussaka (daintily sized and capped with a light béchamel), but my lemonato chicken was flabby-skinned and drenched in too much gooey lemon sauce. The grilled branzino was a fresher, more satisfying dish than the frighteningly large braised lamb shank (arni), and if you have to choose between the elegantly prepared salt-baked fish for two (red snapper with roasted garden vegetables, say) and the leaden brick of macaroni pastitsio, choose the fish. Its fresh lightness is a perfect complement to Loi's robust, home-style desserts, the best of which—sweet galaktoboureco (made with semolina and honey), soft wedges of walnut cake, and crumbly crusted Greek cheesecake poured with preserved cherries—taste like they've been baked in one of the better home kitchens in Athens.
Saxon + Parole, which opened four months ago in the East Village, is another restaurant in an old, oft-occupied space. The slightly disjointed room on the corner of Bleecker and the Bowery used to house Double Crown, which served a grab bag of fusion dishes oriented toward the old British Empire and featured an excellent ­speakeasy-style gin bar. The bar is still intact, but the owners have scrapped the old teak-heavy Colonial motif in favor of a cleaner, more typical modern brasserie look (whitewashed brick, lots of wood rafters) by the well-known design firm AvroKO. The restaurant's name is a reference to two famous racehorses, and the new menu features grilled meats and "aquatic delights," which is a fancy way of describing the kind of bankable, run-of-the mill surf-and-turf specialties (grilled lobster, steak for two, a pork chop) which you'll find in bistros all over this stolid, meat-and-­potatoes-soaked town.
"Why are these restaurants all the same?" exclaimed one of the weary gourmands at my table as we pondered the "S + P Dry Aged Angus Burger," which was served with a mass of soggy fries and topped, in a vain attempt at haute-burger originality, with melted Havarti and a fried egg. You can complement your S + P Burger with pots of smooth chicken-liver mousse (served, predictably, in Weck pots), or marrow bones slathered, not unpleasantly, with miso. In addition to the de rigueur pork chop (with applesauce and quince here), I have vague memories of a fatty short rib braised to a tarry blackness in Guinness and a nice but pricey cut of New York strip ($49) with a pot of tired-looking béarnaise on the side. The desserts are professionally cooked, but like most things at this stylishly generic restaurant, there isn't one of them—crème caramel, chocolate soufflé, doughnuts served in a little metal bucket—that you haven't seen a thousand times before.

Loi
208 W. 70th St., nr. Amsterdam Ave.; 212-875-8600
Hours: Dinner daily 5 to 11 p.m.
Prices: Appetizers, $7 to $19; entrées, $19 to $38.
Ideal Meal: Sea-urchin ahini, grilled octopus, market fish for two, galaktoboureco.
Note: The bourbon-based Fire of Patras cocktail is actually quite palatable, provided you enjoy it in the dining room, not at the bar.
Scratchpad: One star for the dining-room renovation and another for the updated authentic Greek cooking.


Saxon + Parole
316 Bowery, at Bleecker St.; 212-254-0350
Hours: Dinner Sunday through Thursday 6 to 11 p.m., Friday and Saturday to midnight. Brunch Saturday and Sunday 10:30 a.m. to 4:30 p.m.
Prices: Appetizers, $10 to $18; entrees, $20 to $49.
Ideal Meal: Chicken-liver mousse or bone marrow with miso, New York strip steak, chocolate soufflé.
Note: The bespoke "drinks program" includes one of the more authentic retro martinis in town.
Scratchpad: Half a star for the cocktails, and another half for the steak.
Loi Photo: Danny Kim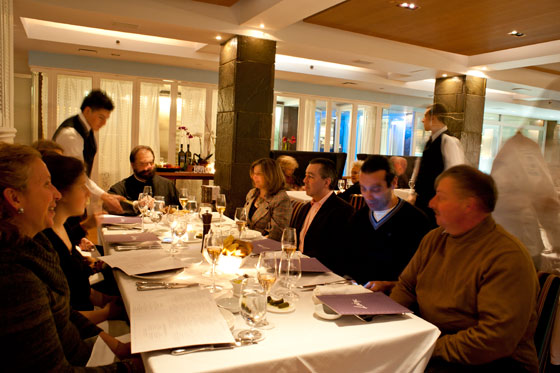 Loi Photo: Danny Kim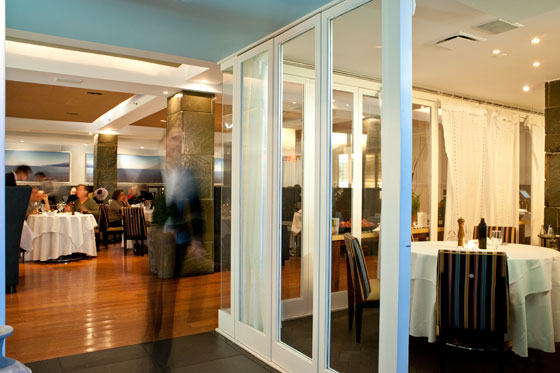 LoiPhoto: Danny Kim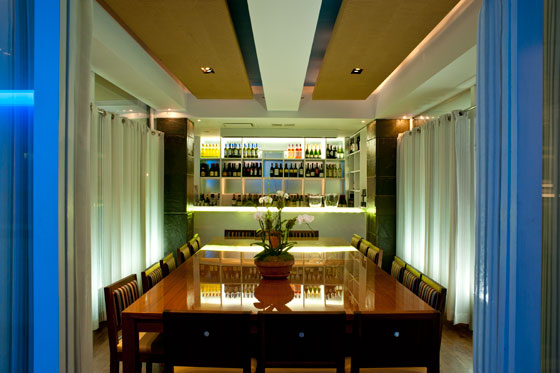 LoiPhoto: Danny Kim
LoiPhoto: Danny Kim
Loi Photo: Danny Kim
Loi Photo: Danny Kim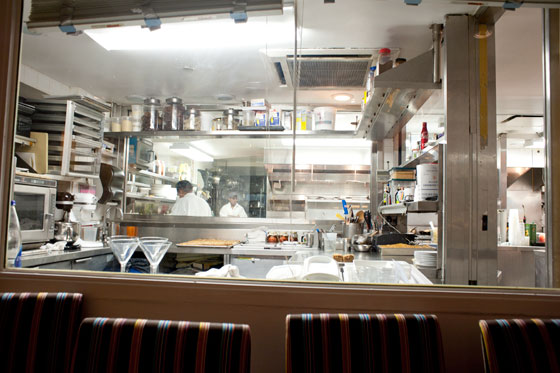 Loi Photo: Danny Kim